On November 26th, the consular corps west bank tour themed carbon peak and neutrality concluded in Zhuhai. As one of the first four special economic zones in China to open up, Zhuhai has developed from a small town into a modern garden coastal city.

Boasting platforms for exchanges such as Airshow China and China International Circus Festival, as well as the external tunnels like airports and sea ports, the city has continuously developed itself and moved outwards to the rest of the world over the past 40 years. Now, Zhuhai sees historical opportunities brought by the development in the Guangdong-Hong Kong-Macao Greater Bay Area (GBA) as well as the Guangdong-Macao in-depth cooperation zone in Hengqin.
"Just across the border there, in Macao, Australia has been involved in resorts, engineering, and the gaming industry. There are lots of Australians who have been involved there and also here in Zhuhai. So, we're paying close attention." Michael Sadleir, Consul General of Australia in Guangzhou, said when visiting IFC, the landmark building of Hengqin.
Within a radius of 100km, there are 5 airports in Hong Kong, Macao, Guangzhou, Shenzhen and Zhuhai respectively and 4 deep water ports near Hengqin. And it takes passengers only 5 to 30 minutes to enter 8 highways and 3 rails. It takes 30 minutes to go to Hong Kong via the Hong Kong-Zhuhai-Macao Bridge from Hengqin island. Furthermore, on November 5th, 2013, the new campus of the University of Macau was officially opened on this island.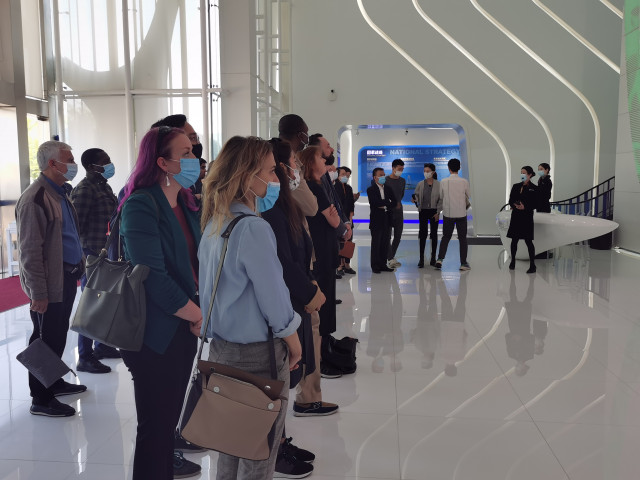 Consular corps visiting Guangdong-Macao (Hengqin) In-Depth Cooperation Zone Exhibition Hall.
(Photo: Newsgd.com)
It was in 1988 that Sadleir visited Macao for the first time. When he was posted to Guangzhou since the 2000s, he has been visiting this area for a long time. "I personally have witnessed what is outside this window, the enormous change in this region and it's quite striking," Sadleir said, adding "this is a unique location in the Pearl River Delta, with Hong Kong SAR and Macao SAR just across the border. It's a huge conglomeration of manufacturing power, research and scientific innovation, and talent."
Earlier in September, China issued the general plan for building the Guangdong-Macao in-depth cooperation zone in Hengqin. The cooperation zone will vigorously develop the industries of integrated circuits, electronic components, new materials, new energy, big data, artificial intelligence, the Internet of Things and bio-medicine.
Speaking of the in-depth regional integration between Guangdong, especially Zhuhai and Macao. Phin Vicheawadhana, Consul General of Cambodia in Guangzhou, commented: "It is not only for Cambodia, I hope that other countries also need to come to study from these pilot projects."
In Zhuhai National Hi-tech Industrial Development Zone, the consular corps visited JaFron Biomedical Co., Ltd., an enterprise mainly engaged in R&D, production and marketing of bio-materials and medical devices, and its major products including adsorption and blood purification products. The clinical efficacy of its hemoperfusion device has been recognized by medical staff across more than 80 overseas countries and regions. In China's fight against COVID-19 in February, 2020, JaFron has donated medical devices to help save the critically ill patients in Wuhan.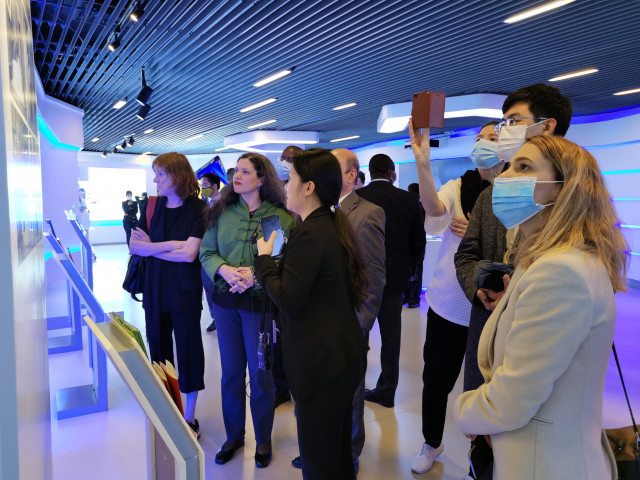 Consular corps visiting JaFron Biomedical Co., Ltd.
(Photo: Newsgd.com)
The machine developed for kidney disease treatment left a deep impression on Vanhpheng Saisomphou, Consul General of Laos in Guangzhou. "We will have contact because our country needs to buy this machine."
It was the first time for Vanhpheng Saisomphou to visit Zhuhai: "If I get a chance, I have to come here again and bring the family to see the sea and the bridge." She was also impressed by the city's efforts in protecting the environment: "I can breathe the fresh air and after we stopped at the waterfall, I saw so many butterflies."
Located at the main urban area of Zhuhai, Xiangshan Lake Park adopts a natural design concept, gives priority to environment protection and natural restoration, creating a low-carbon, ecological and leisure city park.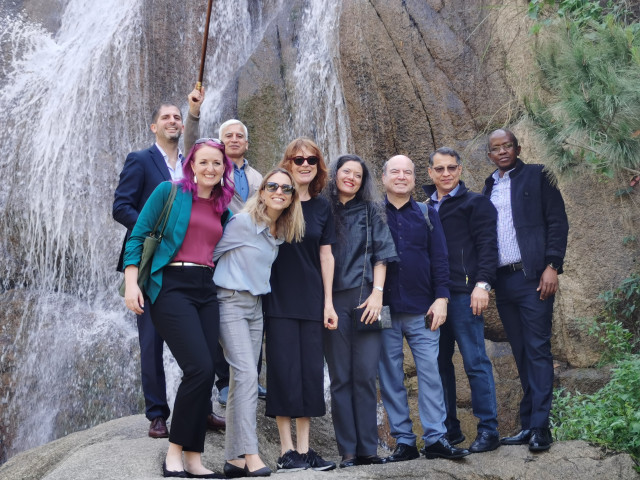 Consular corps visiting Xiangshan Lake Park.
(Photo: Newsgd.com)

Zhuhai is the last destination of the tour. According to Michael Sadleir, this whole area of GBA is focusing on a lot of new technologies, electric vehicles, and hydrogen powered vehicles as well. "In the whole range, I think we all know there's a real opportunity to work even harder to protect the environment, through both preserving nature and developing new technology to address the effects of climate change."
Author | Hannah
Editor | Keane, Steven, Jerry