Editor's note: Guangdong recently awarded the "Guangdong Friendship Award" to 49 foreign friends from 23 countries, acknowledging those who have made outstanding contributions to Guangdong's economic and social development, as well as international exchanges. GDToday presents Friends' Talk and shares the award winners' stories with Guangdong.
"It is a great honour to receive the 'Guangdong Friendship Award'," said Lim Gaik Siang, Cultural Consultant of Chaozhou's Xiangqiao District, in an interview with GDToday. "I would give this award to my grandfather, who always expected us to make our ancestors famous."
Lim is a 3rd generation Malaysian Chinese, originally from Guangdong's Chaozhou. Influenced by her grandfather and father, she has been addicted to Teochew culture since she was a child.
"Look, this pearl embroidery is a unique technique from my hometown." During the interview, Lim showed her Qipao and explained its characteristics to GDToday's reporters. "I will receive the award in these clothes on the stage."
Localism is engraved in her blood
Lim's grandfather moved to Malaysia from Chaozhou to earn money in 1934, and then settled down in Penang, one of the provinces in Malaysia.
"I often read the book '15 tones of Teochew' in my childhood, and Teochew is the first language I could speak rather than Malay or Mandarin," Lim recalled. "My grandfather taught me how to write a family letter to our relatives in Chaozhou from the point I could write."
At that time, family letters, also known as Qiaopi, referred to remittances sent by overseas Chinese through non-governmental organizations at home and abroad, which were special postal carriers that integrated letters and remittances. Qiaopi was widely used in Guangdong's Wuyi and Chaoshan areas, Fujian, and Hainan.
Although Lim had written hundreds of family letters to Chaozhou, she never visited China until she was 27 years old in 1991. Before that, Guangdong was only an imagination in her brain.
"I decided to visit China and have a look," Lim introduced. "My first station was Guangdong, because this is a place I have known for a long time."
Firstly, Lim was amazed by Guangdong's rapid development, which differed from her relatives' description. "My relatives told me Guangdong was an undeveloped region," she added.
Furthermore, she adapted to the new environment in a very short period, due to similar languages and similar cuisine.
"My feeling at that time was amiable," said Lim. "I can understand the language here, and the flavour I tasted was nearly the same as Malaysia."
Having been to Guangdong several times, Lim has become profoundly enamoured with the abundant resources of historical culture and enthusiasm of the region.
"Guangdong is the birthplace of Lingnan culture, and people living here are so nice," Lim explained. "People always invite me to enjoy tea while walking in Chaozhou."
According to Lim, she plans to visit her hometown Chaozhou after the ceremony of the 1st Guangdong Friendship Award. Furthermore, she also wants to visit Jiangmen, one of the cities in the Pearl River Delta, due to a popular Chinese TV drama called "The Knockout (狂飙)".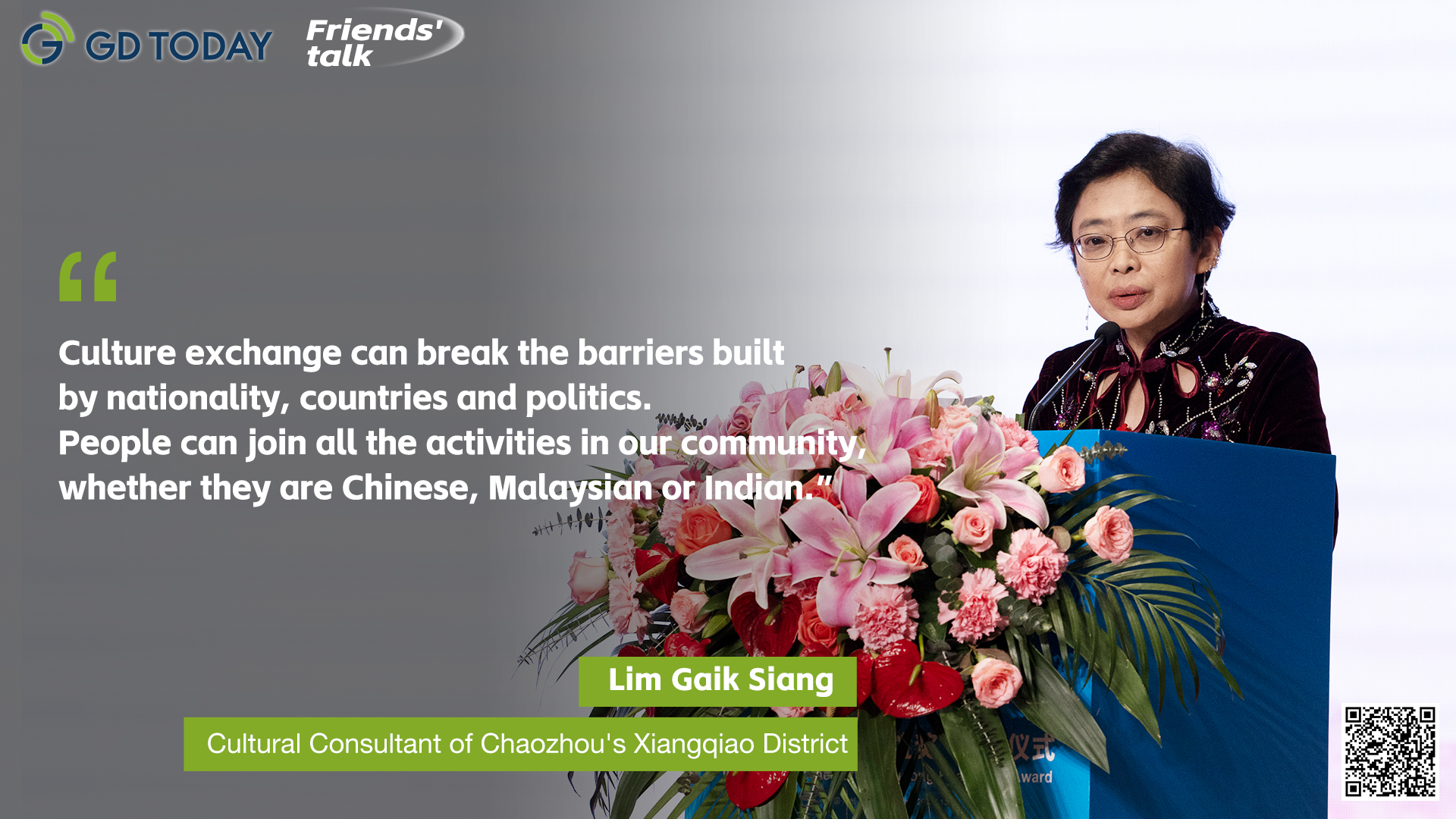 Promote Teochew culture via renovating ancient ancestral temple

Though Lim dedicates her life to promoting Teochew culture, she studied chemical engineering at university, which seems to have no connection to her current job.
"I realized financial independence within 10 years after graduating from university," said Lim. "Then I decided to stay in Penang and work from home instead of in Singapore."
"I joined Penang Heritage Trust afterwards and suddenly found out that I knew the meaning of the decoration and drawing on the walls during visits to ancient buildings," she added. "All of the knowledge I gained is from my grandfather."
Located in the northeast of Penang, George Town planned to apply for UNESCO World Heritage Site in 2002, opening the door for Lim to work on cultural conservation.
"One day, I heard that Hanjiang Ancestral Temple would be renovated," Lim indicated. "I feared they would not take the work seriously and damage the structure."
Out of concern, Lim applied to join the restoration team and even promised that Hanjiang Ancestral Temple would win a prize from the UN after renovation.
In Chinese culture, the ancestral temple is dedicated to deified ancestors and progenitors of the same surname lineages or families.
Generally speaking, the temples are used for rituals and festivals in honour of the ancestors, and for families or communities to hold weddings, meetings, local elections and more.
In other words, the ancestral temple is where people can identify their roots and link their family members, no matter where they are.
According to Lim, they finished the whole project in just 18 months, including 6 months for sorting out the documents, and the remaining 12 months for repairing the broken places and reviewing the entire process.
However, life is not always smooth, and neither was the renovation.
For Lim, the biggest challenge of this renovation was not about the technique, but the idea.
"Many people would like to repair a building to as good as new," she explained. "I have to convince them to accept the idea of 'repair to as good as old'."
Lim told GDToday that she used a variety of techniques to convince the residents during the renovation, with comparison being the most popular one.
I gave them a specific example by asking, "Have you ever seen the Mona Lisa painting?" Lim shared. "If you repaint it into a new one, will its value depreciate or rise?"
"Of course, its value will depreciate," Lim said while laughing.
In addition, she often went to Chaozhou to study the typical Teochew architecture, in case of incorrect repairs.
In 2006, Lim's became successful: Hanjiang Ancestral Temple was awarded the "UNESCO Asia Pacific Heritage Award".
When recalling the renovation, Lim said she feels proud that all the money was donated by the Techow descendants in Malaysia.
"I went to a shop and asked the owner to donate the money for restoring the temple," she indicated. "The owner told me he will donate 25,000 ringgit in the name of his five sons."
"25,000 ringgit was a large sum of money in 2003 or 2004," Lim explained.
Furthermore, she held various activities to promote Teochew culture, such as singing Tehchow songs, performing traditional Teochew Opera and having gourmet festivals.
"Since the restoration of Hanjiang Ancestral Temple was completed and won a UN award," Lim emphasized, "Our restoration efforts have encouraged many people to restore historical buildings accurately."
Cultural exchange can boost mutual understanding
Lim gives Guangdong high praise for its efforts to preserve culture, noting that during the 2023 Spring Festival, videos of the Yingge dance, which originated in the Teochew area (Shantou, Chaozhou, and Jieyang), received a lot of global internet traffic.
During a short break during the interview, Lim sang a Chinese song in a whisper. In her opinion, cultural exchange can boost mutual understanding.
"My niece now can speak fluent Chinese after she watched Chinese TV dramas," Lim indicated. "She not only loves watching Chinese TV dramas, but also buys a lot of Chinese novels based on them."
In addition, Lim said that some Indians in Malaysia join the activities held by the Teochew opera group, and they can sing songs in Teochew.
"Culture exchange can break the barriers built by nationality, countries and politics," Lim stressed. "People can join all the activities, whether they are Chinese, Malaysian or Indian."
Reporters | Steven, Hannah, Yao Jingsen(intern), Zhang Xiao (intern)
Script | Steven, Hannah, Lydia, Zhang Xiao (intern)
Video | Guo Guo
Poster | Lulu
Editors | Wing, James