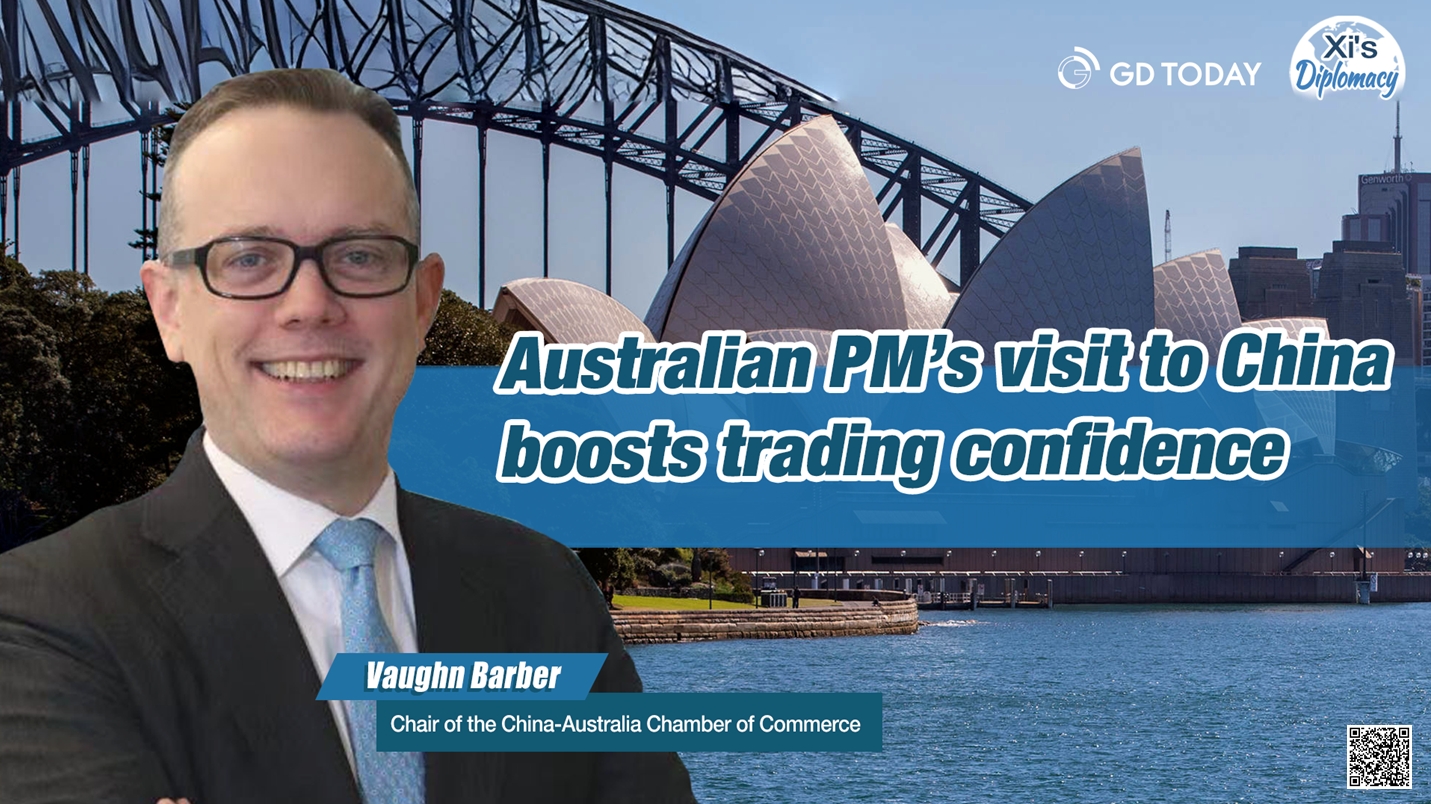 At the invitation of Chinese Premier Li Qiang, Prime Minister of Australia Anthony Albanese pays an official visit to China and participate in the China International Import Expo (CIIE) in Shanghai from November 4 to 7. He is the first Australian prime minister to visit China in seven years.
Vaughn Barber, Chair of the China-Australia Chamber of Commerce, told GDToday at an exclusive interview that a record 250 Australian companies participate in the CIIE this year. He hopes Albanese's visit could lead to more opportunities and clarity for Australian businesses looking to expand or consolidate their presence in the Chinese market.
Business community lauds a stable China-Australia relationship
"It has been good to see Australian CEOs and university leaders flock to China, and this will continue with the CIIE, which is being held from November 5 to 10. As a result of the improved atmospherics, and China's efforts to attract foreign investment, Australian companies are pushing on an open door," said Barber.
He observed that the business community applauds efforts by the Albanese Government to stabilize the bilateral relationship because "this was the top risk affecting Australian companies' decisions about investing in China."
China is Australia's largest trading partner, with bilateral trade volume reaching 287 billion AUD in 2022, accounting for 28 percent of Australia's total foreign trade. Meanwhile, Australia is also one of China's largest suppliers of commodities. In 2022, 65 percent of the 1.1 billion tons of iron ore purchased by China came from Australia.
Barber comments, from a business perspective, the recent consensus between China and Australia concerning wine and wind tower disputes is a positive development. It signifies the potential for smoother trade relations and provides hope for the many businesses that have been impacted.
"We view Prime Minister Albanese's upcoming visit to China as an opportunity to further strengthen business ties between our two countries. Such high-level engagements often pave the way for improved trade relations and open doors for businesses on both sides," said Barber.
Australia hits a record 250 Australian companies during CIIE
In Barber's opinion, the CIIE is a fantastic opportunity for Australian businesses to meet buyers from all regions of China.
According to Barber, "Brand Australia" does extremely well at CIIE and Alibaba's Double 11 (Nov.11) Global Shopping Festival. With a record 250 Australian companies participating in this year's event, "CIIE is an opportunity for companies to reiterate their commitment to the Chinese market."
He noted, foreign companies need to be able to operate at "China speed", which means being agile and responsive in what is a fast-changing and highly competitive business environment.
Barber also hopes Albanese's visit will provide an opportunity to address concerns about the treatment of Chinese companies in Australia. Providing greater clarity about the areas where investment from Chinese companies is welcomed will enable major projects to be progressed in partnership with Australian companies and local communities, delivering benefits for the Australian economy.
Bilateral cooperation expected in broader fields
"China's economy has shown remarkable resilience and adaptability," he said, "Despite uncertainty about Chinese economic performance next year, China provides significant business opportunities and growth potential for Australian companies."
Barber believes a key theme of collaboration between Chinese and Australian companies will be complementing existing areas of traditional strengths in goods export with emerging opportunities in services and investment.
In 2022, it was legislated that Australia's greenhouse gas emission targets will reach Net Zero by 2050.
"The complementarity between Australia and China in the journey towards net zero emissions presents a unique business opportunity that can further strengthen bilateral ties," he said.
While Australia offers abundant resources crucial for renewable technologies and pioneering research in sustainable practices, China brings manufacturing scale, technological expertise, and a vast market. Barber said, "Collaborative efforts between Australia and China in these areas can accelerate the global transition to a net-zero future."
The sectors that Barber highlighted for Australian companies include resources and energy, agriculture and food production, healthcare and eldercare, education and particularly vocational education, and goods and services which support the decarbonization of the economy.
He added, many high-quality Australian products continue to enjoy success in China's growing consumer market.
Author | Jasmine, Hannah
Poster | Lulu
Editor | Wing, Steven, Jasmine, Jerry