DBS Bank, a financial services group headquartered and listed in Singapore, hosted the "DBS Greater Bay Area Conference 2023" in China's Shenzhen on August 9. Over 500 government officials, experts, and entrepreneurs from the Guangdong-Hong Kong-Macao Greater Bay Area (GBA) participated in the event and shed light on the theme of Transformational Forces for the New Economy in the Area.
Leung Chun-ying, Vice Chairman of the National Committee of the Chinese People's Political Consultative Conference (CPPCC), delivered a keynote speech on "GBA: Two-way and Mutual Opportunities for Hong Kong and Guangdong".
He pointed out that the high-speed train and Hong Kong-Zhuhai-Macao Bridge provide people in the GBA with travel convenience. Preferential policies benefit Hong Kong and Macao residents if they work in Guangzhou's Nansha, as they will be exempted from the portion of their personal income tax that exceeds the tax burden of Hong Kong and Macao.
"Hong Kong can also offer new services to assist Guangdong in the last mile towards high-quality development, including testing services, branding and marketing services, trade services, logistic services, and shipping services," said Leung.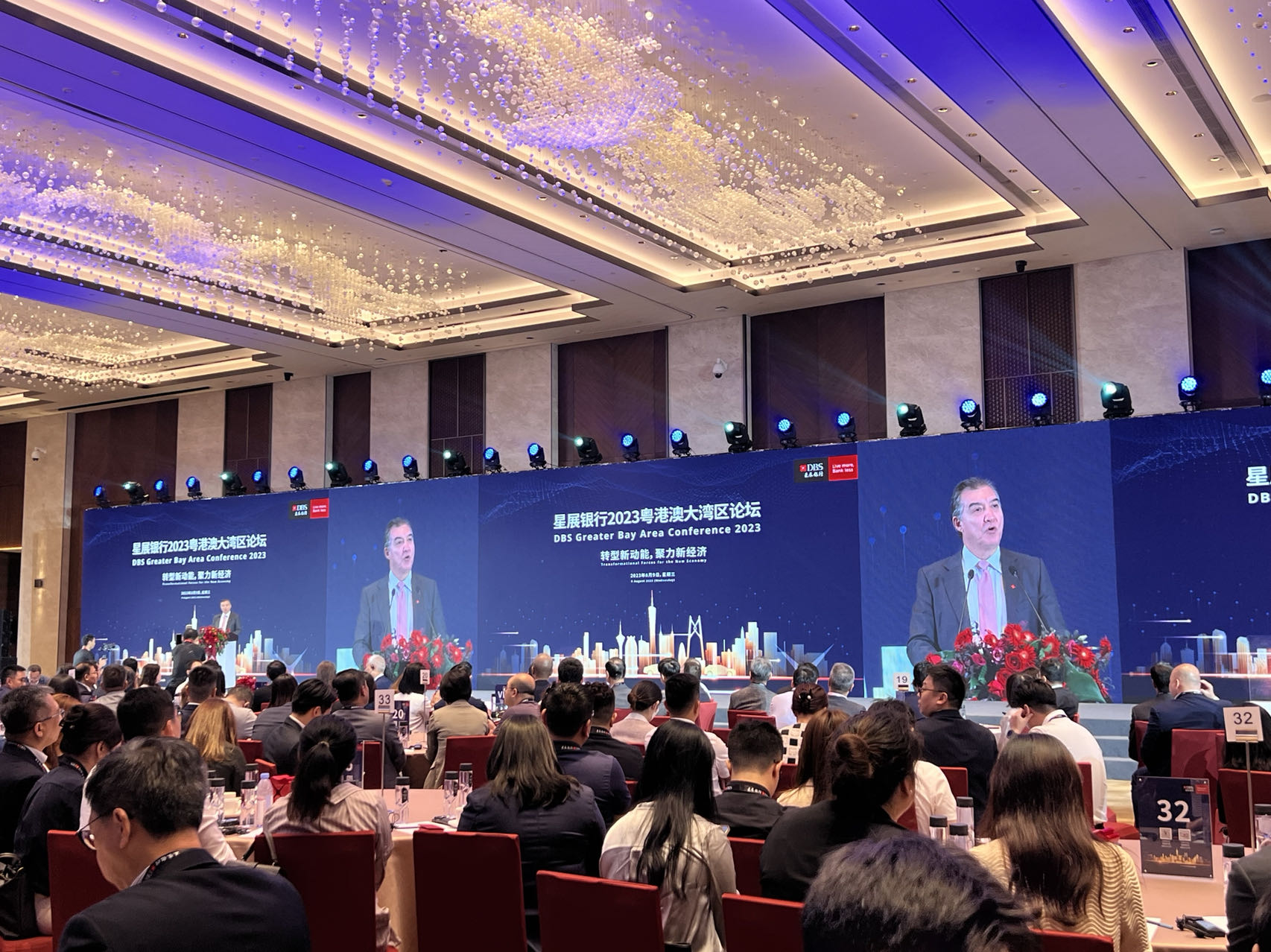 (Sebastian Paredes, Head of North Asia of DBS and Chairman of DBS China/photo by Nina)
Sebastian Paredes, Head of North Asia of DBS and Chairman of DBS China, addressed at the forum that the GBA will bring tremendous investment opportunities to Asia. DBS Group has made significant progress in the GBA with nearly 70 branches and outlets in the area, distributed in Hong Kong, Macao, Guangzhou, Shenzhen, and Dongguan.
Paredes is optimistic about China's economy in the second half of 2023 and believes the economic rebound will be seen as expected in H2 of 2023 or 2024 as the country has released a series of policies to stimulate the economy.
He added DBS hopes to maintain cooperation with the GBA and train up more banking, financial, and technological experts in the Area.
Ginger Cheng, Chief Executive Officer of DBS Bank (China) Limited, highlighted the trend that more Chinese high-end manufacturing enterprises are interested in developing industrial chains and expanding their targeted markets in ASEAN countries. "We utilize our financing capability in Singapore to support these enterprises in terms of project financing, medium and long-term loans, multi-asset liquidity, cash management, foreign exchange, and connecting with local governments and business partners," said Cheng.
In addition, participants of the event discussed hot topics on the transformation and globalization of China's electric vehicle (EV) industry, new trends in China's digital economy going global, the evolution of the digital ecosystem under the new development environment, the emerging opportunities, and exploring the value of real estate investment trusts (REITs) with a focus on innovative capital.
Chang Yuliang, Executive General Manager of Temasek Holdings Advisors (Shenzhen) Co., Ltd., introduced that China is one of the most important investing areas for Temasek as the investment in China accounting for about 24 percent of Temasek's total investment.
He believed that the development of EVs is still in its early stage. "We are confident about the market's demands in a long-term future, as the development of EVs will lead to higher level of intelligent features," said Chang. He indicated that if Chinese enterprises can make a breakthrough of main engines and other auto parts, they will gain more worldwide market share in the next stage of competition.
As a new energy innovative technologies company, CATL ranks No.1 globally in EV battery consumption volume for six consecutive years. Zheng Junbo, Head of Investor Relations of CATL, analyzed that the global competition requires enterprises to put efforts into both technological development and industrial chains.
"We invested more than 9.8 billion RMB in R&D in the field of batteries in 2023 H1, which allows us to produce competitive products," said Zheng. He said the company also invests in the raw materials of battery production globally to prepare for unstable prices of upstream resources. Cooperation on technological development with mid-stream enterprises also contributes to stabilize the supply chains.
Pan Hua, Vice General Manager and Secretary of the Board of GEM, said that GEM is a waste recycling enterprise and new energy material enterprise, accounting for about 10 percent to 15 percent of the market share in the industries of waste recycling.
"We have established a manufacturing center in Indonesia for the smelting of laterite nickel ore as there are rich raw resources in Southeast Asian countries. We hope to coordinate upstream and downstream enterprises, and construct a complete industrial chain of recycling and new energy manufacturing," said Pan.
Liu Xiaoling, Chief Financial Officer of GAC Aion, said the company expects to achieve sales of one million units by 2025. "GAC has invested 45 billion RMB in Guangzhou's Panyu District for a 5 million square meters industrial park since 2017," said Liu.
She indicated that GAC has established an energy technology company in 2022 focusing on a new energy industrial chain. "In recent years, we have sped up our cooperation with upstream and downstream suppliers to increase the resilience of the industrial chain," Liu added.
Reporter丨Jasmine, Nina
Editor丨Olivia, Jerry