"The Guangdong-Hong Kong-Macao Greater Bay Area (GBA) is modernizing rapidly. Every time I come back to the Area, I can see new changes," said Rosen Plevneliev, former President of Bulgaria. "The GBA has been developed into a platform for innovation, global trade and cooperation, as well as modernization, which is a win-win situation for everyone."
According to Plevneliev, the GBA is popular with Bulgarian businessmen. "They keep telling me how happy they are with their cooperation with China, especially the GBA," he furthered, "There are global fairs for textiles, automotive industry, digital innovation and so on in the GBA cities such as Guangzhou and Shenzhen, which attracts lots of Bulgarians every year."
Plevneliev noted Bulgarian companies are increasing their investment in the fields of software, electric vehicles, mobile communications, autonomous driving and big data. "The GBA tech companies, focusing on the future of communications and innovation, have abundant experience in developing these industries. I am encouraging more Bulgarian companies to come to the region and cooperate with the local businesses," Plevneliev said.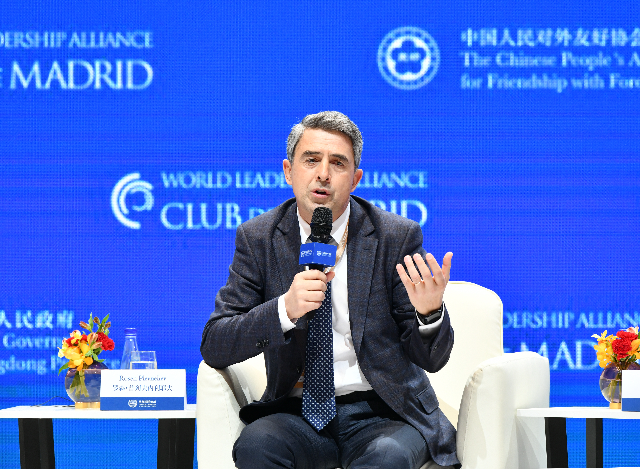 Rosen Plevneliev speaks at the Imperial Springs International Forum. (Photo provided to Nanfang Daily)
In Plevneliev's view, the GBA is the epitome of China's modernization. "I have seen how China has modernized and changed in the last 10 years: Chinese economy has doubled its size; China has become the world's second largest economy and the largest exporter; its high-speed rail, education and information and communications technology are one of the best in the world," Plevneliev elaborated.
Among all the achievements, Plevneliev believes the most important one is that Chinese people have benefited from the modernization. "China has eradicated poverty as nobody else has done it. More than 400 million people in China enjoy middle to high income," he said.
"People can actually feel the development of the country. They have become prosperous and more educated in China. And I think this is the biggest success of any nation," Plevneliev added.

Co-presented by GDToday and Nanfang Daily
Authors | Luo Xiaohua,Gong Chunhui, Zheng Huiyu (intern), Lydia Liu
Video editors | Wang Liangjue,Zhou Xinyu
Poster designers | Zhang Zhe, Liu Zikui, Zhang Ruiwei
Editors | Wing, Olivia, Jasmine, Steven, Jerry
Guangdong People's Association for Friendship with Foreign Countries contributed to the article.