"It's the 6th time I've been to Guangzhou. There are always potentials for cooperation between Guangdong and Ras Al Khaimah." Ramy Jallad, CEO of Ras Al Khaimah Economic Zone (RAKEZ), the United Arab Emirates (UAE), shared in a recent interview with GDToday during his visit to Guangdong.
During Jallad's week-long stay here, he visited Guangzhou, Shenzhen, and Dongguan to explore deeper relationships with local enterprises, trade associations, and governments.
Guangdong, Ras Al Khaimah partnership highly promising
Jallad told GDToday that China is the UAE's biggest trading partner, and Ras Al Khaimah shares strong relationships with Chinese companies.
Statistics show that the UAE has been China's largest export market and second largest trading partner in the Middle East. In the first quarter of 2023, China-UAE bilateral trade volume reached 23.11 billion USD, a year-on-year increase of 12.9 percent.
As trade between China and the UAE gains momentum, Ras Al Khaimah has brought Guangdong into focus.
"First of all, Guangdong province is one of the leading provinces in terms of foreign trade and export. Guangdong entrepreneurs and companies have a very open mindset about exporting and setting up manufacturing overseas," said Adrian Yutian Xu, Deloitte China Consulting Director. During the visit, Xu and his company assisted Jallad in promoting the Guangdong-Ras Al Khaimah trade.
Latest trends for China-UAE ties
Following the Belt and Road Initiative, Chinese investors, especially state-owned enterprises, have established their presence in the UAE and are involved in local infrastructure building, such as ports, railroads, and highways.
According to Jallad, there are more than 600 Chinese businesses in Ras Al Khaimah operating in food, automobile, high tech, solar panels, IT, space technology, software, telecommunication, chemicals industries, and so on. "Some of these companies play an active part in helping the UAE, as well as Ras Al Khaimah, striving for sustainability," said Jallad.
Xu revealed that how to draw more Chinese private companies to the Middle East market is one of their focuses during their trip to Guangdong.
"We are in talks with the government and multinational Fortune 500 companies about setting up manufacturing in Ras Al Khaimah. At the same time, we are also in discussions with trade associations, and small and medium-sized enterprises," he said.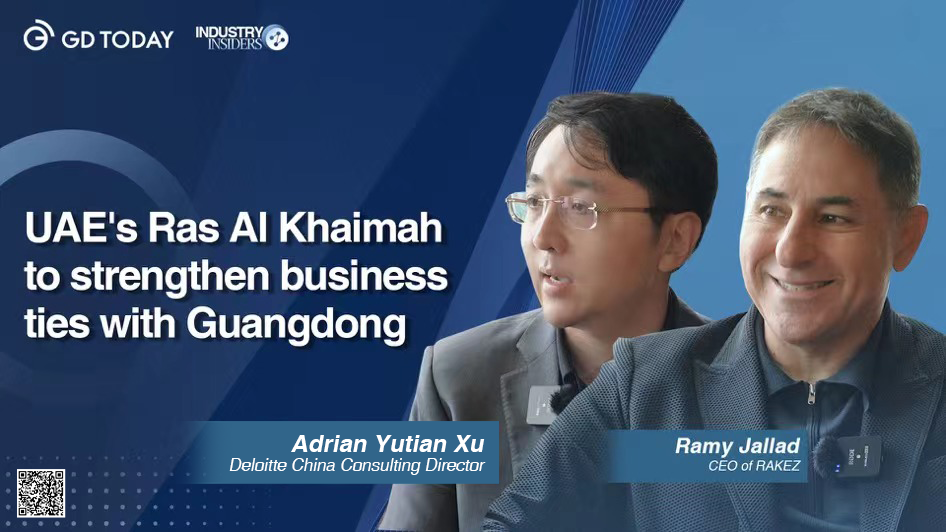 Strengths of Ras Al Khaimah
Speaking of the challenges that Chinese companies may encounter when they go to the Middle East, Xu said that there is a lot to do to build a bridge to facilitate more understanding of the Middle Eastern economy and culture. In Xu's opinion, the UAE is a very open country in the Middle East and Ras Al Khaimah is at the forefront of that international openness within the UAE.
Ras Al Khaimah has become a manufacturing hub and is known as the most cost-effective destination, with a sound ecosystem for manufacturing industries that account for more than a quarter of its GDP. This, in Xu's opinion, is highly complementary to Guangdong, South China's manufacturing and trading hub.
"We are also very good at customer service and efficient administrative service. So today, you can get a license to operate your company in less than one day," said Jallad.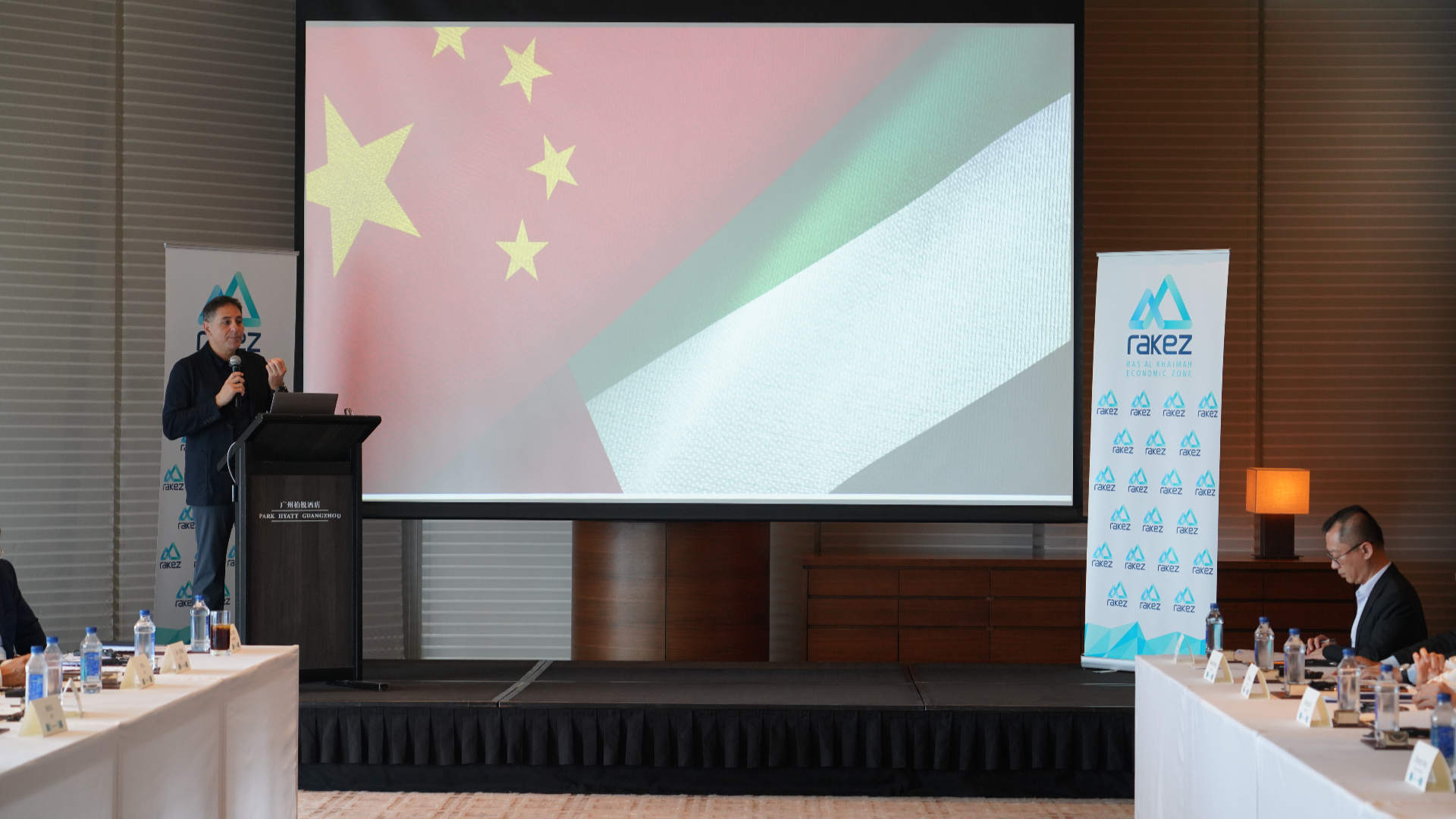 During the business promotion. (Photo: GDToday)
During a business promotion on September 5, Jallad disclosed that the RAKEZ boasts a package of policies to attract Chinese investment, including the exemption from personal and corporate income tax, flexible government-enterprise cooperation and financial support policies, as well as lower rent for industrial land.
Situated in the heart of Ras Al Khaimah, and with a digital transformation in Ras Al Khaimah underway, both entrepreneurs and customers would be able to access their needed services on mobile phones, "Ras Al Khaimah can be a trading hub for Chinese companies and Chinese commerce to be operating and distributing their products all over the world," said Jallad.
Reporter | Hannah, Teria Wang (intern)
Video | Zhang Tianxiong
Video script | Hannah
Poster | Lulu
Editor | Olivia, Steven, Jasmine, Jerry
Nico Liu (intern) also contributed to the story.