On September 9, a group of expats celebrated the Mid-Autumn Festival at the "GDToday Salon: Cantonese Chefs and Their GBA Friends" in Guangzhou. At the invitation of the Cantonese chefs, they shared their stories about Cantonese cuisine, tried making mooncakes, and experienced other intangible cultural heritage activities during the event.
Expats' stories with Cantonese chefs and cuisine
The salon started with Ryan Xu sharing his stories as a "Cantonese Chef". As a five-star Cantonese cuisine chef and the executive Chinese chef of China Hotel, Xu and his team had presented Cantonese cuisine to foreign guests in many significant meetings or events.
Xu said that the essence of Cantonese cuisine lies in the freshness of the ingredients. He believes that more and more Cantonese talent join the kitchen work and the fusion of Eastern and Western cuisines in the Guangdong- Hong Kong-Macao Greater Bay Area (GBA) are giving new vitality to traditional Cantonese cuisine.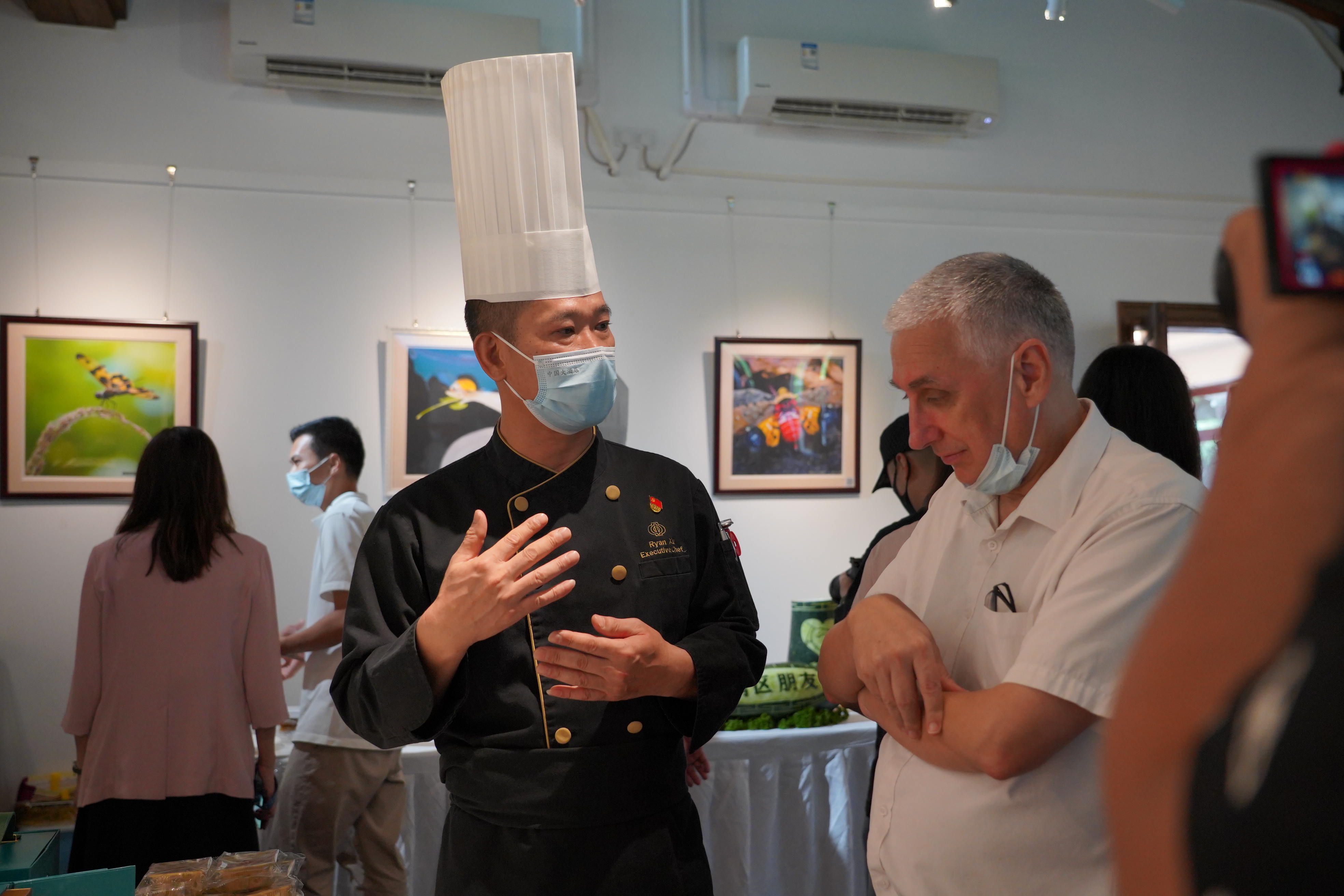 (Photo provided to Newsgd.com)
Thierry Meynard from France is a professor of philosophy and doctoral supervisor at Sun Yat-sen University. He enjoys the Cantonese dim sum and Yum Cha culture, with shrimp dumplings and egg tarts as his favorites. "People gathering together to enjoy dim sum and drinking morning tea is a significant part of Lingnan culture."
Sara Jaaksola is a Finnish teacher working in Guangzhou. This is her 12th year in this city, and she recommended her mother move over to Guangzhou after retirement. "I'm hosting a Mid-Autumn Festival event in our village tomorrow," said Jaaksola, "I'm inviting a lot of foreign friends and my students to come to make some lanterns and fans, guessing some lantern riddles as well."
"Red rice noodle roll, shrimp dumplings, stir-fried rice noodles with beef..." Speaking of his favorite Cantonese cuisine, Azim from Uzbekistan has a long list. Since 2019 when he came to Guangzhou and tried Cantonese food, Azim has fallen in love with it and his favorite is shrimp dumpling. Over the past few years, Azim has visited most of the GBA cities, such as Shenzhen, Dongguan, Jiangmen, Foshan, and Zhongshan. He would try local foods wherever he goes, and was deeply impressed by the steamed rice noodle roll in Dongguan.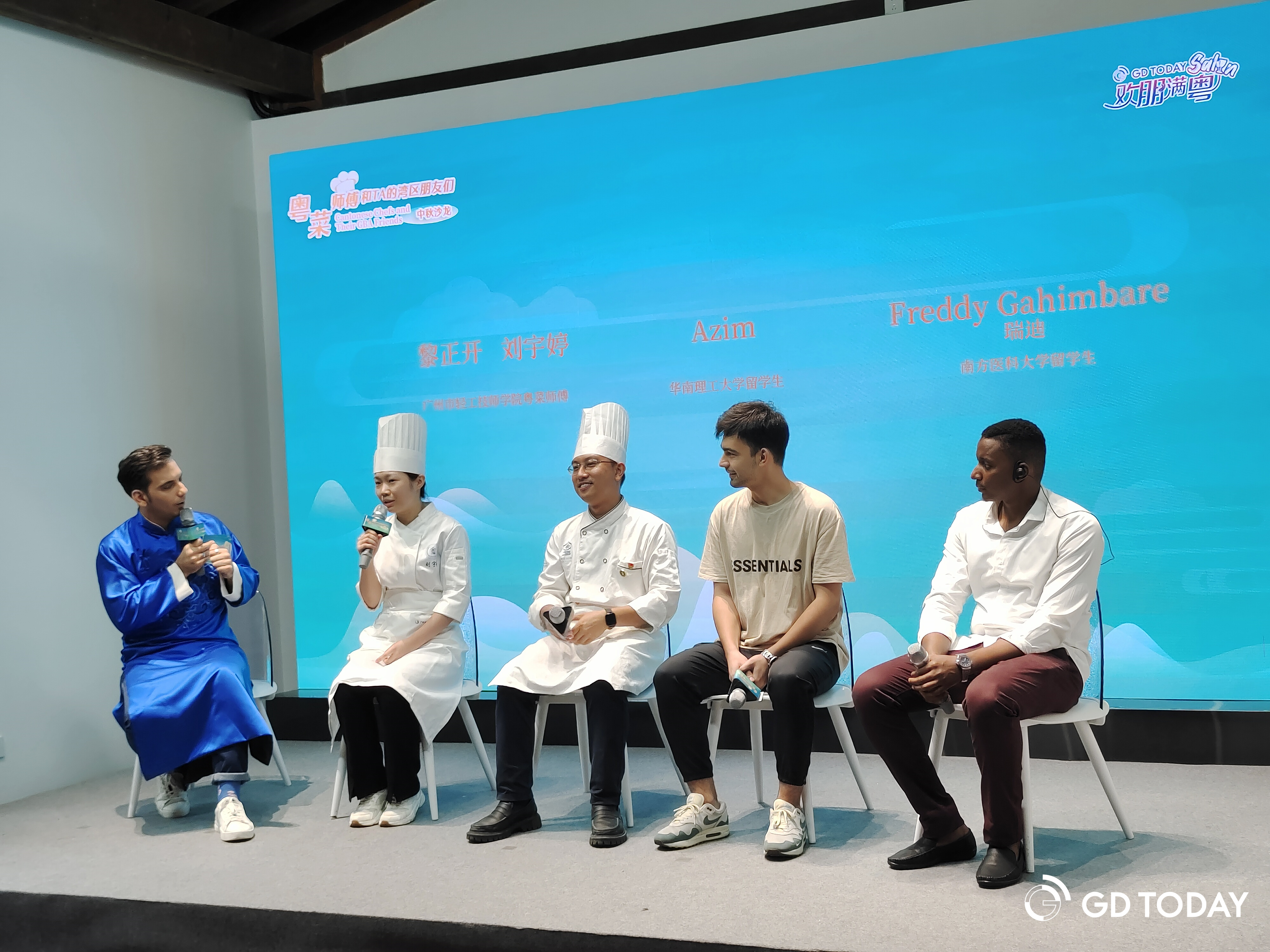 "You are Guangzhou, the city of light." During the event, Freddy Gahimbare from Burundi sang a song he created for Guangzhou titled "Stronger (Than This)". Gahimbare said that the food here was to his liking and he prefers sweet Cantonese mooncakes. At present, he is studying for a master's degree at Southern Medical University.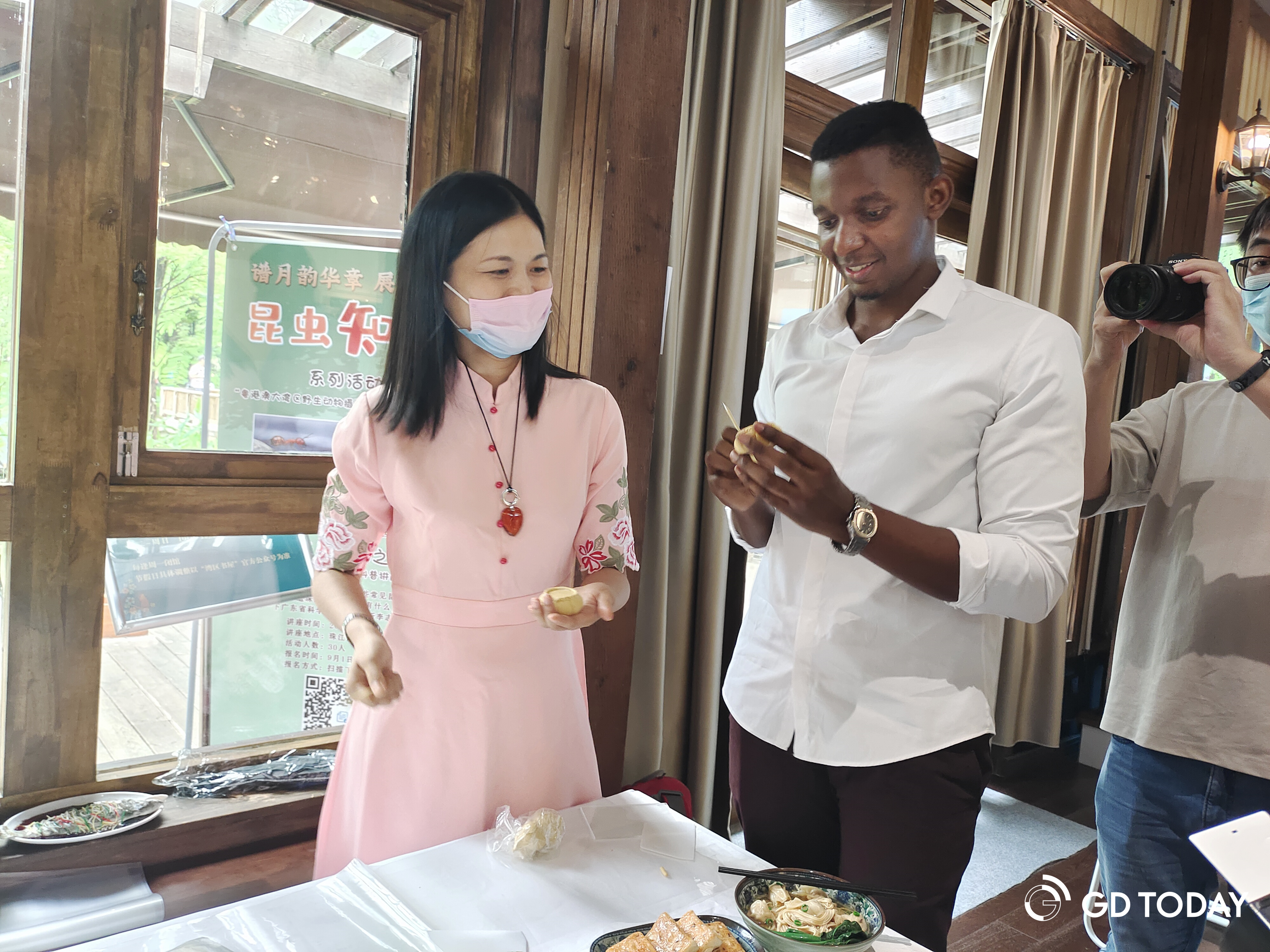 Cantonese-style Mid-Autumn Festival
After the story-sharing session, expats gained hands-on experience in making Cantonese mooncakes, jam paintings, and fruit carvings under the guidance of Cantonese cuisine chefs. They tried also intangible cultural heritage dough modeling to welcome the Mid-Autumn Festival with a festive vibe.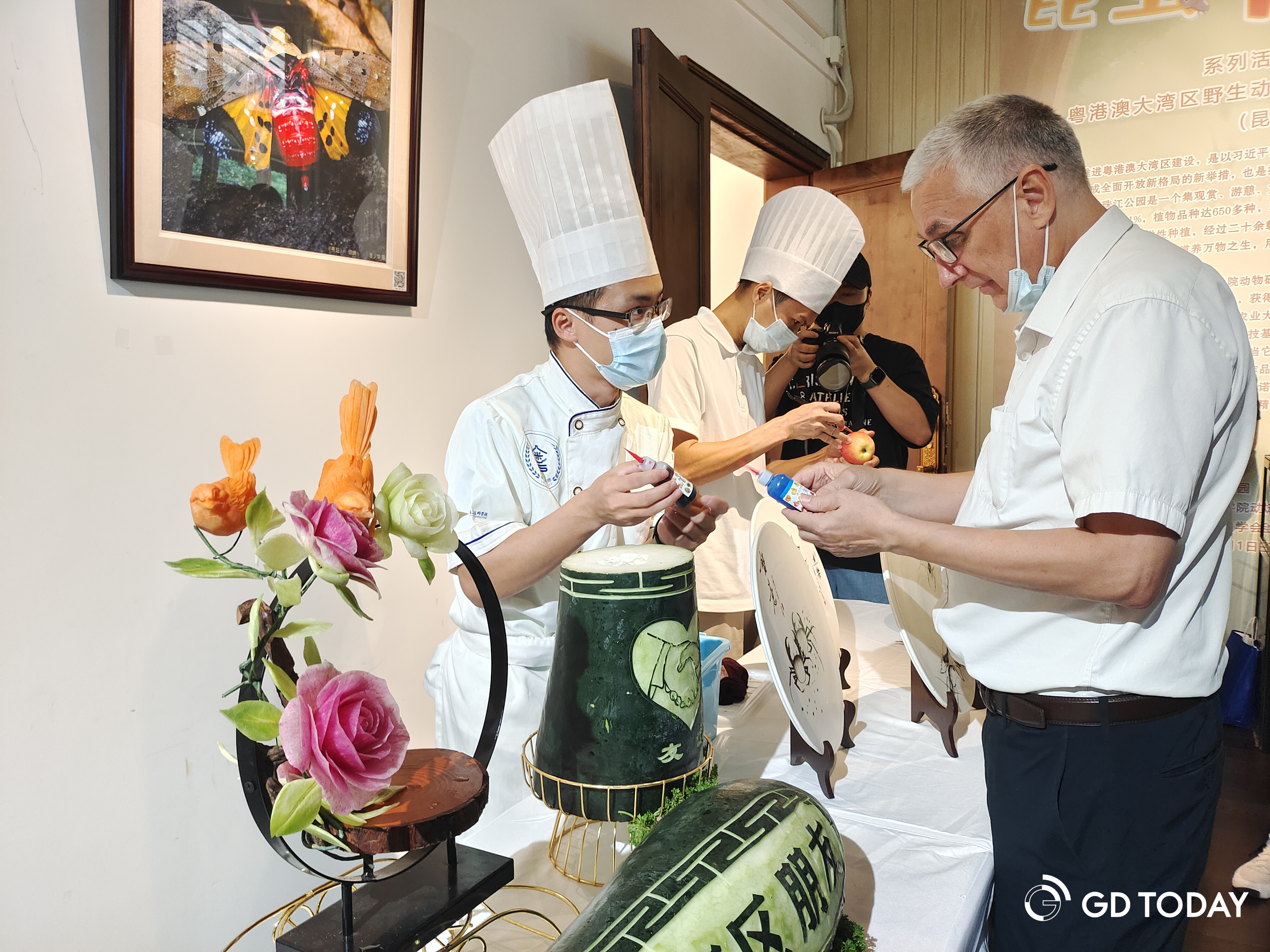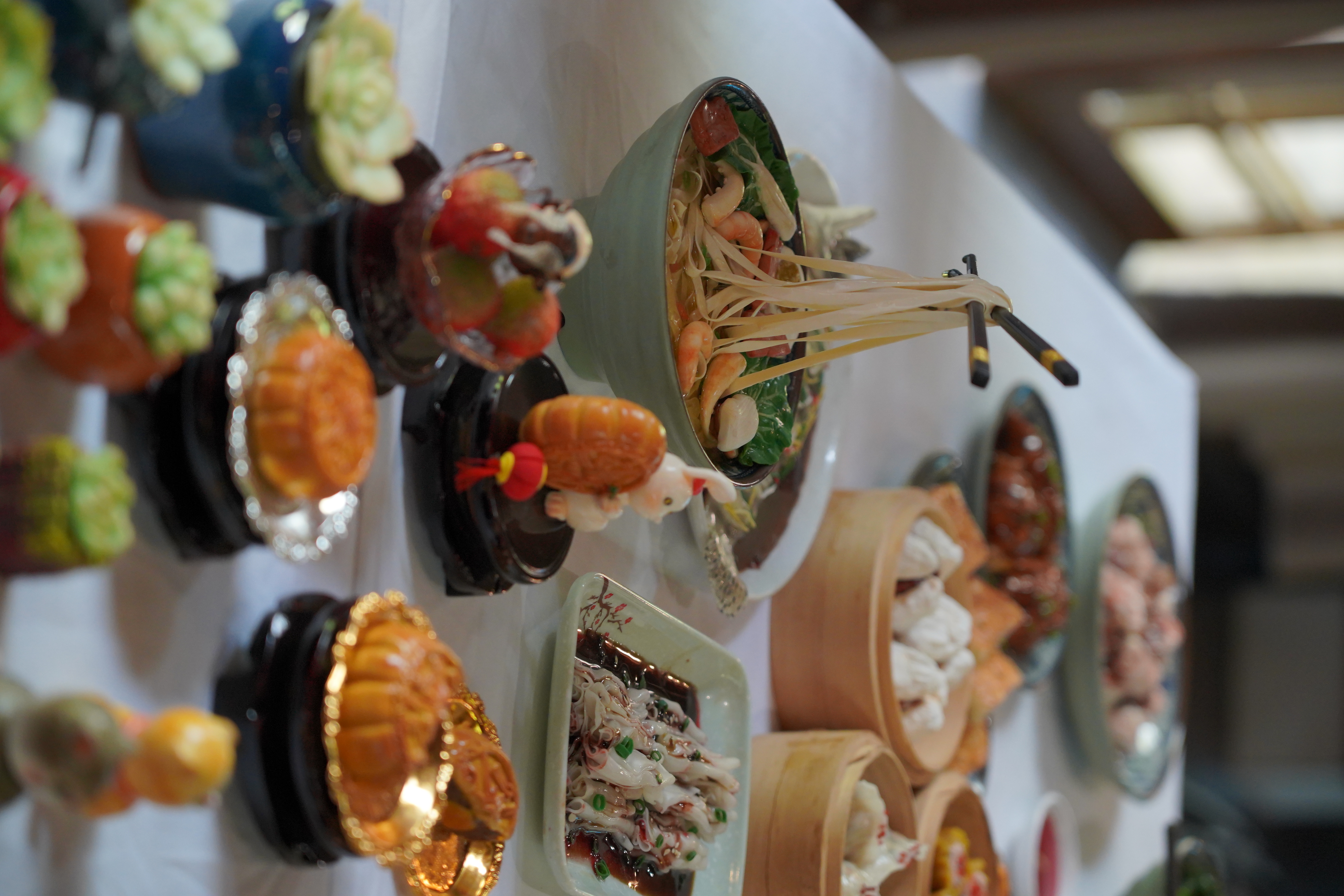 (Photo provided to Newsgd.com)
Meynard told a GDToday reporter that he receives mooncakes every year, but this event was special, because he got to know how to make mooncakes as well as their meaning and culture connotation, which is very good. "The mooncakes also represent the interpersonal relationship between us. We all care for each other, help each other, and share the joy."

"I think today's event was very exciting. I got to know more about not just Mid-Autumn Festival, but about Cantonese cuisine," Jaaksola said in an interview with GDToday, "My daughter is very interested especially in what I did today with the dough sculpture flower and mooncakes as well. So, I think she's gonna be very happy to receive this lion-shaped snow skin mooncake."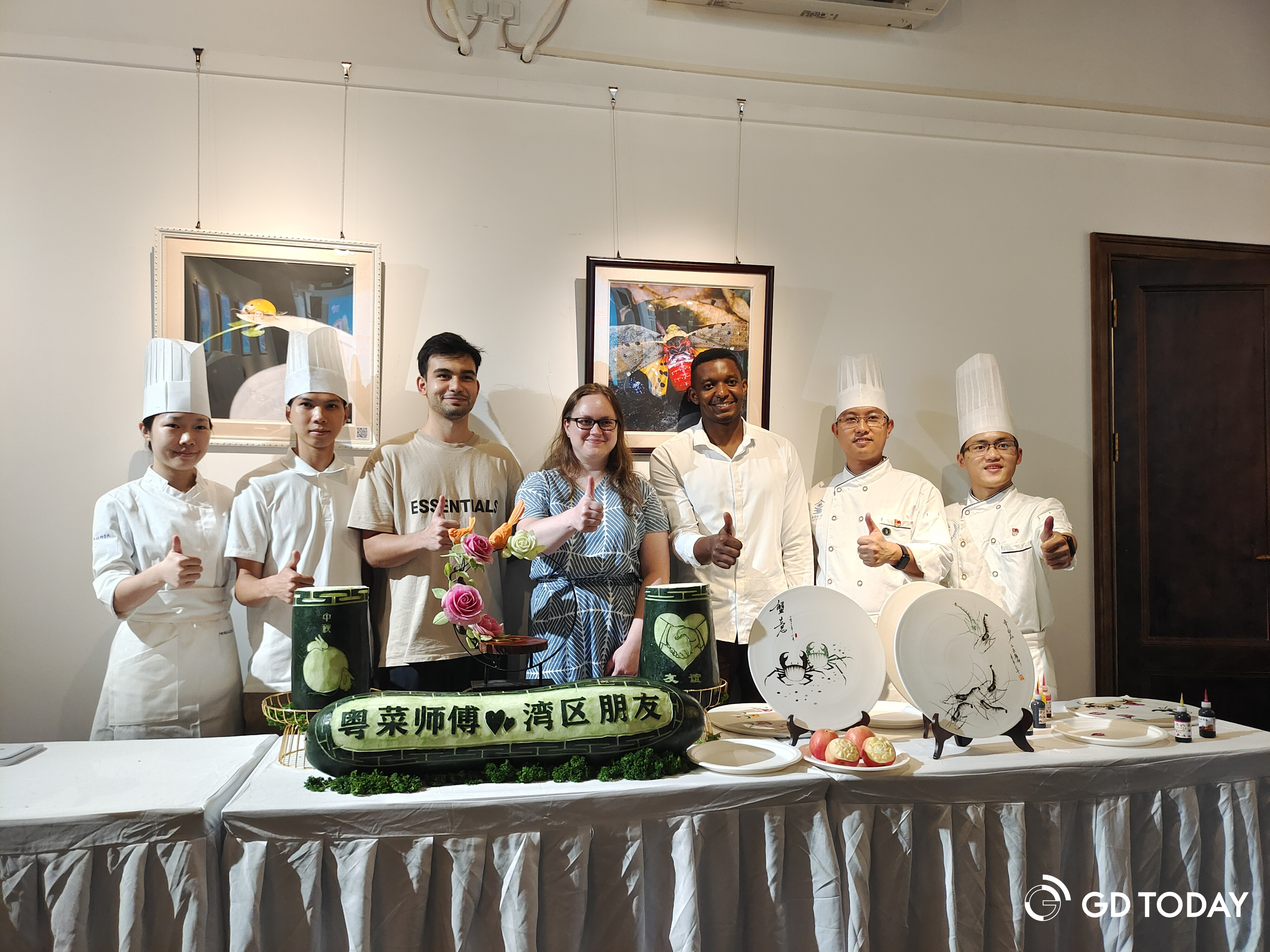 Author | Monica, Holly
Video | Qin Shaolong
Editor | Wing, Olivia, Jerry