A forum themed on the construction and coordinated development of Nansha Science City, which is a sub-forum of the 2023 Greater Bay Area Science Forum, was held in Guangzhou's Nansha District on May 20. Experts in the sci-tech industry gathered to discuss the development of the district into an international scientific innovation hub.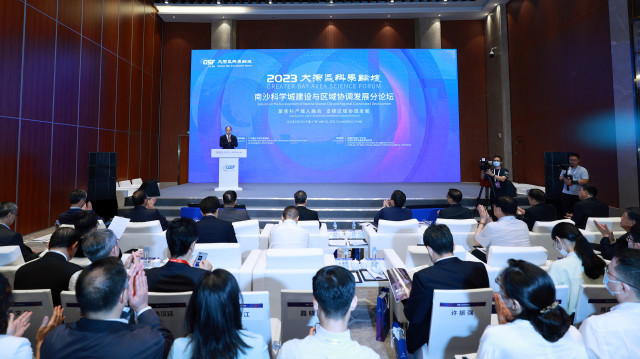 (Photo provided to GDToday)
Wu Yang, Executive Chief of Nansha District, said that the overall plan, which was issued by the State Council in 2022 to promote comprehensive cooperation among Guangdong, Hong Kong, and Macao by further deepening the opening-up in the Nansha district, brings the district opportunities to attract top talent.
He elaborated that the number of provincial-level R&D institutions and high-level innovation research institutes in Nansha accounted for one fifth and one third of the total number in Guangzhou respectively. And 25 enterprises in Nansha are on the list of Guangzhou Unicorn Enterprises, with an R&D investment intensity of 5.45 percent.
"With the planned area of 99 square kilometers, Nansha Science City is accelerating its construction," said Wu. He introduced that the first phase of Mingzhu Science Park, which is part of Nansha Science Park and developed by the Chinese Academy of Sciences, will be put into use soon. The Greater Bay Area Science Forum Permanent Site has started construction. The construction of scientific and technological infrastructures in the fields of marine science is also promoted.
Huang Xiangyang, Head of the Sci-tech Innovation Office of the Chinese Academy of Sciences, said that the Chinese Academy of Sciences will increase the investment of scientific research in Nansha based on the Mingzhu Science Park, especially in the fields of the deep sea, deep earth, energy, and aerospace science and technology.
"Nansha Science City should focus on marine science and engineering research," said Mu Rongping, Head of Innovation Development Research Center of the Chinese Academy of Sciences. He noted that the South China Sea Institute of Oceanology and Guangzhou Marine Geological Survey have settled in Nansha.
Mu elaborated that there would be potential discoveries in marine scientific research in the process of exploitation and use of marine resources, which may bring tremendous social effects. "To promote the development of Nansha Science City, we should not only talk about scientific issues, but also think about the scientific value, technological value, economic value, social value, and cultural value," he stated.
According to the Nansha government, Nansha Science City also plans to promote coordinated development with Guangzhou Science City, Songshanhu Science City in Dongguan, and Guangming Science City in Shenzhen.
Author丨Nina
Editor丨Wing, Jasmine, Monica, Jerry