After six months of preparation, the Consulate General of Tanzania in Guangzhou was officially inaugurated on May 20.
After six months of preparation, the Consulate General of Tanzania in Guangzhou was officially inaugurated on May 20.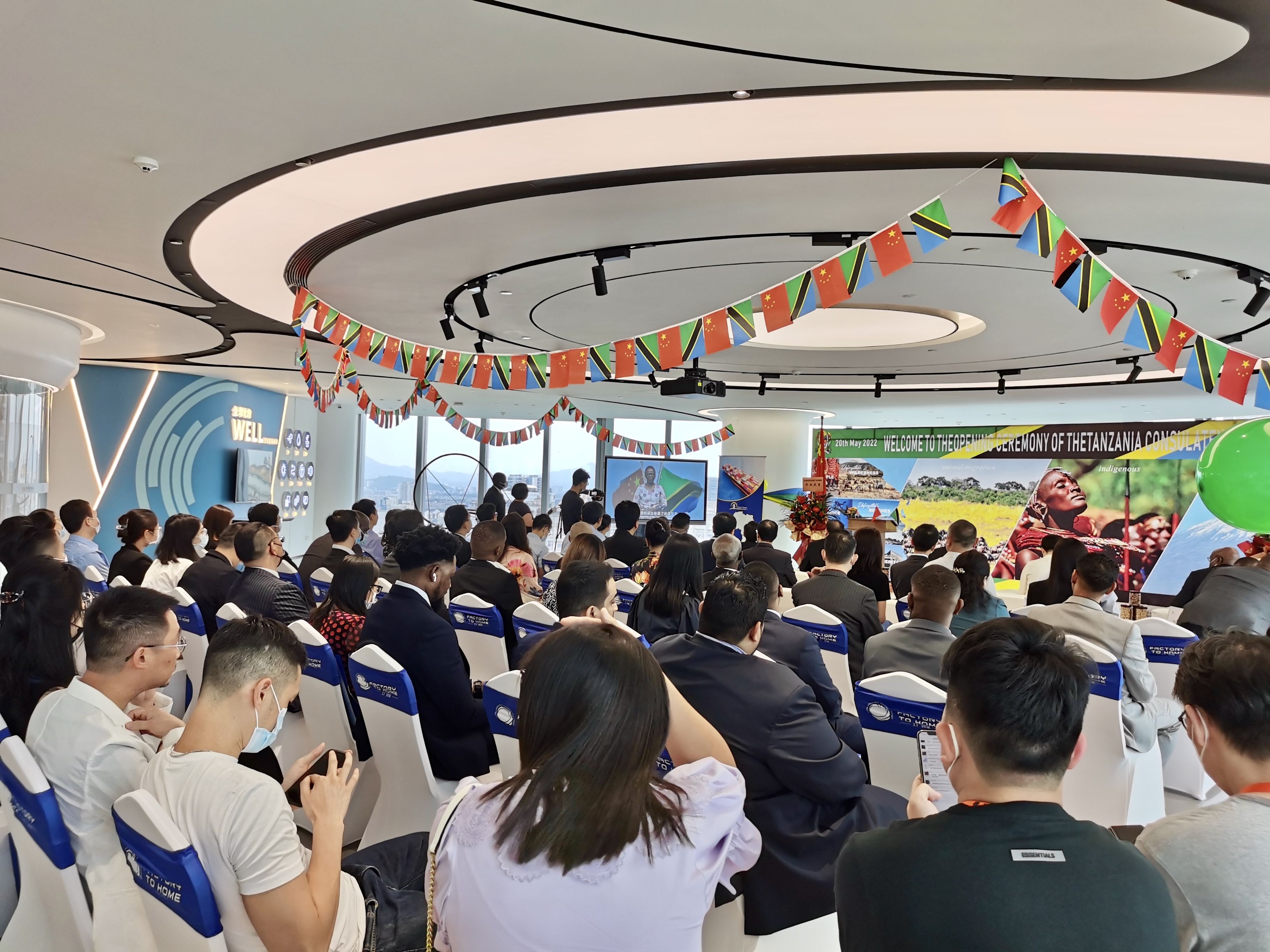 (Photo: Newsgd.com)
"The presence of a Consulate General in Guangzhou will enable Tanzania to take more advantage of opportunities under the Belt and Road Initiative, Forum on China-Africa Cooperation (FOCAC), and the Guangdong-Hong Kong-Macao Greater Bay Area development."
Khatibu Makenga, Consul General of Tanzania in Guangzhou, said at the opening ceremony, adding that the Consulate will create new impetus for trade, investments and cultural links between the two sides.
Last year, goods worth over 1 billion USD in the total trade between China and Tanzania were routed through the ports in Guangdong. That accounted for nearly 20% of the total trade between the two countries.
Speaking of reasons of opening the Consulate in this city, Makenga commented, "Guangzhou is renowned for its strategic geographical location and connectivity, reaching half of the world's population within 9 hour's flight time."
From his point of view, Guangzhou is also the most open, international, well-connected, vibrant, and important city in Southern China, making it an ideal gateway for Chinese businesses to go abroad and for foreign companies to enter the China market.
Luo Jun, Deputy Director General of the Foreign Affairs Office of Guangdong Province, recalled the beginning of exchanges between China-Tanzania peoples, "Thousands of years ago, the ancient silk road, connecting the two countries and peoples of China and Tanzania, raised the curtain on mutual learning, exchanges and friendship between the two sides."
Since the establishment of diplomatic relations between the two countries in 1964, Tanzania has been an iron-clad African friend of China, occupying a special and important place in China's diplomatic history.
Chinese experts worked side by side with the Tanzanian people to build the Tanzania-Zambia Railway, creating a "road to freedom and friendship" between China and southeastern Africa. Tanzania, together with other African brothers, made strong efforts to help with the restoration of China's legal seat in the United Nations in 1971.
"A new round of Guangdong's reform and opening-up will bring more cooperation opportunities with other countries in the world, including Tanzania," said Luo Jun.
Liberata Mulamula, the Minister of Foreign Affairs and East Africa Cooperation of Tanzania, joined the opening ceremony via video link.
According to Liberata Mulamula, the Tanzanian community in Guangzhou is the largest in China. On the other hand, Tanzania has many Guangdong enterprises. "Guangzhou has been a bellwether of China-Tanzania trade cooperation. The Greater Bay Area has a significant contribution to the trade volume between two countries, which reached 6.74 billion USD last year."
She noted, "For this reason, Tanzania values its ties with Guangzhou as one of our most important trade partners. With a full-time presence in Guangdong, we are optimistic that trade volumes between our two sides will increase."
Before concluding her remarks, she reiterated the commitment of Tanzania to further strengthen the existing historical and friendly relations between two countries. "The opening of the Consulate General in Guangzhou is a step to a stronger and greater cooperation between our countries and peoples."
Author | Hannah, Reese (intern)
Editor | Wing, Steven, Monica, Jerry