On November 24th and 25th, the consular corps arrived in the city of Zhongshan, the hometown of Dr. Sun Yat-sen. Known as a city that develops itself through manufacturing industry, Zhongshan now also promotes the development of a national low-carbon pilot city and facilitates green transformation.
"I knew Zhongshan as the hub of lighting industry. Today, it was a good opportunity to see and tangibly experience." Hossein Darvishi, Consul General of Iran in Guangzhou comments on city's Guzhen Town.
Over the past four decades, almost all households in Guzhen Town have been engaged in producing lighting products and accessories, occupying about 70% of the domestic market and 50% of the global market. The products here are sold to over 130 countries and regions.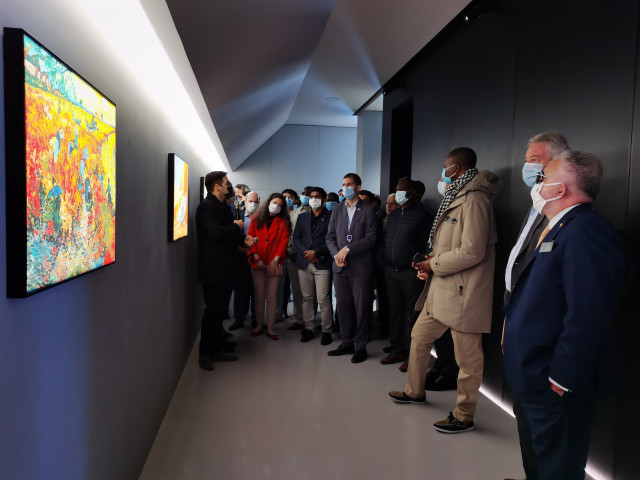 Consular corps visiting Star Alliance Lights Center. (Photo: Newsgd.com)
According to an official with the Guzhen government, in the near future, it is planned to be built into a center for lighting technologies. Now, Guzhen is also developing smart lighting products. In High Class Group, a high-tech enterprise producing solar street lamp products, staff showed the consular corps how a lamp can be managed via the Internet of Things.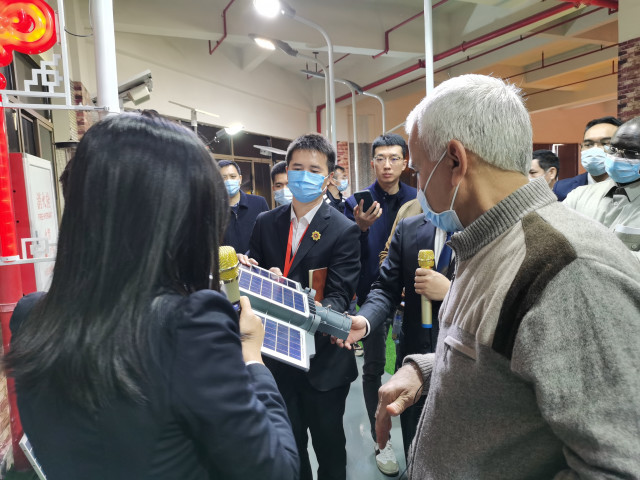 Consular corps visiting High Class Group. (Photo: Newsgd.com)
The other aspect Darvishi noticed is that Zhongshan is playing an important role in new energy industry, "it is also very important for reducing carbon usage and emission." Darvishi added.
Phin Vicheawadhana, Consul General of Cambodia in Guangzhou, was impressed with the development of Zhongshan's solar energy enterprise. He said, "Cambodia doesn't have enough energy, especially for the remote areas. If you use that solar panel, it can bring the energy to villages and the people there."
As a leading provider of CdTe thin film photovoltaic (PV) products, Zhongshan Ruike New Energy Co., Ltd has developed 12,000 pieces of photovoltaic glass that generate the power for China's National Speed Skating Oval, the main venue of Beijing Winter Olympics. The system can produce the same power that amounts to the electricity consumption of 200 families for a year, and guarantees a constant supply of clean electricity for the ice production system of the Oval.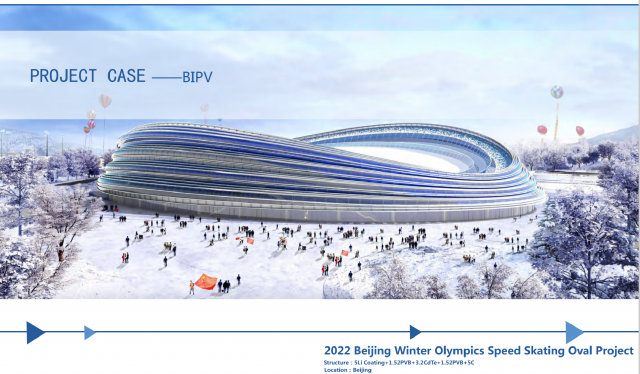 Ruike is the provider of photovoltaic glass for the main venue of Beijing Winter Olympics. (Photo provided to Newsgd.com)
"We've been visiting very interesting companies, all working with the same goal to make the planet or the world cleaner and greener." Philippe Praz, Consul General of Switzerland in Guangzhou said.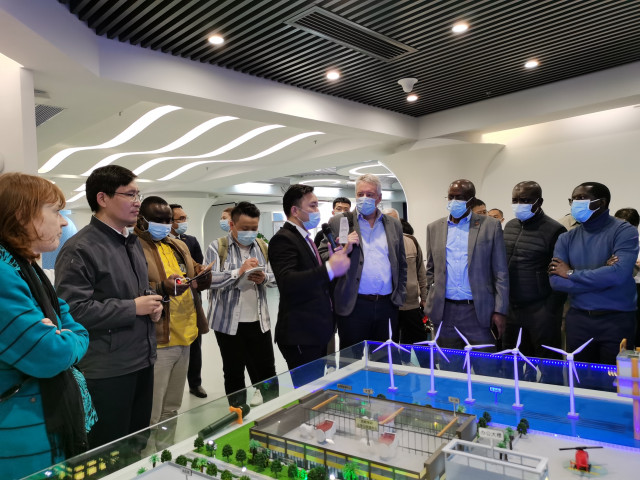 Consular corps visiting Mingyang Smart Energy Group. (Photo: Newsgd.com)
Having learned about the this offshore wind farm when visiting Mingyang Smart Energy Group, Praz showed great interest. "That was a very concrete and interesting example. On both sides, there is interesting experience that we can share. So, maybe we can learn from you, how do you implement this from the maintenance to monitoring, etc."
When Mehmet Kurtuluş Aykan, Consul General of Turkey in Guangzhou looked at Zhongshan on the map, he saw a city in the center of the Guangdong-Hong Kong-Macao Greater Bay Area. "Zhongshan occupies a central position on the Pearl River Delta, which is an important waterway that connects Guangzhou with Hong Kong and Macao," said Aykan.
Cuiheng New Area is located at east Zhongshan, and it is the landing point on the west side of the Shenzhen-Zhongshan Link. Within 1 hour, it can reach 5 major airports nearby, including Guangzhou Baiyun Airport, Shenzhen Bao'an airport, Hong Kong airport, Macao airport and Zhuhai airport.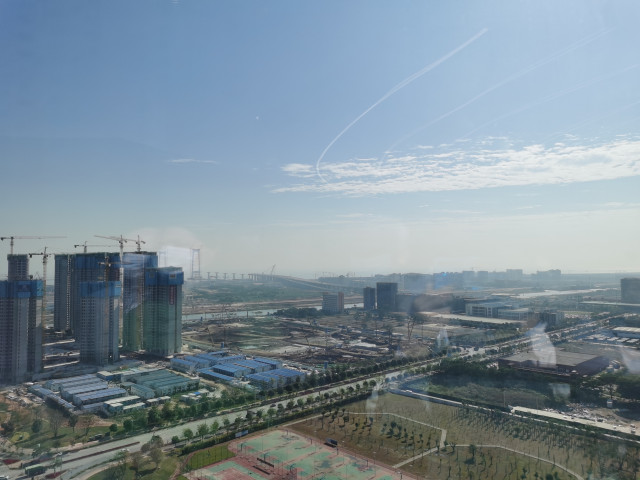 Consular corps looking at Shenzhen-Zhongshan Link from afar in Cuiheng New Area. (Photo: Newsgd.com)
By 2024, when this mega project is completed, it will only take 20 minutes for passengers to travel from Shenzhen to Zhongshan. Meanwhile, such a big infrastructure will also boost the high-quality development of Zhongshan.
A batch of scientific and technological innovation platforms have been introduced in Cuiheng, including Zhongshan Institute for Drug Discovery, SIMM, CAS and HIT Robot (Zhongshan) Unmanned Equipment and Artificial Intelligence Research Institute. In the future, the new area will focus its industrial development on bio-medicine, digital economy, artificial intelligence, high-end service industry and precision manufacturing.
Author: Hannah Zhou
Editors: Keane Wong, Jerry, Steven Yuen
Huang Yanting (intern) also contributed to this report.