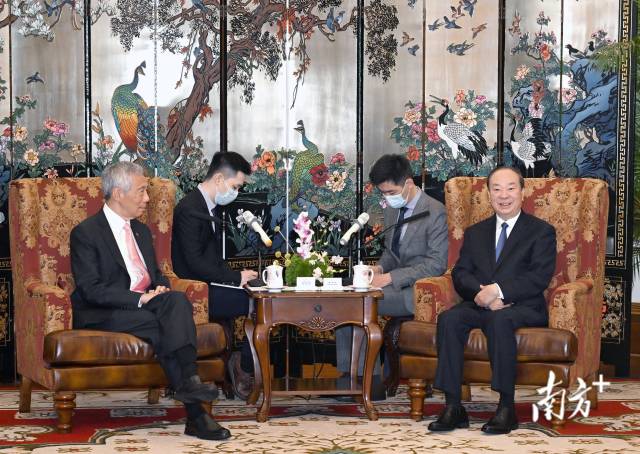 (Photo: Nanfang Plus)

Huang Kunming, the Party Secretary of Guangdong, Wang Weizhong, Governor of Guangdong, and Lin Keqing, Chairman of the CPPCC Guangdong Committee, met with Singaporean Prime Minister Lee Hsien Loong and his delegation on March 29 in Guangzhou. The two sides had in-depth exchanges on deepening practical cooperation and promoting win-win development between Guangdong and Singapore.
Huang Kunming stressed that Guangdong expected to strengthen cooperration with Singapore in business and investment, smart cities, digital economy, biomedicine, inclusive finance, science and technology education, and cultural tourism. Singapore companies are welcome to invest in Guangdong and share the fruit of development.
Lee Hsien Loong said he was delighted to revisit Guangdong, seeing significant progress in various aspects of development. Guangdong has been playing an essential role in promoting cooperation between Singapore and China. He looks forward to close interactions with Guangdong, and participating in the development of the Guangdong-Hong Kong-Macao Greater Bay Area, especially through the two bilateral projects, that is, China-Singapore Guangzhou Knowledge City and Singapore-China (Shenzhen) Smart City Initiative.
This is Lee Hsien Loong's third visit to Guangdong as Singapore's Prime Minister, and it has been nine years since his last visit.
Author | Clarice
Editor | Wing, Nan, Will, James