On March 13, Guangdong awarded the "Guangdong Friendship Award" to 49 foreign friends from 23 countries in Guangzhou, acknowledging those who have made outstanding contributions to Guangdong's economic and social development, as well as international exchanges. The honorees come from the academic, business, political fields.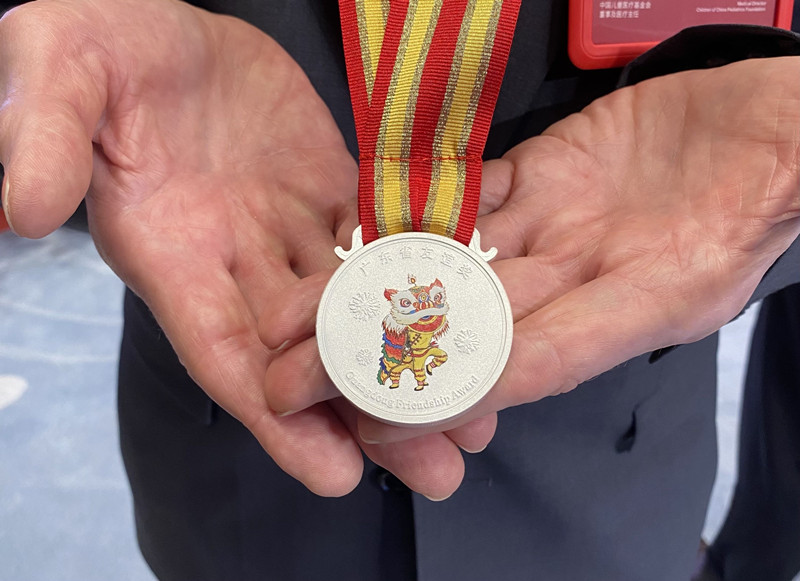 (Guangdong Friendship Award)
Wang Ruijun, Member of the Standing Committee of the CPC Guangdong Committee and Head of the Guangdong Department of United Front Work, attended the ceremony and delivered a speech, saying this year marks the 45th anniversary of Reform and Opening-up. Guangdong, China's trailblazer of this policy, has made remarkable achievements through continuous hard work spanning 45 years. These achievements would not be possible without the wisdom and input of foreign experts and international friends.
Wang said, "We are advancing the development of the Guangdong-Hong Kong-Macao Greater Bay Area (GBA), high-quality development, and actively exploring a Guangdong path and contributing Guangdong's chapter to Chinese modernization."
"This will definitely bring new and significant opportunities for Guangdong's cooperation with other countries, and provide a broader arena for intentional talent to come to Guangdong to realize their potential and dreams through cooperation." he added.
Zhang Xin, Vice Governor of Guangdong province, stated that since the 18th CPC National Congress, a significant number of international experts and friendly personages have maintained their friendship with China, enthusiastically participated in the Belt and Road projects and actively supported the development of GBA, Shenzhen Pilot Demonstration Area of Socialism with Chinese Characteristics, and three major development platforms in Hengqin, Qianhai and Nansha. "They are outstanding contributors to advancing Reforming and Opening-up, Guangdong's economic and social development, and strengthening the friendship with people worldwide," said Zhang.
He added, in order to promote Guangdong's interaction with the rest of the world as ambassadors of friendly exchanges and partnerships, share development opportunities with the Guangdong people, and build a bright future, he hopes that the winners can continue to take advantage of their knowledge, advantages, and bonding roles and support Guangdong's initiatives.
David Gershoni, a award winner and Vice Chancellor of Guangdong Technion Israel Institute of Technology (GTIIT), shared his feelings. "For me, it is such a great honor to stand here today and for receiving the Guangdong Friendship Award. I would like to express my sincere gratitude for the organizers of this event, Guangdong Provincial Government and Guangdong Foreign Affairs Office for this recognition and thoughtful arrangements. I am delighted to be here!"
As a third-generation immigrant from Chaozhou, Guangdong to Malaysia, Lim Gaik Siang, Cultural Consultant of Xiangqiao District, Chaozhou, felt extremely honored to receive this Guangdong Friendship Award. She said, "This is a very significant honour, as it not only represents a personal achievement, but also an affirmation of our forefathers who had persevered in maintaining and transmitting the Chinese culture and legacy in a foreign country."
Klaus Welch, President of Mega Projects Asia, AM, BASF (China) Company Ltd. introduced that
BASF is now in progress to build one of the largest and most modern Verbund sites world-wide in Zhanjiang, with an investment of 10 billion Euro. "As a lighthouse project for the chemical industry, the site is being built as a role model of smart and sustainable production. The entire site will be powered by 100 percent renewable electricity to reduce the carbon footprint, thus contribute to China's strategy to achieve carbon neutrality by 2060," he added.
Author | Hannah
Editor | Wing, Steven, Monica, James