[Global 500 Companies in GBA]
Editor's note: According to 2022 Government Work Report delivered on March 5, this year China will take multiple measures to stabilize foreign trade and actively use foreign investment. What's the investment prospect of the Guangdong-Hong Kong-Macao Greater Bay Area in 2022? GDToday & Nanfang Daily invited the President of Dow Asia Pacific to share his insight about the region's investment appeal and manufacturing development.
"The new economic development pattern of 'dual circulation' pushed forward by China gives full play to Guangdong's advanced manufacturing capacity and geographical advantages, which will inject new impetus to the development of the Guangdong-Hong Kong-Macao Greater Bay Area (GBA)", said Jon Penrice, President of Dow Asia Pacific, when sharing with Nanfang Daily & GDToday on Dow's investment development in Guangdong over the past 43 years.
As a leading materials science company in the world, Dow's portfolio of plastics, industrial intermediates, coatings and silicon businesses delivers a broad range of differentiated, science-based products and solutions for its customers in high-growth market segments, such as packaging, infrastructure, mobility and consumer applications.
Dow opened its office in Hong Kong in 1957 and with the reform and opening up of the Chinese mainland market, it opened its first office in Guangzhou in 1979.
Today, the company operates 8 manufacturing sites and 10 business centers across Greater China, including high-performance materials production bases in Guangzhou and Sanshui (a district of Foshan) as well as business offices in Guangzhou and Shenzhen.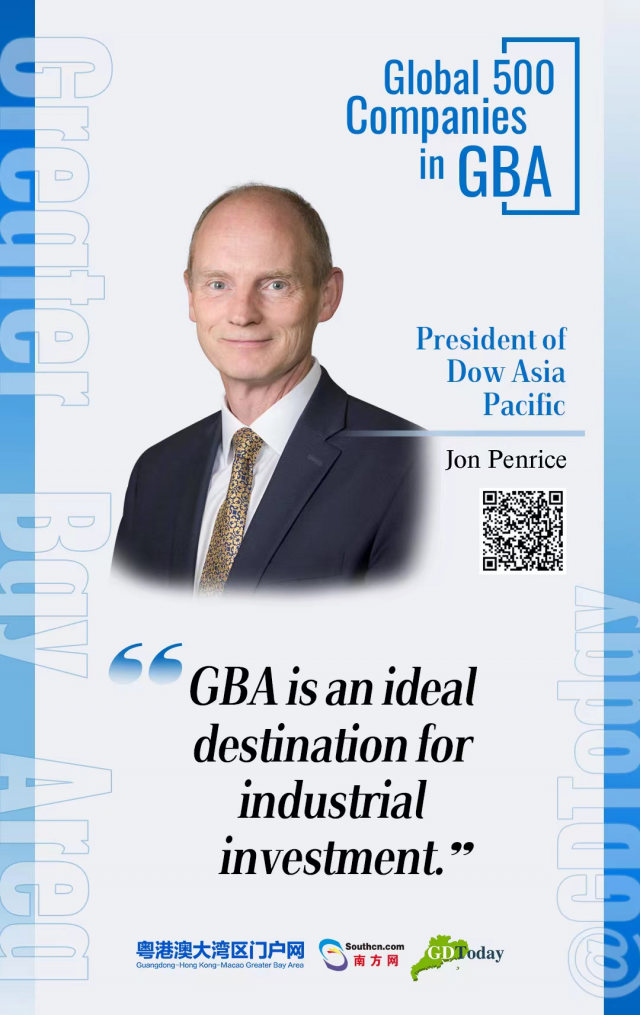 A 'magnet' for new investment in the chemical industry
After more than 40 years of reform and opening up, Guangdong has fostered a batch of local manufacturing brands and developed a complete industrial chain.
"The GBA promotes R&D investment in environmental protection and sustainable products. This affirms sustainable business opportunities for Dow and it becomes natural for us to increase our investment in the place." said Jon.
Guangdong is China's key production base and consumer market for the daily chemical, furniture, electronics, and transportation industries.
"We attach great importance to the strategic layout and on-going investment in Guangdong and the strong partnership with leading local enterprises including the Liby Group, a leading company in the daily chemical industry, and Xilinmen, a star company in the furniture industry." Jon added.
The GBA excels in supporting policies for industrial development and encouraging talent development, providing an excellent environment for enterprise development hence, making it attractive for multinational companies to invest in them.
The convenience of transportation and the costs of upstream oil and gas resources are also the influencing factors of Dow's investment choice.
Jon stressed that with convenient marine transportation and mature inland logistics network, the GBA is an ideal investment destination for the chemical industry.
From a trade port to the most capable manufacturing base in China
China is Dow's second largest market in the world, and Dow has been investing in a new production line every 18 months over the past five years.
"We are very grateful to the Guangdong Provincial Government for its continuous efforts to optimize the business environment and being involved in the relevant investment policies for the petrochemical industry," Jon said.
"From a trade port to the most capable manufacturing base in China, Guangdong has kept attracting foreign companies to increase their investment. We look forward to continuing to grow together with Guangdong in the Chinese market."
As a sign of confidence in GBA's chemicals market, Dow announced last year to establish a specialties manufacturing hub in Zhanjiang, Guangdong, with an investment approximately $250 million to build a specialty polyurethane and specialty surfactant unit.
Jon believes that, as Dow keeps enhancing its investment portfolio in the GBA with the completion of South China manufacturing hub in the future, the company will gain more cost advantages in the upper and lower industrial chains.
Collaboration, innovation and sustainability -- these are Jon's expectation for the GBA. "We expect the Greater Bay Area to become a model that promotes comprehensive cooperation, passionate innovation and sustainable development," he said.
Related News:世界500强外企看大湾区 | 陶氏公司:看好大湾区产业发展前景
Author | Fanny, Chang Daoli
Editor | Wing, Olivia, Ou Xiaoming, Nan, Jerry
Poster | Mia