The opening ceremony of the Sino-French International Associated Laboratory (LIA ECOLAND Ⅱ) was held in Guangzhou on October 27.
The laboratory was jointly established by Sun Yat-sen University (SYSU), the University of Lorraine in France, and the French National Research Institute for Agriculture, Food and Environment (INRAE) in 2015. Currently, the first phase of the project has been completed in 2021. All three parties stated that they will continue to focus on major pollution issues in the soil environment and provide ecosystem services to restore and assess contaminated land.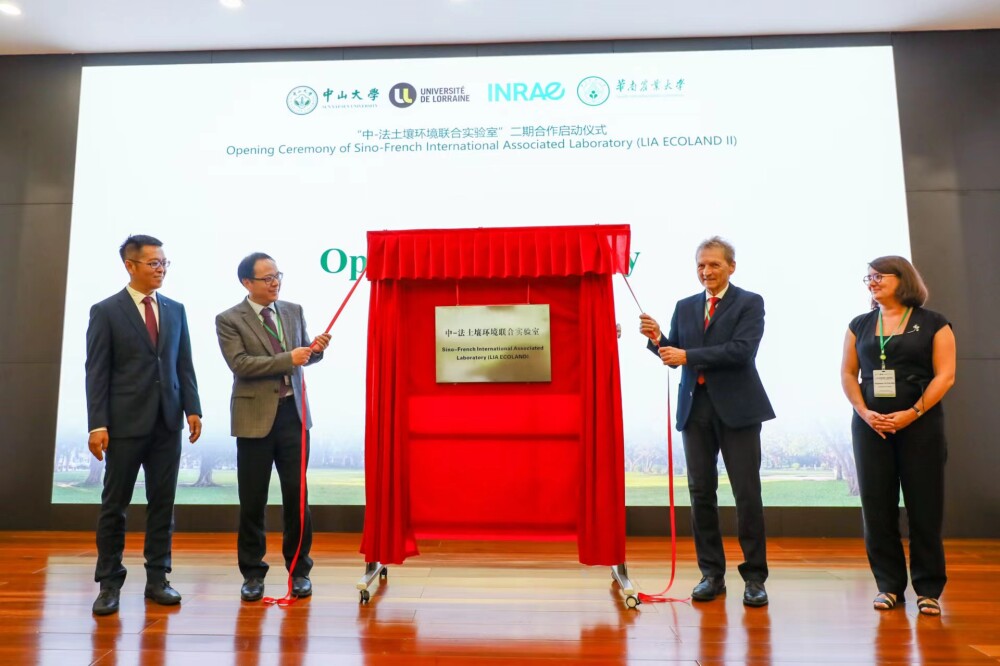 Li Yixi, Deputy Dean of the Office of Science Research & Development, SYSU, introduced that the Lab was considered one of the 12 most successful international cooperation achievements in the past 20 years by INRAE.
"SYSU's School of Environmental Science and Engineering and the University of Lorraine have enjoyed 20 years of partnership. This partnership has focused on cutting-edge scientific issues and technological demands in the field of soil environment around the world, and made fruitful achievements in jointly training doctoral students, applying for research grants, and joint publication."
Olivier NGO, Science and Higher Education Attaché, Embassy of France in China, also addressed the opening ceremony. He emphasized that the Lab and its projects perfectly reflected the focus of Sino-French cooperation. 2024 marks the 60th anniversary of the establishment of diplomatic relations between China and France. Olivier said the Lab has begun to prepare a series of new research projects, which will surely once again tighten the bond of friendship between the two countries.
At present, SYSU has conducted exchanges and cooperation with more than 30 French universities, mainly in the fields of nuclear science, chemistry, environmental science, linguistics, economics, tourism and law.
Reporter: Ariel
Editor: Olivia, Nan, Will, James
Photo provided to GDToday