On November 14, a 2-year-old boy got his head stuck in the bottom of 6th floor's security grill at a residential building in Haizhu's COVID-19 controlled area, this nearly caused a serious incident where the boy could have fallen all the way down. Wu Hongchao, deputy head of the pre-trial office of Haizhu Branch of Guangzhou Public Security Bureau and his colleagues who were patrolling around instantly went upstairs and successfully saved the boy.
"The child was hanging in the air. The atmosphere was so tightened up that I can't describe it even at present." Wu Hongchao, recalled the scene of rescuing the boy on that day.
"It's too dangerous! Hurry up to save the boy!" On the afternoon of November 14, there was a rising clamour of voices around a residential building at Kangle Zhongyue South New Street of Fengyang Street in Guangzhou's Haizhu District.
There were several police and security guards stayed together with Wu Hongchao at that time. With everyone quickly dividing their job, such as maintaining order downstairs, building a buffering area with supplies to catch the boy.
Wu and other people rushed to the 6th floor, found that the door has been kicked open by the child's families and neighbors. They instantly rushed to the balcony for further rescue.
Wu Hongchao and the child's father hold his arms at first for protecting him from falling down, and tried to get him out of the security grill.
A warm-hearted neighbor stepped on the security grill, trying to expand the space as much as possible. The people downstairs were also ready to catch the boy. It was so strained: the boy was crying heavily, his mother sat on the ground feebly, and everybody could hardly breathe.
About 3 or 4 minutes later, the space for rescue has been enlarged and then the boy was saved successfully. Wu Hongchao clasped the boy and made him calm down. Then everyone felt relieved finally.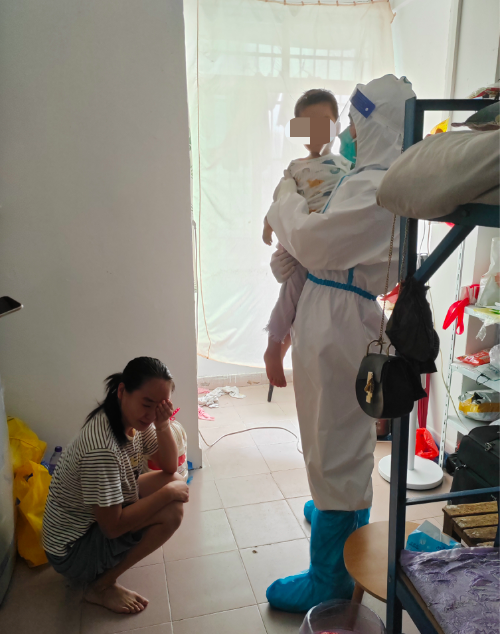 (Photo: Wu Hongchao was comforting the rescued boy)
The truth for the horrible scene was that the child locked himself in the house, climbed up to the window, and then accidentally stepped out, into the air without his parents' awareness.
Chinese reporters & video: Nanfang Daily Guanxiruyi, Wan Wenlong, Zhang Guanjun
English version: GDToday Will, Zoey, Helena (intern)
Editor: Wing, Nan, Jerry