"We are in the midst of an age of accelerating technological development, marked by rapid advancements in big data, digitalization, and artificial intelligence (AI). It is up to us as global citizens to take the necessary steps to ensure that these technologies are used to create opportunities, not harm", said Tshilidzi Marwala, United Nations University's Rector and Under-Secretary-General of the United Nations, in the opening plenary session of the 2023 World Data Forum Macao Satellite Event on April 25, 2023.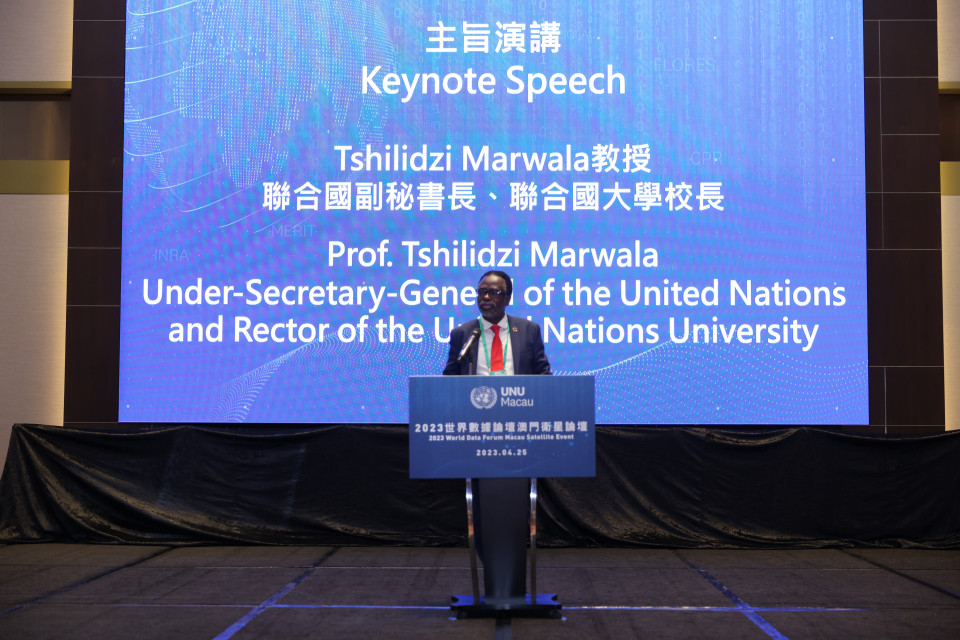 Tshilidzi Marwala, United Nations University's Rector and Under-Secretary-General of the United Nations, addresses the opening plenary session of the 2023 World Data Forum Macao Satellite Event on April 25, 2023. (Photo provided to GDToday)
The full-day conference gathered representatives from international organizations, government agencies, universities, and research institutes, as well as professionals in the private sector in the Macao Special Administrative Region to discuss data dilemmas across various themes, while reflecting on the human-centred approaches to tackle the dilemmas.
Data dilemmas and the way out
"Data and digital technologies have helped us to connect to one another better, exchange goods and services faster, access information and knowledge easier, reduced costs, and thereby they helped many to escape poverty and to be included in the economy and society," said Franz Gatzweiler, senior research advisor of the United Nations University Institute in Macao (UNU Macao) when addressing the opening plenary session.
However, these technologies have also brought us many dilemmas. For example, "As networks develop, the pace of life speeds up. While that is an advantage for many who can keep up, many others are being excluded, marginalized, and left behind. The speed of change has also created inequalities," Gatzweiler elaborated.
There are also challenges "in terms of using the data in a way that builds trust between governments, and people using the data in an ethical way that respects privacy," said Tiziana Bonapace, director of Information and Communications Technology and Disaster Risk Reduction, the United Nations Economic and Social Commission for Asia and the Pacific (ESCAP), in an exclusive interview with GDToday.
She enumerated a few measures ESCAP takes to protect the privacy of people. "For example, when a typhoon is about to cross a local community, the data we process will reveal the total number of people living in the village, and how many houses will be destroyed without exposing people's identities. We can then translate that data into early action by evacuating residents in time."
Speaking of a global mechanism to manage data cooperation, Kang Hui, a legal expert with the Faculty of Law at the University of Hong Kong, told GDToday that it is necessary to strengthen mutual trust through cooperation at institutional levels before discussing international treaties and high-level framework. "It's essential that civil society participates in this discussion," added Francis Crawley, chairman of the International Data Policy Committee of the Committee on Data for Science and Technology (CODATA).
Perihan Elif Ekmekci, Head of the History of Medicine and Ethics Department, TOBB University of Economics and Technology, stressed the importance of considering the diversity of cultures and norms when it comes to a global perspective of data and technological development, in an interview with GDToday.
"The Guangdong-Hong Kong-Macao Greater Bay Area has both eastern and western connotations in academics, industries, and finance. So trying to understand what is going on in terms of ethical, legal, and technological issues in this region is really important because it is a representative piece of globality," Ekmekci said.
Sustainable development calls for international data cooperation
Despite the challenges data technologies have posed, Bonapace suggested that it should not scare us away from the ever-expanding opportunities digital innovations can bring.
"We have a space plan which is a regional blueprint that promotes policy cooperation and coordination in the Asia-Pacific region to promote the application of space-derived data and information for sustainable developments. And China has been an active member of the program," Bonapace said.
"For example, when a disaster happens in a country, the UN Charter will be triggered, which requires space-faring countries to provide satellite images of the disaster-affected region at a high resolution for free. China has always been very quick in its response," she added.
Akio Takemoto, programme head of the United Nations University Institute for the Advanced Study of Sustainability (UNU-IAS), told GDToday that data technologies can help developing countries enhance information awareness when facing natural disasters such as climate hazards, but "huge investment is required".
"The investment needed for decarbonizing the energy system in developing countries will reach about 4 trillion USD every year by 2030, but the multilateral development banks, such as the World Bank and Asian Development Bank, can only provide less than 4 percent of the needs. This implies that we need to encourage and leverage the private sector investment," Akio noted.
"When it comes to human subjects, we have to bring data back to the people, and worry less about the sharing of the data, because that's where data has value when we use it in a human-centred way," said Crawley.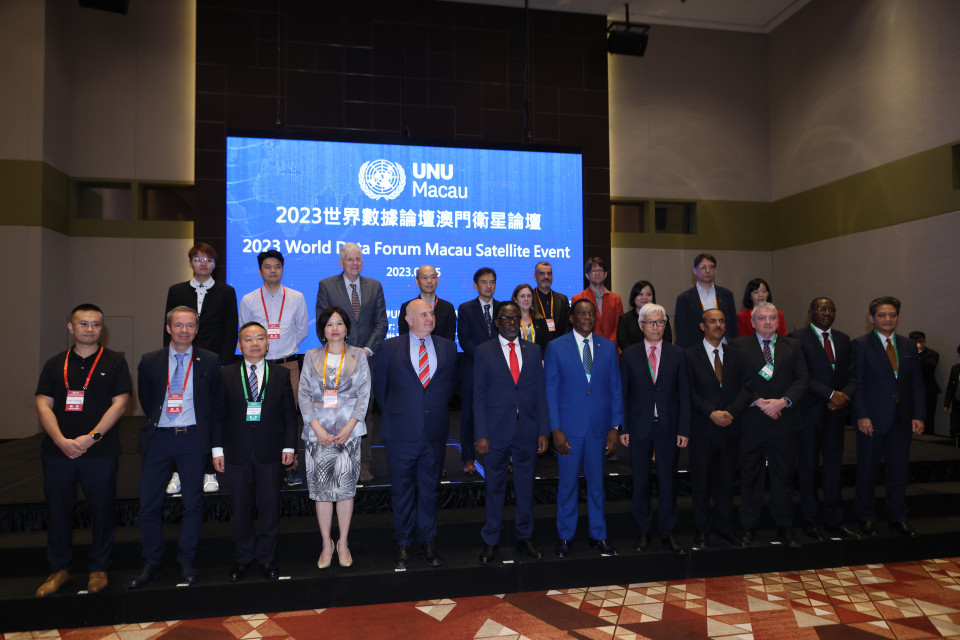 Speakers pose for group photo at the 2023 World Data Forum Macao Satellite Event on April 25, 2023. (Photo provided to GDToday)
Reporter | Lydia Liu
Editor | Wing, Steven, James