In Guangdong, every autumn to spring are perhaps the hottest birding periods, as hundreds of thousands of migrant birds pass through our parks, woods and wetlands. According to statistics, we can see 389 species of migrant birds in Guangdong, accounting for 70% of the total number of bird species.
What new birds are inhabiting Guangdong this year? Where can we see them? These places are worth exploring.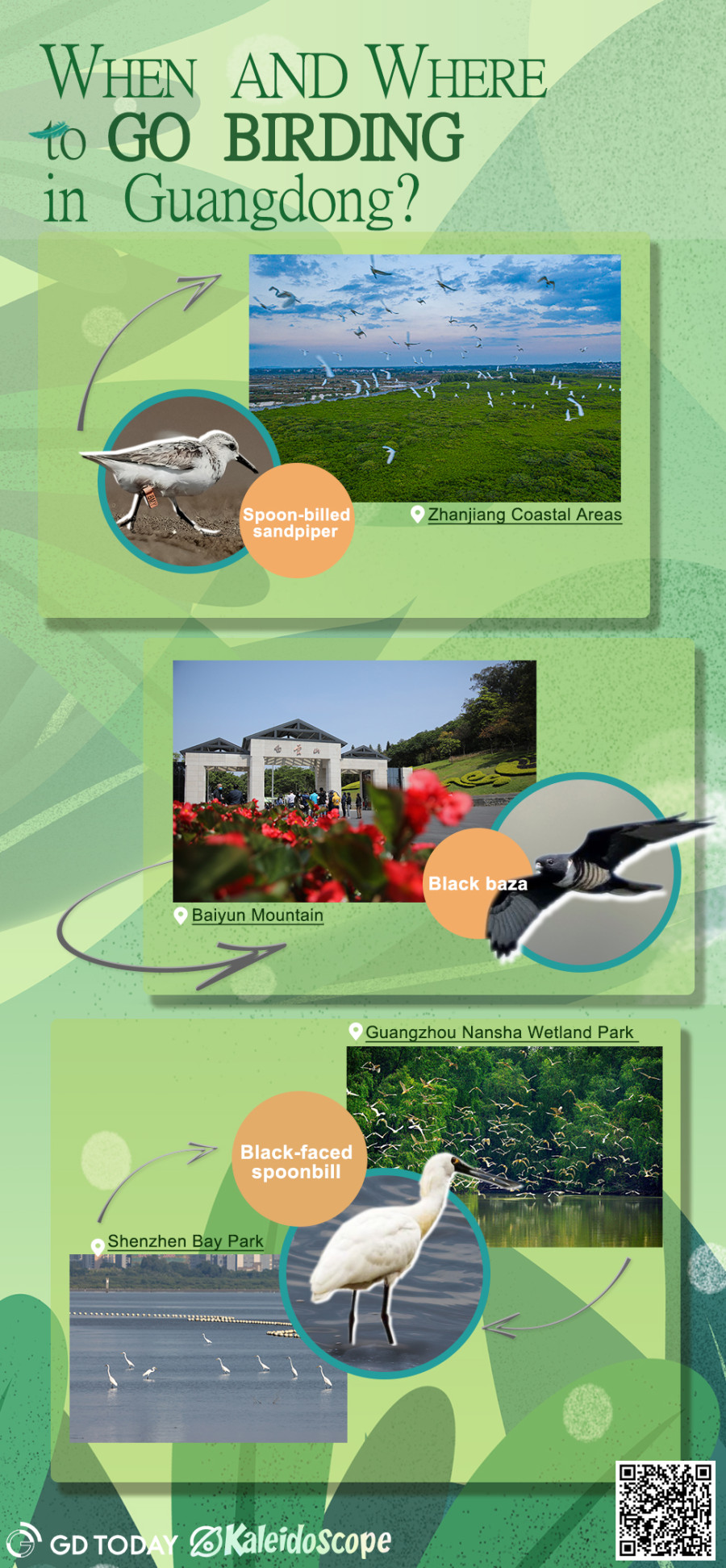 Black baza and other birds of prey
Birding spot: Baiyun Mountain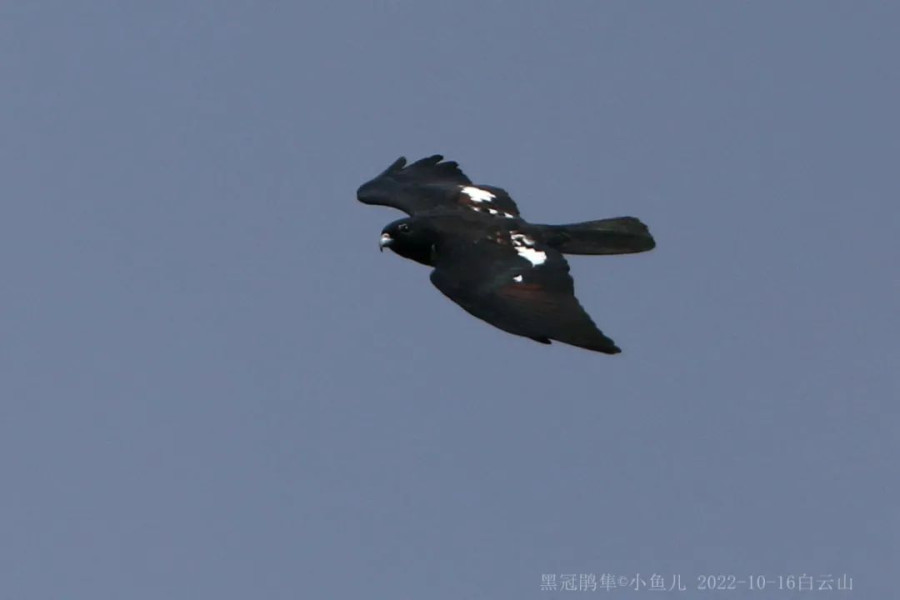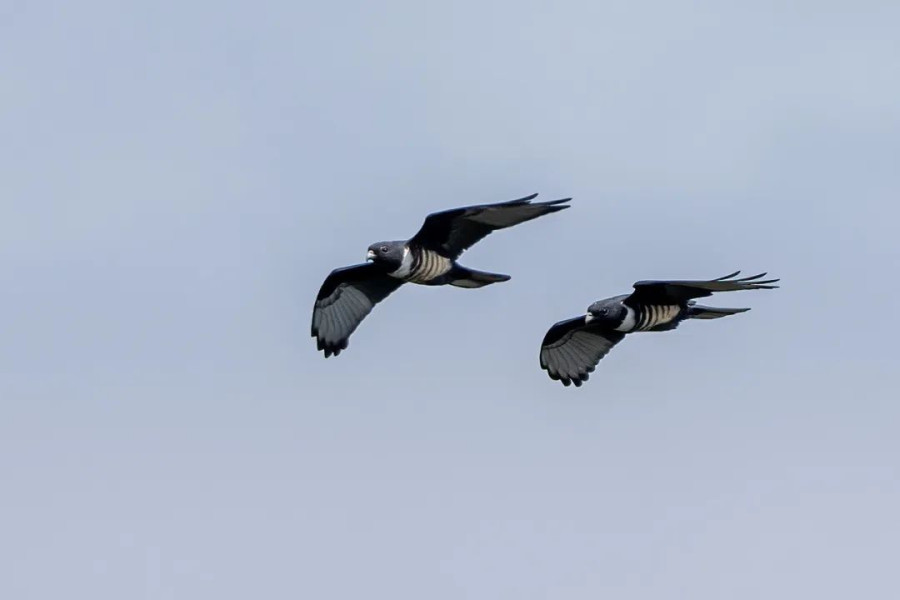 Black bazas are flying over Baiyun Mountain. (Photo: Zhao Guangsheng, Chen Shiwang, and the Guangzhou Nature Observation Association)

Guangzhou's Baiyun Mountain has become an important habitat on the migration route of birds of prey, according to the Guangzhou Nature Observation Association (GNOA). The association has recently observed three batches of 55 black bazas (黑冠鹃隼) flying over Baiyun Mountain.
"The 55 black bazas were all captured on the Longhugang (龙虎岗) of Baiyun Mountain. In addition, volunteers also captured images of 89 birds of prey at three observation points in the mountain—Baiyun Songtao (白云松涛), Longhugang and Moxingling (摩星岭), including crested serpent eagle (蛇雕), common kestrel (红隼), and crested goshawk (凤头鹰)," said Zhen Jun, secretary general of the GNOA.
If you want to see the heroic posture of birds of prey soaring in the sky, take a stroll at the Baiyun Mountain.
Spoon-billed sandpiper
Birding spot: Zhanjiang Mangrove Nature Reserve (湛江红树林自然保护区), Zhanjiang Coastal Areas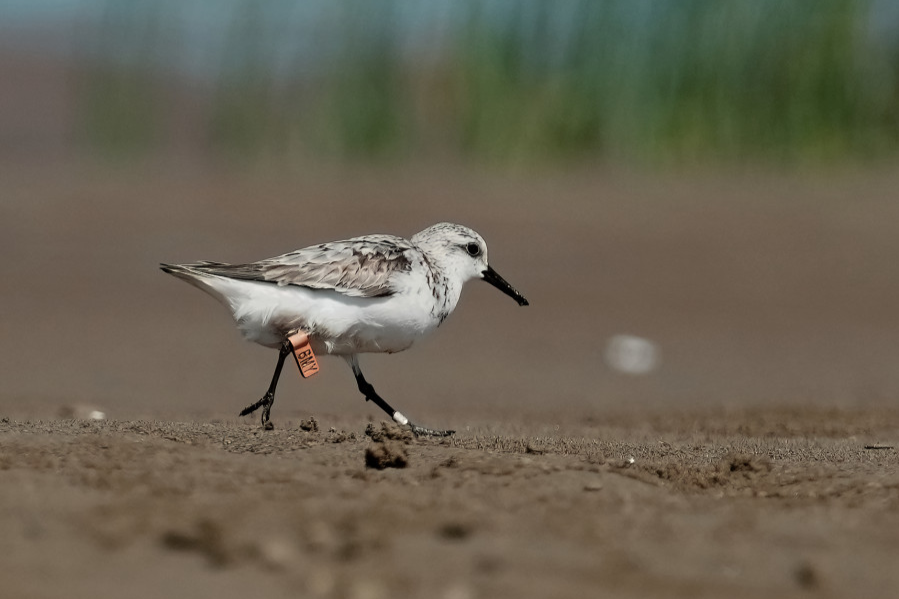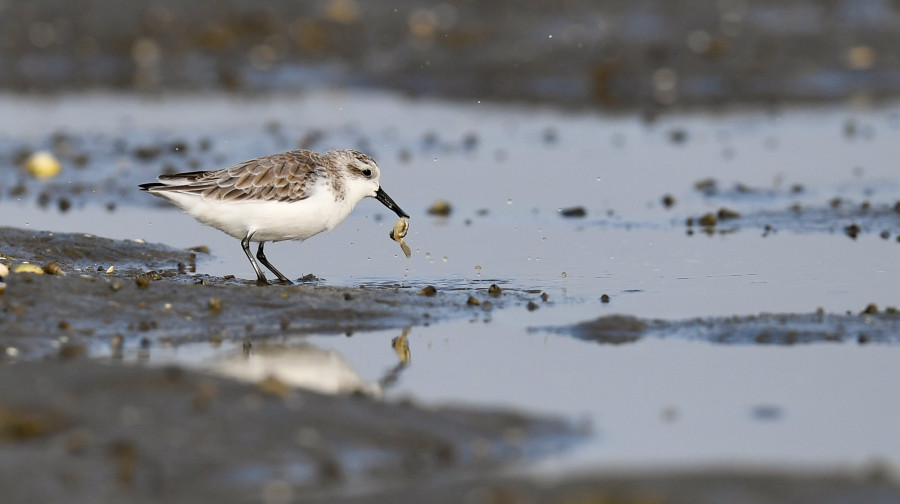 Spoon-billed sandpiper. (Photo: Xinhua)
Zhanjiang recently recorded 29 spoon-billed sandpipers (勺嘴鹬).
The spoon-billed sandpiper is a critically endangered species in the world, with only 773 individuals estimated to remain in the world. It hails from Chukchi Peninsula in northeastern Russia. Every autumn, they will move south and spend winter in the southern coastal areas of China, Vietnam, and Myanmar.
The Leizhou Peninsula, where Zhanjiang is located, has a coastline of 1,556 kilometers and the largest mangrove reserve in China. Consequently, here we can find the largest population of the spoon-billed sandpipers in China in the winter every year.
"It is expected that by the end of October or early November, more spoon-billed sandpipers will migrate to Zhanjiang," said the president of Zhanjiang Bird Protection Association.
Black-faced spoonbill
Birding spot: Shenzhen Bay Park (深圳湾公园), Neilingding Futian Nature Reserve (内伶仃福田自然保护区), Futian Mangrove Reserve (福田红树林保护区), Guangzhou Nansha Wetland Park (广州南沙湿地公园)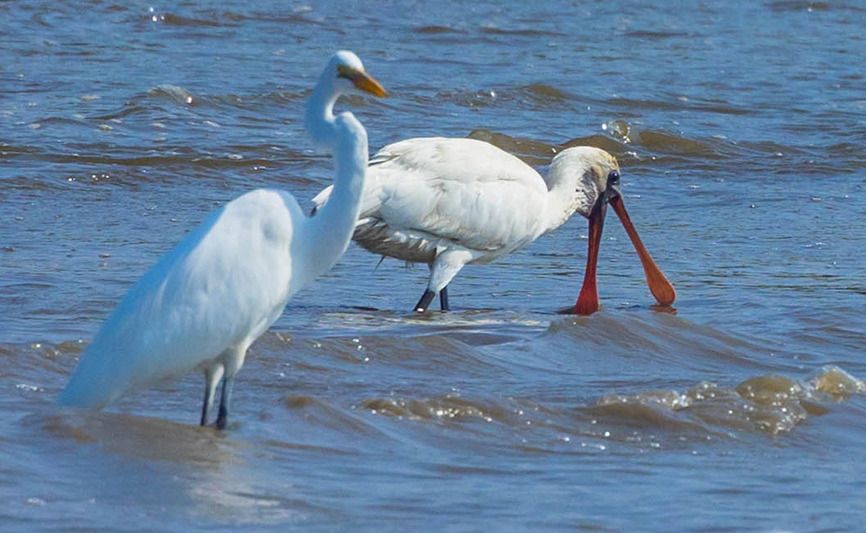 Black-faced spoonbill. (Photo: Nanfang Daily)

At about 4:00pm on October 8, two black-faced spoonbills, a China first-class protected animal, were accidentally captured by the surveillance camera of Futian Mangrove Reserve. They roamed freely in the fish pond, foraging happily for food.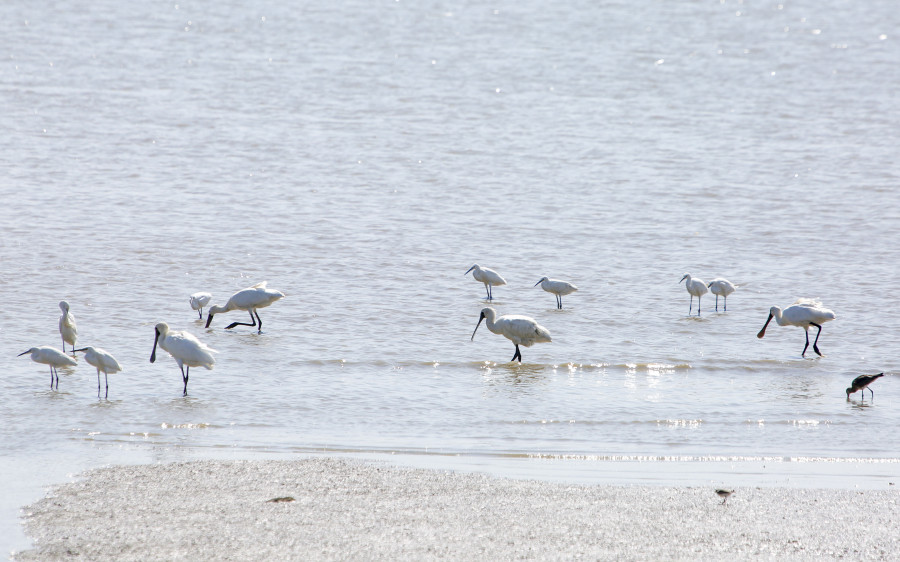 Black-faced spoonbill are roaming in the Shenzhen Bay Park. (Photo: Nanfang Daily)

Every year about 100,000 migratory birds spend the winter in Shenzhen Bay. The intertidal zone, mangroves, intertidal shrimp ponds, fish ponds and reeds in the bay provide sufficient energy supplements for birds to overwinter or stop on the way.
It is predicted that Shenzhen will usher in a peak period of migratory birds arriving in mid-to-late October.
Guangzhou Nansha Wetland Park has also attracted over 100,000 migratory birds every year, such as white-tailed eagle, black-faced spoonbill, heron, egret, oriental stork, and other rare birds. It will open a bird watching platform every November for tourists.
The densely forested parks all over Guangdong are all suitable places for residents to watch birds in the province.
Author: Ariel
Poster: Huo Weilu
Editor: Wing, Olivia, Monica, Abby, Jerry