[Global Trading in Guangdong]
The 13th Guangdong Provincial Congress of the Communist Party of China (CPC) kicked off on May 22. The Congress reviewed Guangdong's remarkable achievements in various aspects in the past five years and unveiled the blue print for future development. To push forward reform and opening up is one of the hot topics on the Congress. GDToday interviewed a number of representatives of foreign chambers of commerce in Guangdong for their insights and further suggestions into the province's business environment development.
"Guangdong enjoys an open and vibrant business environment, outstanding among provinces and cities in China," said Shimizu Kenji, director-general of Japan External Trade Organization (JETRO) Guangzhou.
Established in 2004, JETRO Guangzhou has been bridging Japan and Guangdong in economic ties. It has also witnessed the province's efforts to optimize the business environment and Japanese companies' deep integration into the manufacturing upgrade here.
And the implementation of the Regional Comprehensive Economic Partnership (RCEP), especially tariff exemption of manufactured goods and common rules, will open up new possibilities for further Japan-Guangdong trade, Shimizu Kenji believed.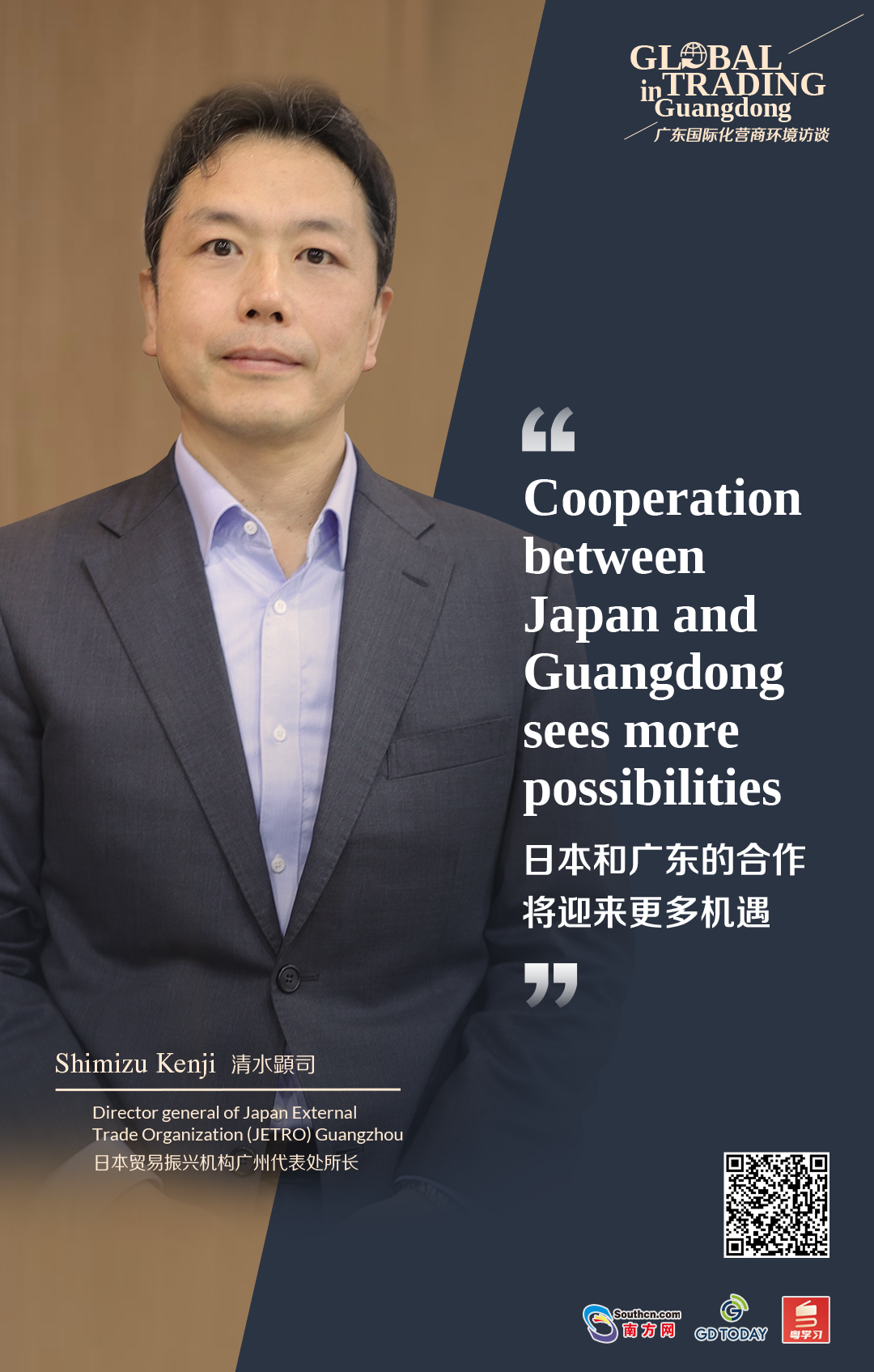 Guangdong government is our reliable partner
According to a report from Southern Metropolis Daily, from January to November of 2021, the value of Guangdong's import and export to Japan stood at 421.1 billion RMB, up 7.2% year-on-year.
At present, Japanese investments in Guangdong are closely related to the upgrading of province's manufacturing industry such as energy-saving and environment-friendly products, automobile manufacturing, R&D of electric vehicles. In terms of experience-based consumption, some Japanese companies have chosen Guangdong to settle down their first stores in China.
As Shimizu Kenji introduced, they have established mutual trust with local governments, which attach great importance to the demands of foreign enterprises. "They communicate with us on a daily basis and always provide us with prompt assistance."
Guangdong's continuous moves to protect foreign rights also impresses him. For example, the Regulations on Protection of Rights and Interests of Foreign Investors in Guangdong Province, officially went into effect this March, covering protection of Intellectual Property Rights, standards, government procurement as well as work permit processing for high-end and professional talents.
"The Regulations guarantee foreign investors and foreign-invested enterprises the same investment environment as Chinese enterprises. It is expected that with its implementation, Guangdong's business environment will be further optimized and more foreign investors will be attracted to invest here."
Wider space for Japan-Guangdong cooperation under RCEP
As the Regional Comprehensive Economic Partnership (RCEP) officially came into force in January 2022, China and Japan established bilateral free trade relations for the first time, reaching a bilateral tariff concession arrangement.
Shimizu Kenji regarded the agreement as "very significant" and highlighted its role in creating opportunities for further Japan-Guangdong economic cooperation.
On the road toward a high-end manufacturing hub, Guangdong has developed the automobile industry into one of its strategic industrial pillars, where Japan's three big carmakers have all established their production bases. It is estimated that in the provincial capital city Guangzhou, the output of the automobile manufacturing industry accounts for nearly 30% of the total industrial output above designated size.
Under RCEP, the proportion of zero-tariff categories for Japanese industrial exports to China will be increased from 8% to 86%, and tariffs will be completely eliminated for some motor equipment for electric vehicles and some raw materials for lithium batteries. "It will have a positive effect on Japanese companies considering their future business here," Shimizu Kenji envisioned.
In addition, Shimizu Kenji also sees other possibilities that RCEP will bring to bilateral economic cooperation. " Compared to Japan's previously signed economic cooperation agreements, RCEP strengthens rules on investment and IP protection, adding digital business and data-related rules. They will improve the predictability and transparency of business and help give birth to new business."
"Also, carbon neutrality, a common challenge for both China and Japan, is a key area of cooperation. We are dedicated to building a bridge for such cooperation this year."
Reporter | Abby
Video editor | Eastbrook, Jiang Yongsheng
Poster designer | Mia
Editor | Zhao Yang, Wing, Olivia, Ou Xiaoming, Nan, Jerry