Editor's note: Guangdong recently awarded the "Guangdong Friendship Award" to 49 foreign friends from 23 countries, acknowledging those who have made outstanding contributions to Guangdong's economic and social development, as well as international exchanges. GDToday presents Friends' Talk and shares the award winners' stories with Guangdong.
"It was really unexpected, but at the same time, it was a great pleasure." Nikolay Feoktistov, Russian Ice Hockey Federation Representative in China, told GDToday in a recent interview.
He learned from his Chinese colleagues earlier that he had been nominated for the "Guangdong Friendship Award", but he didn't expect this award to go to him, saying, "This award presented by the Guangdong government is eally important to me, to my family, because it shows all the things that I have done so far in connecting Russia and China, as well as in working in China."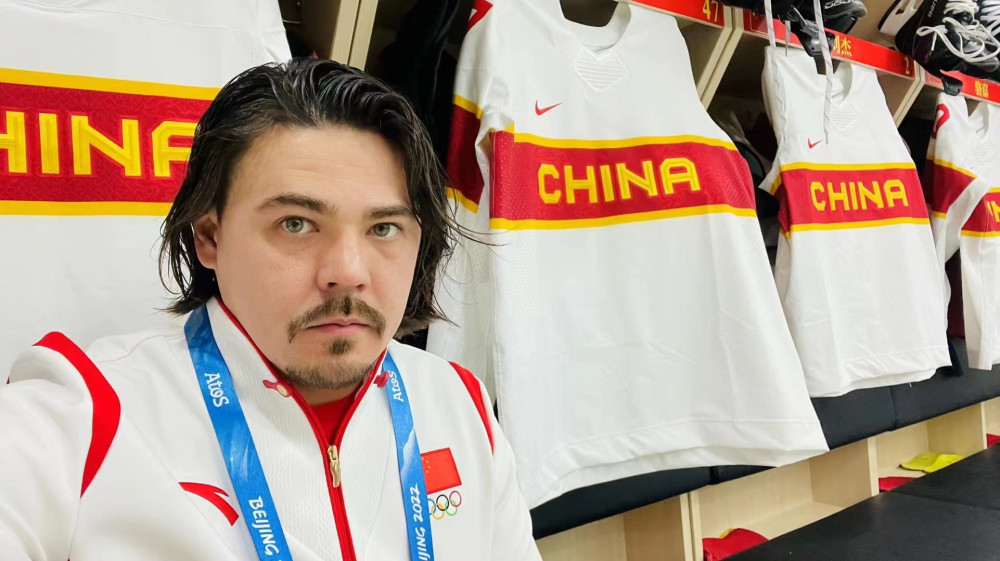 Nikolay Feoktistov participated in the 2022 Beijing Winter Olympics (photo provided to GDToday)
Create Chinese history in six years
Over the years, Feoktistov has been working in the Russia-based Kontinental Hockey League with Shenzhen Kunlun Red Star Hockey Club. He also assisted Chinese national men's and women's teams in making historical breakthroughs at the Beijing Winter Olympics.
He said, "I've been living in China for a long time, I like hockey, and I like China. When this project started, it was my goal to find a way to get into this project, because it combines two things that I like the most."
February 10, 2022 is a day worth remembering for all Chinese ice hockey lovers. On this day, the Chinese men's ice hockey team made its Olympic debut at the National Stadium. Although the Chinese men's hockey team lost three games at the group stage, their hard work was well received by netizens. On the other hand, the Chinese women's hockey team also appeared on the stage of the Winter Olympics again after 12 years.
"In the first game, we faced the United States, but it was our first games in the Olympics. Our guys just got lost a little bit. So I think if we played with the US in the second or third game, the results would have been better. We were really close with Germany and had a play-off with Canada. We scored two goals. So it was a good result that even Russia lost to Canada with 2:7," Feoktistov recalled.
He comments, "We've been working together for six years to achieve this goal, and when discussing cooperation between countries, Kunlun Red Star Club is the best example of cooperation in sports."
Back in 2016, the Chinese Ice Hockey Association and the Russian Ice Hockey Federation signed a letter of intent for the development of cooperation.
The two countries would carry out extensive cooperation in strengthening exchanges among youth teams, improving the level of hockey coaches, assisting China in training hockey referees, and promoting the rehabilitation of the athletes.
After graduation from the University of International Business and Economics in China, Feoktistov joined the Russian Ice Hockey Federation in 2014. As China and Russia further strengthened cooperation in the field of hockey, he was sent to China to serve as the Russian Ice Hockey Federation Representative in China, and the Deputy General Manager of Beijing Kunlun Red Star Ice Hockey Club.
"Our key goal was to prepare Chinese men and women teams for the Olympics." Feoktistov said, "At that point, China didn't have a really strong team to compete at the Olympics. So our main goal was to use six years to develop Chinese players, to develop strong teams that are able to compete at the Olympics. And I think we succeeded in this."
China's men's and women's teams are based on Kunlun Red Star Hockey Club. He introduced, "We are also looking for players with Chinese heritage all over the world, like we try to find in Europe and Russia, Canada, the US, then we try to bring them here."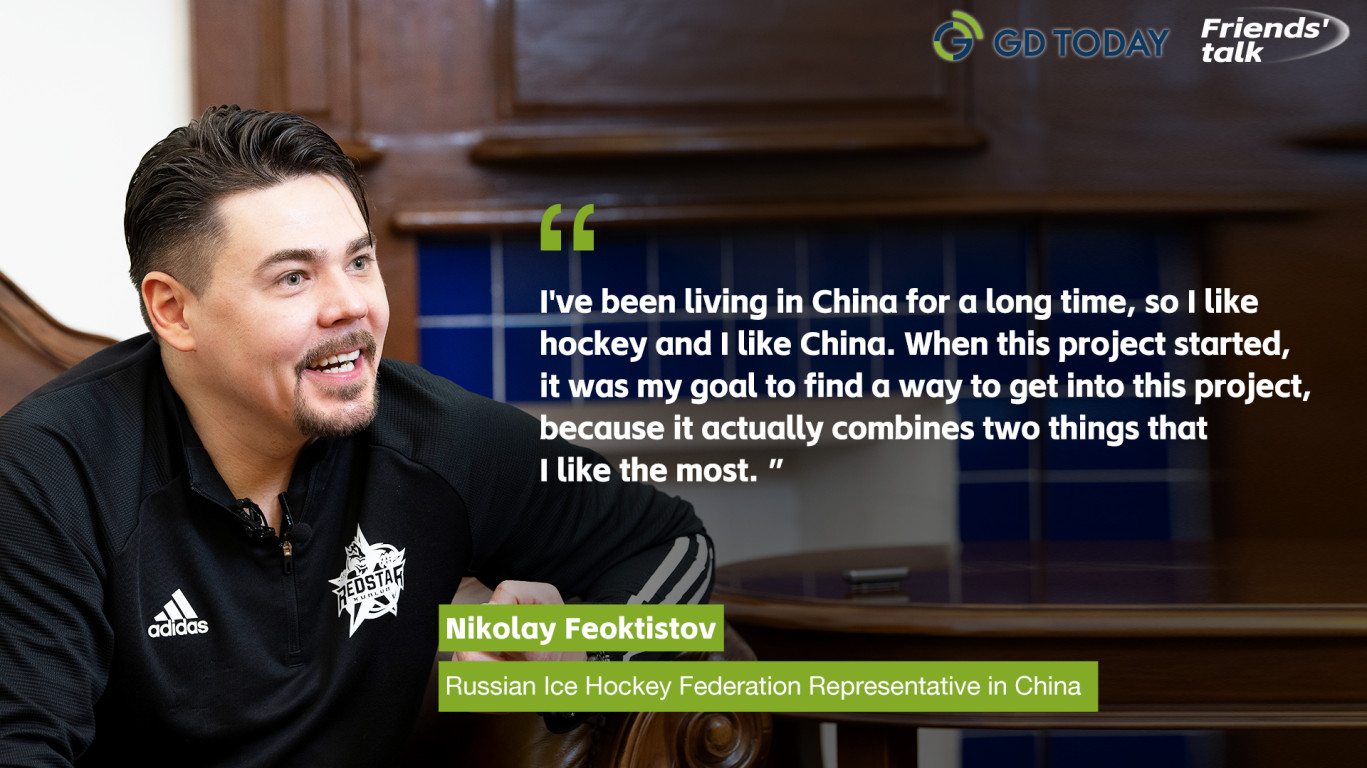 Proposing to establish a China's league to promote hockey
After Beijing Winter Olympics, an ice hockey mania instantly spread in China. Statistics from the International Ice Hockey Federation show that the number of Chinese registered hockey players in 2022 was 13,388, of which 10,365 were junior players. According to data from the Chinese Ice Hockey Association, the national children's hockey population increased from less than 2,000 in 2005 to 30,000 in 2020.
When talking about the future development of China's hockey, Feoktistov believes that China has the ability to develop ice hockey. In his view, whether a sport can be developed depends on the people, and China is a populous country with natural advantages.
"China needs to gradually build its own league," he said, "like other sports, hockey should start with children and build a talent-cultivating loop. Now, in China, there are a lot of teams in schools and universities that let kids play hockey. They will start to join the national team, and the national team will be stronger."
In his opinion, hockey is a sport that requires long-term practice. However, in China, there are children of different ages in hockey classes. He suggested adapting training methods appropriately to ensure that children can feel the charm of hockey, and allow children of different ages to capture the same skills in the meantime.
Guangdong is known as a province where it doesn't snow, but the love of ice hockey here is beyond Feoktistov's imagination. He noted, "Even if we talk about big leagues, for example, the NHL (National Hockey League) in the US have tried to implement hockey in the south such as Florida, but it also took them about 15 years to make the people love those sports. And that is how impressive the Chinese are changing."
He has been deeply impressed by how winter sports can be developed in the southern regions." Currently, there are 25 winter sports clubs and about 20 winter sports venues in Guangdong," he said.
Feoktistov analyzed that Guangdong's economic strength provides a solid guarantee for the development of winter sports. "Winter sports are not cheap. So it is good that people can enjoy them in Guangdong." He hopes Guangdong to train more and more athletes in winter sports in the future.
He told GDToday that sports development is a part of globalization, and his club is trying to deepen cooperation between Russia and Guangdong in the field of sports, and hoping to enhance exchanges between the two sides in talent training.
During the interview, he revealed that he hopes to invite world-renowned teams to Guangdong for friendly matches this year, so as to further increase the public's understanding and love of hockey.
Sports exchanges promote people-to-heart bonds
Feoktistov once led a group of Chinese ice hockey teams, generally aged 11, to participate in children's competitions in Russia.
"We showed not only Russian people, but also Europe and North America that China has a children's hockey team. So it was a big chance for Chinese kids to know everybody and for everybody to know Chinese kids," he stressed. "Although the team lost the game, they can make friends with kids from other countries."
This year marks the 10th anniversary of the Belt and Road Initiative (BRI). Within a decade, BRI has become a popular international platform for international cooperation, covering two-thirds of the world's countries (regions) and one-third of international organizations.
With the connection of BRI, people from different countries can better understand each other. More importantly, BRI has created new opportunities for sports exchanges.
"If you look at our Shenzhen Kunlun Red Star, all the results were achieved when Russian, American and Chinese people in the world worked together," Feoktistov concluded.
Reporters | Steven, Hannah, Li Fuying (intern)
Script | Hannah
Video | Zhang Quanzhuang, Zoey
Poster | Lulu
Editors | Wing, Jasmine, James