The Singapore Business Federation (SBF), with the support of Singapore's Ministry of Trade and Industry, is leading 47 companies and 11 trade associations and chambers (TACs) to take part in the 20th China-ASEAN Expo (CAEXPO), held in Nanning, Guangxi, China, from 16 to 19 September 2023.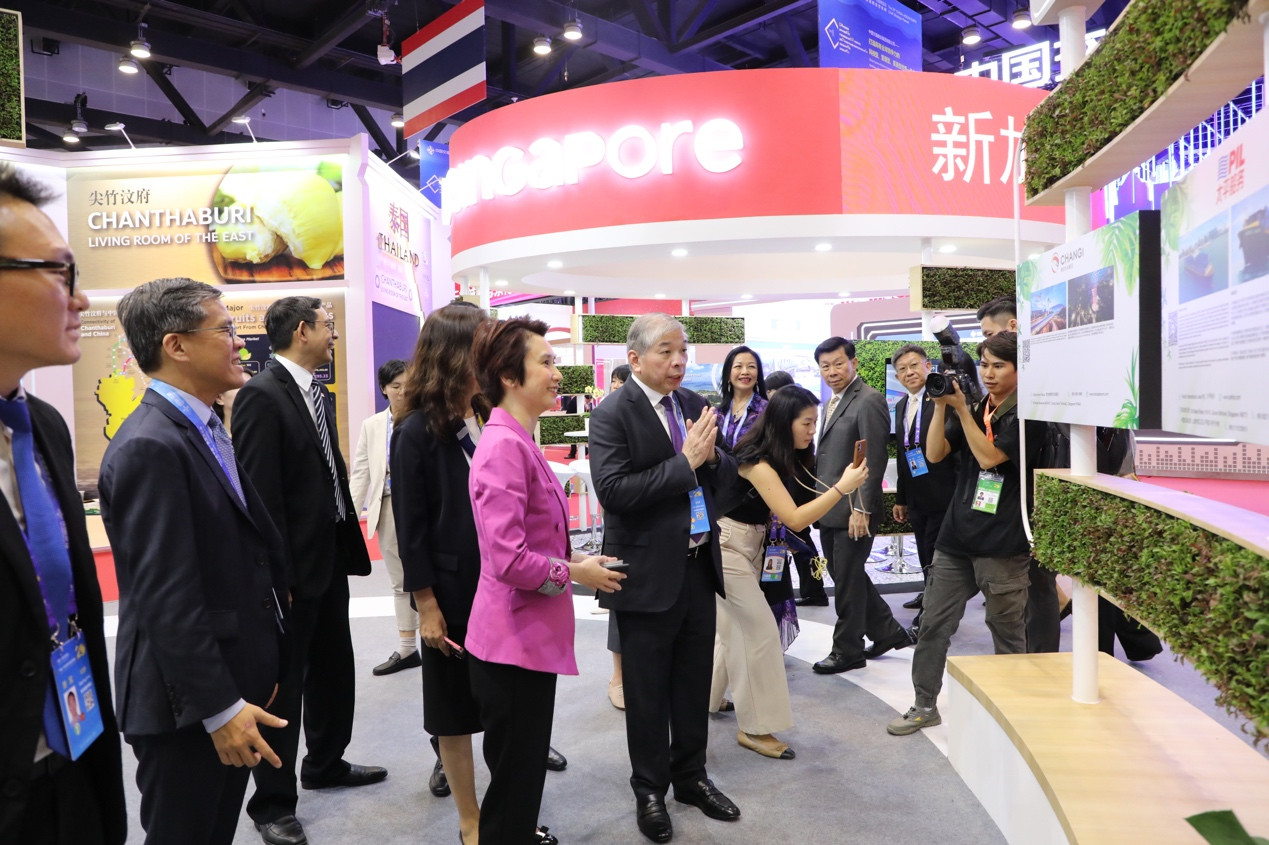 Minister of State for Trade and Industry Low Yen Ling attended the CAEXPO and toured the Singapore pavilions at CAEXPO where she engaged Singapore exhibitors at the booths. [Photo provided to GDToday]
According to the SBF, about 60 percent of participating Singapore companies also took part in CAEXPO last year. New exhibitors such as Naturie Enterprise and Yome Inc Pte Ltd are looking forward to forging valuable networks and building brand awareness for their products.
More Singapore TACsare participating in CAEXPO this year, an increase from six to eleven from the previous year. SBF hopes to profile its industry-specific TACs to better enhance business facilitation by facilitating potential business leads in sector-oriented business enquiries.
Spanning 472 sqm, the Singapore Pavilions which consist of the Singapore National Pavilion and Commodity Trade Pavilion feature the economic cooperation and collaboration between Singapore and China, such as the Sino-Singapore Tianjin Ecocity (SSTEC), China-Singapore Suzhou Industrial Park (SIP), China-Singapore (Chongqing) Demonstration Initiative on Strategic Connectivity (CCI), and China- Singapore Guangzhou Knowledge City (CSGKC).
Twenty-two Singaporean companies from the logistics, real estate, digital solutions and financial services sectors are showcasing their products and services under the Singapore National Pavilion.
SBF CEO Kok Ping Soon highlighted that China and Singapore agreed to elevate our bilateral relations to "All-Round High-Quality Future-Oriented Partnership"this year and upgrade the "China-Singapore Free Trade Agreement""to improve the market entry conditions and business environment for enterprises by providing more pro-business, open and transparent rules.
He believes this elevation will encourage new collaborative opportunities between Singapore and Chinese businesses in areas such as trade and investment, green and digital economy, and more.
According to SBF's latest "National Business Survey", 46 percent of Singaporean companies surveyed already have businesses or branches in China. Among companies who have overseas expansion plans, 21 percent of the companies surveyed chose China as their target market. SBF expects that the Chinese market will continue to grow in importance in the coming years, with unlimited business opportunities.
Reported by Jasmine
Edited by Wing, Jerry