[Global 500 Companies in GBA]
Editor's note: According to 2022 Government Work Report delivered on March 5, China has unveiled an action plan for peaking carbon emissions by 2030 and will continue to promote green and low-carbon development. How will the Guangdong-Hong Kong-Macao Greater Bay Area push forward the transformation toward low-carbon developmen?In an interview with GDToday, Fabrice Fourcade, Vice President of Electricité De France Group shared his insight on GBA's green development path.
"Electricité De France (EDF) Group, which is already strongly involved in Guangdong province, is ready to further invest in the Guangdong-Hong Kong-Macao Greater Bay Area (GBA) from power generation to electricity supply services to achieve carbon neutrality together," said Fabrice Fourcade, EDF Group VP & EDF China Chairman, during an exclusive interview with Southcn.com and GDToday recently.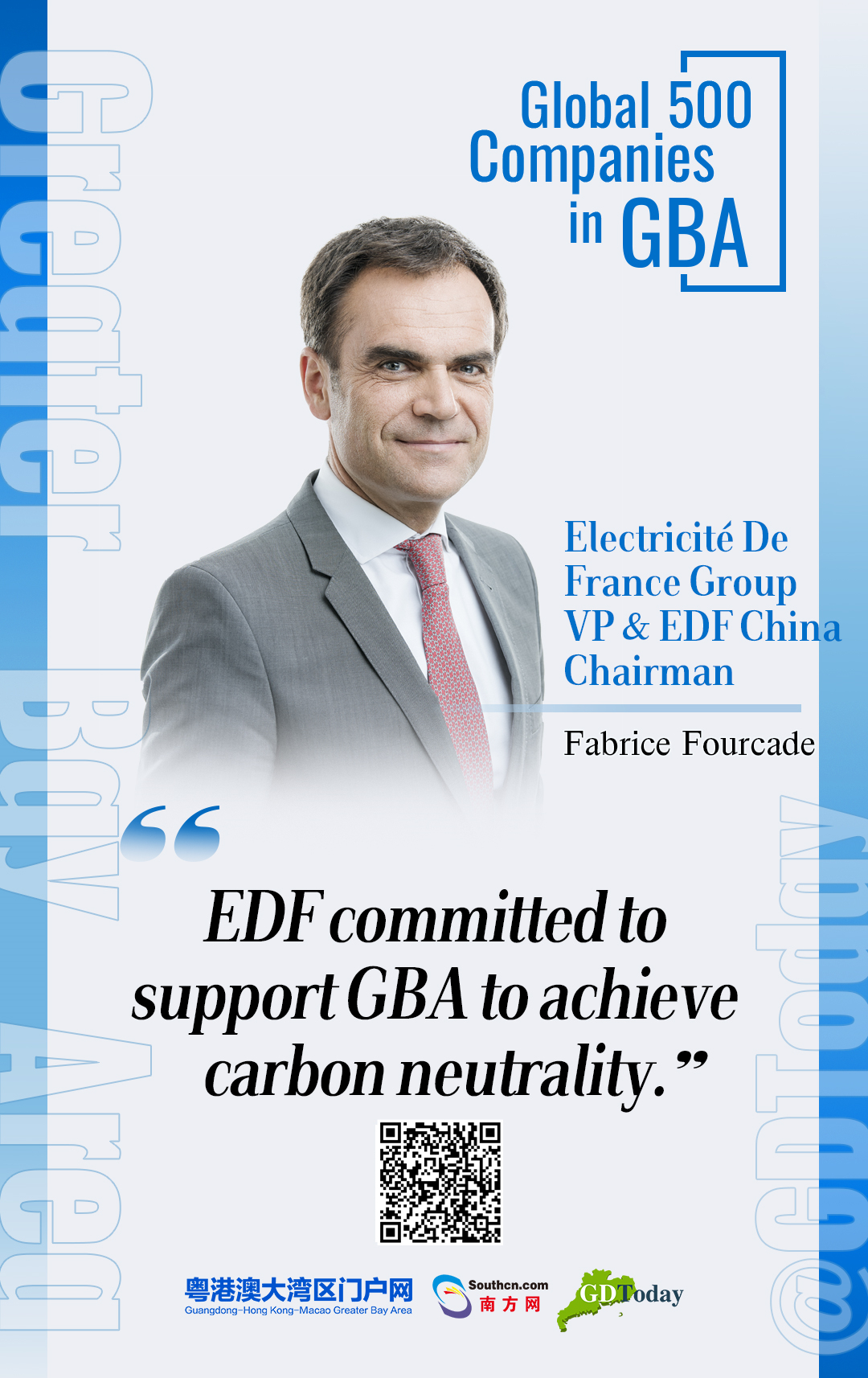 Witness and player in Guangdong's green development
As an industry leader, EDF had cooperated with Guangdong for more than 35 years ago. Firstly, through a cooperation to build the Daya Bay Nuclear Power Plant, and later EDF partnered with China General Nuclear (CGN) to embark on the nuclear 3rd Generation with the Taishan project in 2007. The Taishan project has become the world's first EPR reactor in operation, making a significant milestone for the global nuclear industry.
In May 2021, EDF entered into a discussion with Guangdong Power Grid and Zhaoqing, a city in the GBA, to find a reasonable and feasible way to manage its power supply through the Zhaoqing Incremental Distribution Network project.
"With the Zhaoqing project, EDF is expecting to write a new chapter of the long-lasting story of cooperation with Guangdong province," Fourcade said.
Since China has set goals for CO2 emissions peak and to achieve carbon neutrality, Fabrice Fourcade put forward that the carbon neutrality requires 3 main changes: a development of electricity in the primary energy mix, a reduction of the use of fossil fuels and an increase in energy efficiency. And he believes China is on the right path.
Coincidently, Guangdong proposed to have CO2 emissions peak and achieve carbon neutrality in a coordinated and orderly manner in its latest government work report. In this regards, Fabrice Fourcade suggested that Guangdong could build a balanced power mix made of renewables and nuclear.
Innovation promotes high-quality green development in GBA
Mr Fourcade believes that the superior innovation environment in GBA is the key to develop low-carbon technologies and to reach carbon neutrality.
"In order to support the green and high-quality development of GBA, smart, reliable and efficient solutions through the optimization of different low-carbon energies are vigorously encouraged and fully supported by Chinese government and local authorities."
He has witnessed the gathering of high-tech enterprises in Guangdong, forming industrial and technological clusters covering the entire value chain. In addition, urbanization and digitalization has improved the living conditions of communities, which becomes crucial to raise GBA's attractiveness for highly skilled professionals.
Mr. Fourcade also introduced another project to cultivate innovative nuclear engineers in the GBA. As one of the founders and partners, EDF participated in the establishment of the Sino-French Institute of Nuclear Engineering and Technology.
The institute, based in Sun-Yat Sen University of Zhuhai, offers high-level curriculum for nuclear engineers, paving the way for the future of nuclear energy and long-term cooperation between France and China.
Related news: 世界500强外企看大湾区 | 法国电力集团:看好大湾区创新实力 共创"净零"未来
Author | Ariel
Editor | Wing, Olivia, Ou Xiaoming, Nan, Jerry
Poster | Mia