"China should support manufacturers to expand their global layout with better cross-border services in such areas as legal aid, policy advisory, patent litigation and financing," Li Dongsheng, a deputy to the 14th National People's Congress (NPC) and founder of TCL, put forward the proposal at the ongoing annual session of China's top legislative body.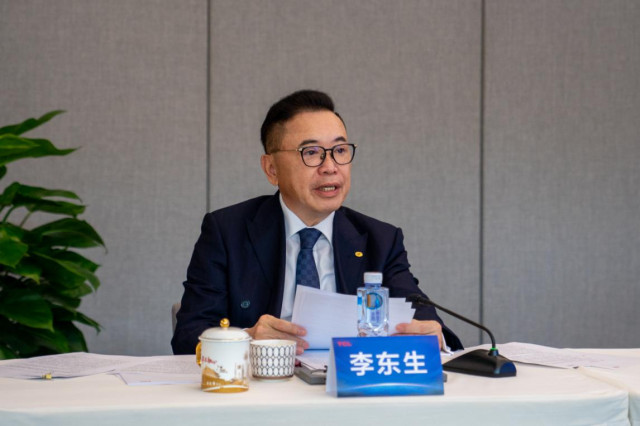 (Li Dongsheng/photo provided to GDToday)
Li has raised proposals related to the global layout of Chinese manufacturers three times in a row. "Chinese manufacturers face multiple risks such as trade conflicts, compliance management and patent litigation when expanding to overseas markets," he said.
Li highlighted that the government should provide manufacturers with a series of support to help them perform better overseas and avoid risks.
He proposed that the Chinese embassies and consulates overseas could provide Chinese enterprises with legal aid and policy advisory in the host countries. A special fund could be set up for patent litigation.
Li explained that one of the main difficulties the Chinese manufacturers face overseas is the patent barrier.
"Foreign multinational enterprises have formed a relatively strong patent barrier in the technology domain, which means Chinese companies must constantly improving their innovation capabilities and applying for more patents. But during this process, Chinese enterprises with overseas business encountered various patent disputes which affect the future application of the technology and cost them a fortune," said Li.
In addition, Li suggested that government departments of commerce could involve enterprises in bilateral or multilateral trade negotiations.
According to a China Council for the Promotion of International Trade survey released on February 22, outbound investment of Chinese companies grew steadily in 2022, with more than 70 percent maintaining or expanding investment abroad. In terms of industry, the manufacturing sector topped the surveyed companies' investment list.
Being a leading consumer electronics brand, TCL was one of the very first Chinese manufacturers to go global. Li said the cost advantage of Chinese export products shrinks due to the recent "anti-globalization" trend, increased labor cost and stricter requirement on environmental protection.
Li suggested that Chinese manufacturers should export their industrial capabilities rather than just their products in order to increase their market value. They should establish their supply chains worldwide and localize operations in overseas countries. "Chinese manufacturers should drive their overseas business with cutting-edge technologies and improve competitiveness through moving up the industrial chain," he said.
As for the development of sci-tech manufacturing industry, Li believes that technological innovation and investment are the most important driving forces. He proposed that the government could strengthen their support for R&D input, improve the financing environment through extending the length of maturity and lowering the financing threshold, and help reduce the costs of production.
Reported by Jasmine, Nina
Edited by Wing, Nan, Jerry