"We are seeing more and more people have a chance to understand and be involved in general aviation through private flying and other activities such as parachuting," Mike Shih, Vice President of Sales and Strategy (China) of Textron Aviation, told GDToday in a recent interview.
China's Ministry of Commerce recently announced that Aero Asia, an international general aviation exhibition, will be held from 23rd to 26th November 2023 in Zhuhai City of Guangdong.
Having engaged in the Chinese general aviation industry since 2008, Shih believed that the concept of aviation is broadening in China, and Textron foresees growth potential in China's market.
Joint venture aviation company settled in Zhuhai
"Aviation outside of commercial airlines and military flying is categorized as general aviation," Shih introduced that general aviation includes private travel, advanced flight training, flight inspection, and short-haul transportation.
In response to China's general aviation market, Textron Aviation established joint ventures with China Aviation Industry General Aircraft Co., Ltd. (AVIC) in Shijiazhuang City of Hebei and Zhuhai City of Guangdong respectively, which carry out business such as delivering products to Chinese customers, after-sales maintenance, and other localized services.
"Our cooperation with AVIC General began in 2012. Textron Aviation provides advanced technology and management experience, and AVIC is responsible for the promotion and operation of the Chinese market," Shih added.
He elaborated that when evaluating the business environment, Textron Aviation pays more attention to regional infrastructure construction, policy support, market demand, and human resources.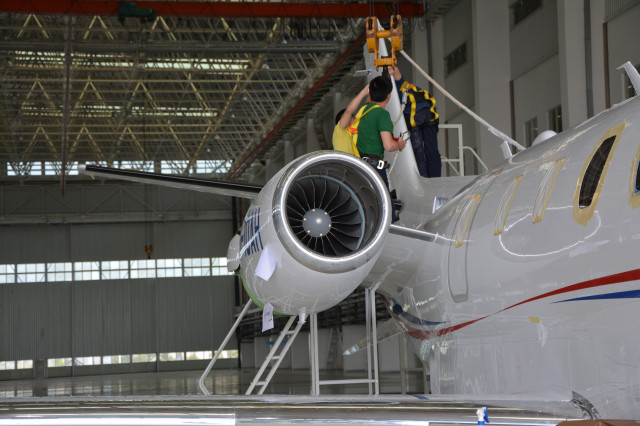 Cessna-AVIC Aircraft (Zhuhai) Co., Ltd. (Photo provided to GDToday)
"We found that Zhuhai is very open, and the people there are easy to work with," said Shih, adding, "The location of Zhuhai allows it to accommodate open-air space for the flying activities and the opening of the Hong Kong-Macao-Zhuhai Bridge brings more business activities to the city. Zhuhai also has a readily available pool of skilled workers, which is important to help our business grow," said Shih.
Cessna-AVIC Aircraft (Zhuhai) Co., Ltd., Textron's joint venture in Zhuhai, is mainly engaged in the final assembly business of Cessna Citation XLS+ business jets, including aircraft assembly, painting, testing, interior installation, and delivery to domestic customers.
In 2019, the Zhuhai joint venture delivered 8 Cessna Citation XLS+ business jets for the Civil Aviation Flight Calibration Center of China.
The concept of aviation is broadening in China
Shih recalled the first time he came to China when most people could not accept the concept of actually owning and flying their own aircraft. Although China General Aviation started late, Textron Aviation saw the potential of China's huge market and growing economic momentum, and Shih was assigned to develop business in China in 2008.
"Appropriate government direction is important for the development of the industry in China," Shih stated. He believes that government support accelerates the development of general aviation.
In recent years, the Guangdong government has included the aviation industry in its plan to boost high-quality development. Guangdong province released the Guangdong General Airport Layout Plan (2020-2035) and announced the construction of 32 general aviation airports by 2025, with the density of general aviation airports reaching 1.8 per 10 thousand square kilometres.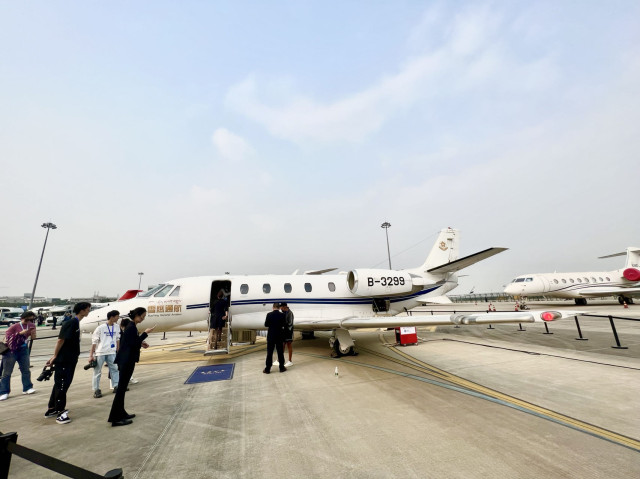 Guangzhou Business Aviation Show
Nowadays, Shih has witnessed more people getting a better understanding of general aviation, especially through business aviation shows such as the Guangzhou Business Aviation Show. He considered that the concept of aviation is broadening in China, and the young generations in China are very interested in private flights and flying their own aircraft.
Shih noted that short-distance transportation, private flights, and low-altitude tourism are also constantly driving the development of the general aviation industry. He thought that, particularly in the fields of health and security, which are expected to see growth in the near future, people would move towards chartering or owning their own aircraft.
Author丨Nina
Video丨Qin Shaolong
Poster丨Lulu
Editor丨Wing, Nan, Jasmine, Steven, James