"The Guangdong-Hong Kong-Macao Greater Bay Area (GBA) has a GDP of more than 2 trillion USD which is larger than most countries in the world and it keeps growing. The Area will continue to be the engine of growth of China for a very long time," said Dr. Harley Seyedin, President of the American Chamber of Commerce in South China in a recent interview with GDToday during the Bridges Global Chats.
Echoing the theme of the event — "New trends in the high-quality development of the GBA", Dr. Seyedin shared his insight and elaborated that the transition of GBA is going to be from "hard" to "soft", from manufacturing for export to developing new technologies, research and development, and high-tech, automated robotic manufacture.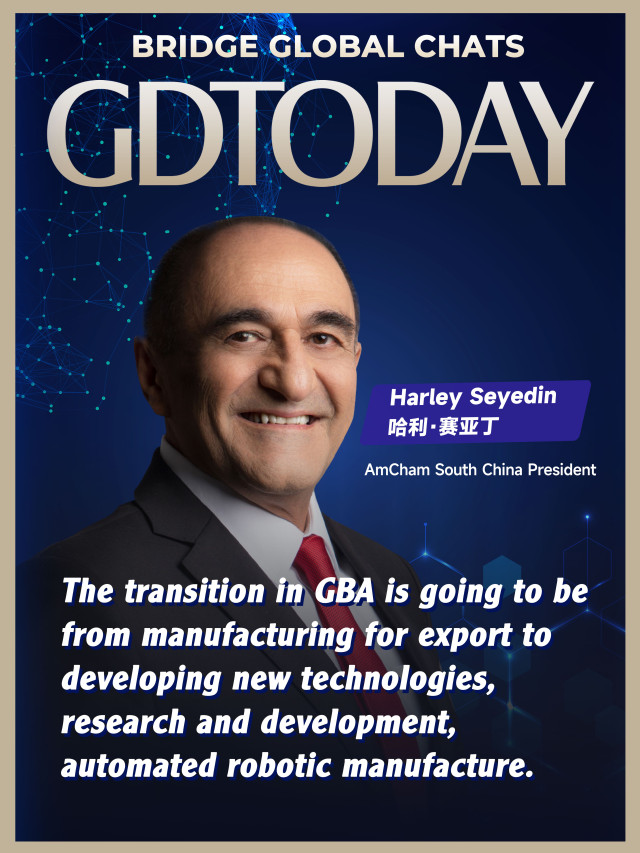 Dr. Seyedin took his own business as an example, saying, "I set up a power plant in Dongguan in 1993 when the city had poor transport network and supporting facilities, and shut it down 7 years ago to reduce the city's carbon footprint."
"Now, Dongguan has a much larger population with high-speed train network and universities. We're redeveloping the land that the power plants sat on into a high-tech medical instrument manufacturing facility, which will ultimately employ 37,000 highly skilled, highly paid individuals," he said.
Dr. Seyedin highlighted that the high-tech development in the GBA has been well-supported by highly educated labor in the Area. He was impressed by hundreds of universities and schools that have been established over the last 25 years, based on which millions of highly educated graduates are now working in industries. It also makes the GBA one of the areas where research and development are the most possible in China.
The capabilities of telecommunication, shipping service, and transportation also contribute to the high-quality development of the GBA. "Over the past 3 years, the GBA has invested heavily in upgrading infrastructures for telecommunication. The shipping lanes provide rapid service between all the locations around the world. Some of the best superhighways have been built anywhere in the world," said Dr. Seyedin.
He noted that with the financial capability of Hong Kong, the entertainment capability of Macao, and other resources the nine highly-developed mainland cities offer, the GBA is an unmatched metropolis.
Dr. Seyedin suggested that there are many areas where the US and China can continue to work together in economic development.
"One of the areas that a lot of American companies are focusing on is the fact that the GBA offers just about everything you need to place headquarters in," said Dr. Seyedin. He looks forward to more cooperation between US and China and leading to the world's development and prosperity.
Author丨Nina, Hannah
Poster designer | Lu Lu
Editor丨Wing, Jasmine, Jerry