On August 31, the Consulate General of Malaysia in Guangzhou held a reception to celebrate the 66th National Day of Malaysia and the 30th Anniversary of the Malaysian Consulate General in Guangzhou.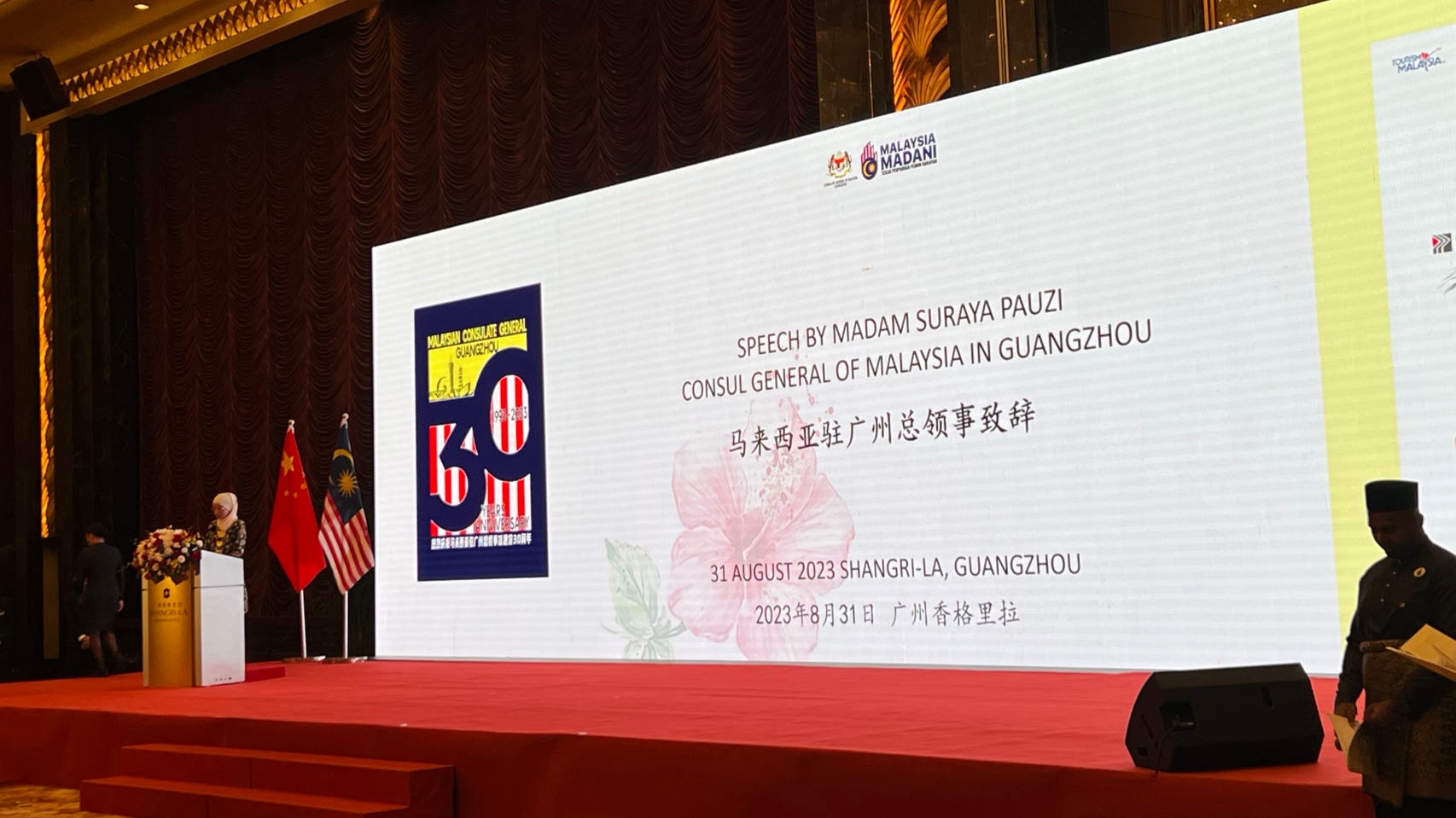 (Suraya Pauzi, Consul General of Malaysia in Guangzhou/photo by Nina)
Suraya Pauzi, Consul General of Malaysia in Guangzhou, addressed that Malaysia and China enjoy high-level ties, and this is the 10th year of the Malaysia-China comprehensive strategic partnership. "We are on the cusp of celebrating the 50th anniversary of bilateral relations in May 2024. It serves not just as a milestone, but as a mark that we are to rededicate ourselves to our friendship and bilateral cooperation," she said.
Statistics show that China remains Malaysia's top trading partner and top investor. In 2022, China had a record of being the number one trading partner for 14 years, accounting for 17 percent of Malaysia's foreign trade volume. China-Malaysia bilateral trade reached 203.59 billion USD, a year-on-year increase of 15.3 percent. In the first seven months of 2023, the bilateral trade registered 106.69 billion USD.
Pauzi introduced that China brought in 91 projects with an investment value of over 50 billion ringgit in 2022, which created more than 11 thousand job opportunities in Malaysia. She elaborated that the range of products exported and imported in Malaysia has had better supply over the years, signaling a growing inter-linkage of enterprises between Malaysia and China in the value chains.
Zhang Shaokang, Vice Governor of the People's Government of Guangdong Province, addressed that Guangdong and Malaysia are geographically close to each other and have had long-standing friendships and lasting traditions of people-to-people exchanges.
According to Zhang, the foreign trade volume between Guangdong and Malaysia in the first seven months of 2023 witnessed a strong momentum, reaching 23.721 billion USD.
"We are ready to work with Malaysian friends to seize the new historical opportunity and deepen cooperation in economy, trade, investment, culture, and tourism," said Zhang.
Author丨Nico(intern), Nina
Editor丨Olivia, Jasmine, James