The consular corps consisting of 27 representatives from 26 consulates in Guangzhou started a tour to the pearl river west bank cities, including Foshan, Zhongshan and Zhuhai on November 23rd. The first destination is Foshan.
Organized by the Guangdong Foreign Affairs Office, the tour features companies and institutions specializing in energy conservation and emission reduction, biomedicals, smart technology, as well as new energy.
"This is the last trip of the five-route visit of Guangdong," said Mehmet Kurtuluş Aykan, Consul General of Turkey in Guangzhou."Thanks to these visits, we have a deeper understanding of Guangdong's 14th Five-Year Plan and of the regional development landscape."
"It's a very well-organized plant. I think it's important to choose a visit to a waste treatment plant, because waste is one of the biggest problems of our times." Birgit Murr, Business Consul of Austria in Guangzhou said after visiting Grandblue Environment CO., LTD, a listed company focusing on the environmental service, covering solid waste disposal, energy, water supply, drainage and so on.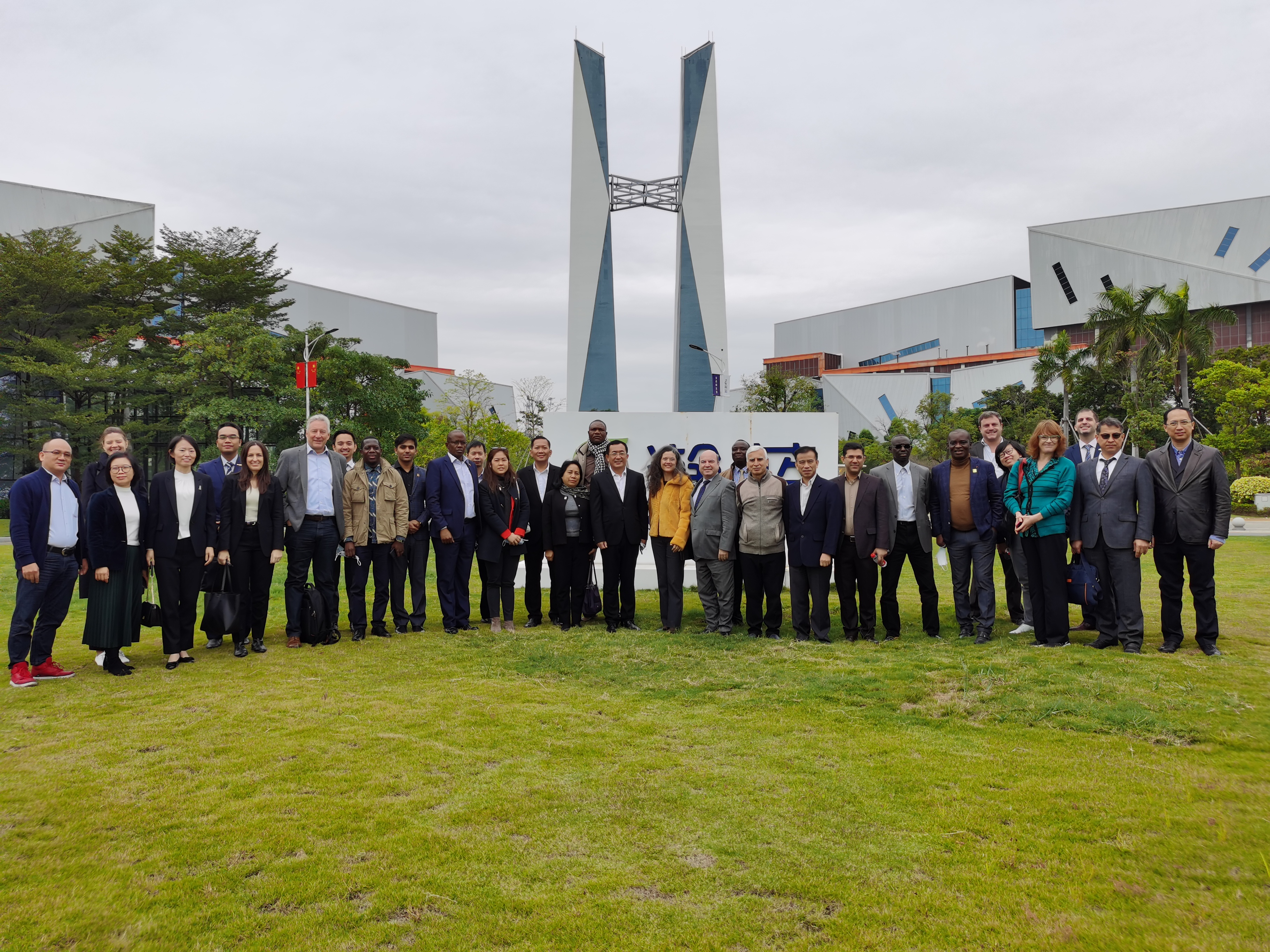 Consular corps visiting Grandblue Environment CO., LTD. (Photo: Newsgd.com)
In 2020, Grandblue's Nanhai solid waste treatment and environmental protection industrial park has reduced CO2 emissions by nearly 700,000 tons. Domestic waste incineration power generation replaces land-filling, providing clean power for about 600,000 residents in the industrial park and surrounding areas.
The total treatment capacity of the household garbage incineration power generation project in Nanhai District is 4,500 tons/day, including 3 waste incineration power plants with a capacity of 1500 tons/ day. "That's a huge amount," Diyar Khan, Consul General of Pakistan comments: "In this way, we not only dispose of the waste, we also produce energy. We make it usable for the environment via this amendment strategy."
"We need some smart new energy projects, so I think there can be many areas of cooperation between Pakistan and Foshan." Taking Pakistan's Lahore as an example, Khan said that there are lots of environmental problems nowadays, "in which we can cooperate with Foshan to learn from the solid waste management industry."
The manufacturing industry contributes to 60% of Foshan's total GDP. At present, the city is transforming itself into a green city with sound ecological environment. Foshan was listed as one of the four cities for the "Project of Promoting Commercialization of Fuel Cell Vehicles in China" by United Nations Development Programme (UNDP), which was firstly launched in Nanhai District in September 2017.
The city has been designated as the leading city responsible for building a national level city cluster for fuel cell vehicle application, with more than 1,500 hydrogen powered cars, 5 hydrogen powered trams and 25 hydrogen refueling stations in operation in Foshan. Currently, there are nearly 70 key hydrogen energy enterprises settled in Nanhai, statistics from the Hydrogen Energy Exhibition Center of Xianhu Hydrogen Valley shows.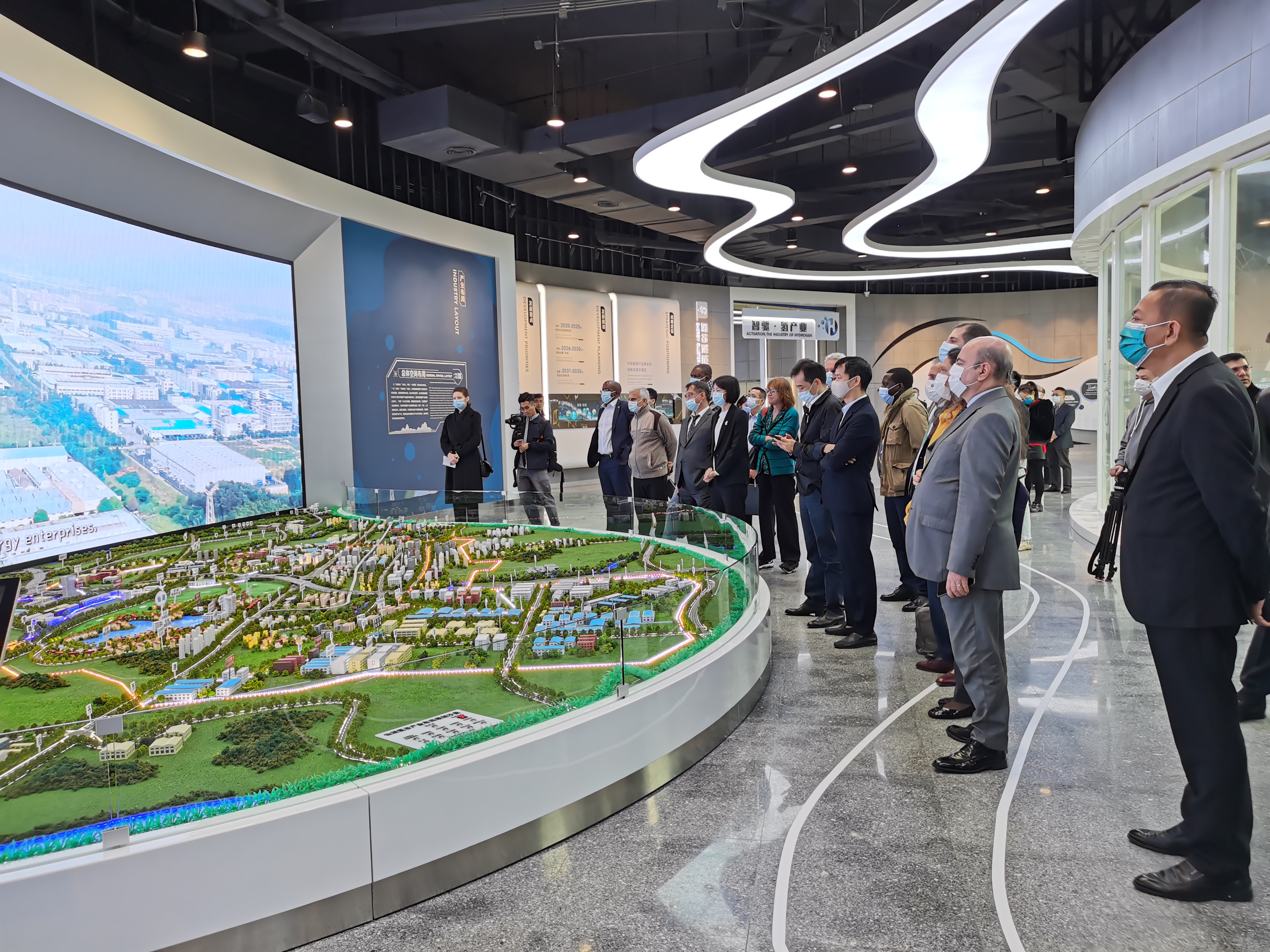 Consular corps visiting the Hydrogen Energy Exhibition Center of Xianhu Hydrogen Valley. (Photo: Newsgd.com)
The hydrogen energy terminal application, with the development and system assembly of hydrogen fuel cell core components as the core, covers transportation, power generation, energy storage, backup power, aerospace and thermal power supply for military and civil buildings.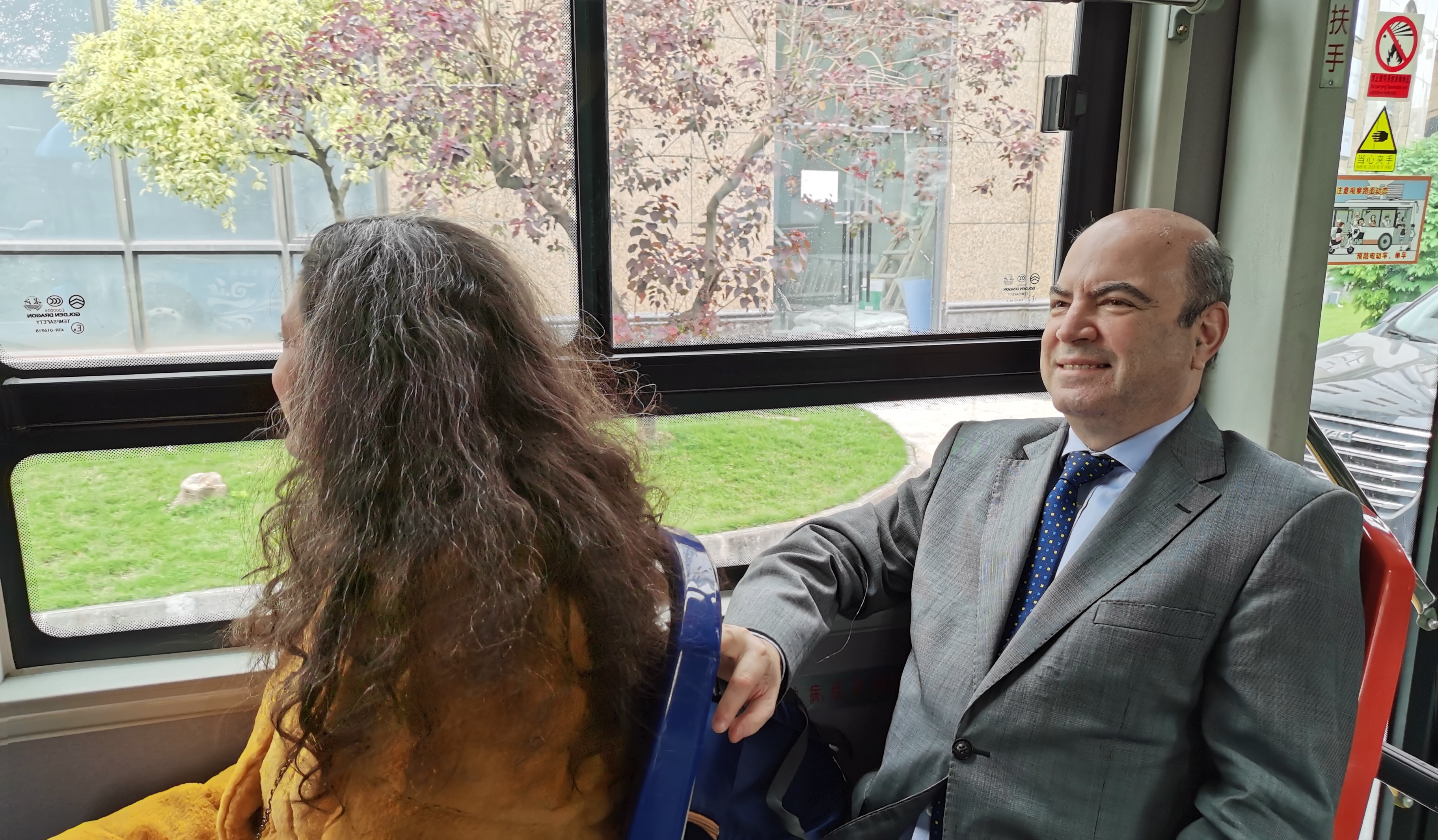 Consular corps experiencing hydrogen powered bus. (Photo: Newsgd.com)
"It's becoming an energy hub of the region." Mehmet Kurtuluş Aykan, Consul General of Turkey in Guangzhou said. He believes, the reason of the climate change is the high carbon depletion in the world and all small and big steps are important for our global community.
"We aim to have CO2 emissions peak before 2030 and achieve carbon neutrality before 2060." Since China has made a promise at the General Debate of the 75th Session of The United Nations General Assembly on 22 September 2020, an extensive and profound economic and social systematic reform has opened the curtain in the field of energy.
Author: Hannah Zhou
Editors: Keane Wong, Jerry Grey, Steven Yuen