"I believe that the 4th wave of artificial intelligence (AI) will come in the next three years when AI will be applied in industrial practice and change everyone's lifestyles," said Zhu Jiaming, President of the Academic and Technical Committee of the Hengqin Digital Alliance Institute for Digital Finance Research (DAFRI), at the Canton Tower Science & Technology Conference AIGC Summit 2023 in Guangzhou on May 25.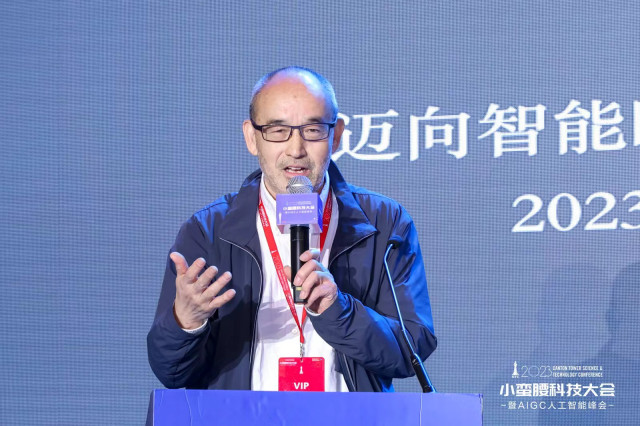 (Zhu Jiaming/photo provided to GDToday)
Speaking of AI research and application, Zhu feels that Hengqin has preferential policies and advanced infrastructure. In fact, Guangdong-Macao In-Depth Cooperation Zone in Hengqin released ten preferential taxation policies to support the development of the metaverse industry in November 2022.
"The government has taken steps to seize the opportunities brought by AI in recent years and is making a long-term plan for the AI industry," said Zhu.
He stressed that large language models have accelerated the development of artificial general intelligence (AGI), and he highlighted the impact of AI on education, consumption, and finance.
Zhu pointed out the significance of sci-tech research for the financial industry in Hengqin. He introduced that one of the latest fintech projects, Worldcoin, a cryptocurrency project founded by Open AI, has more than one million users in about 20 days.
"The speed of sci-tech development today is so fast that results of innovation can hardly have a slow and steady development period, especially when it comes to AI," said Zhu. He stated that AI will tremendously influence the finance industry, adding "We have been devoting to carrying out fintech research and exploring its potential impact on financial services. However, there hasn't been a mature outcome yet."
Zhu indicated DAFRI is now looking into combining AI digital human technology and 3D printing technology in order to develop a new application, which aims to take advantage of the supercomputing capability of AI.
Reporter丨Nina, Jasmine
Editor丨Wing, Steven, James