The world-famous Japanese novelist Natsume Sōseki once translated the sentence—"I love you"—into "The moonlight is so beautiful tonight". In traditional Chinese culture, in addition to reunion and companionship, a full moon also represents love and longing. This year, the Mid-Autumn Festival, or Lunar Festival falls on September 10. Do you have plans to enjoy the glorious full moon with your family or friends?
During the festival holiday, GDToday will invite our fans to go to a romantic love-themed movie concert in Guangzhou. Most of the repertoires are classic movies' theme songs. We hope to present participants with an unforgettable experience in this special holiday.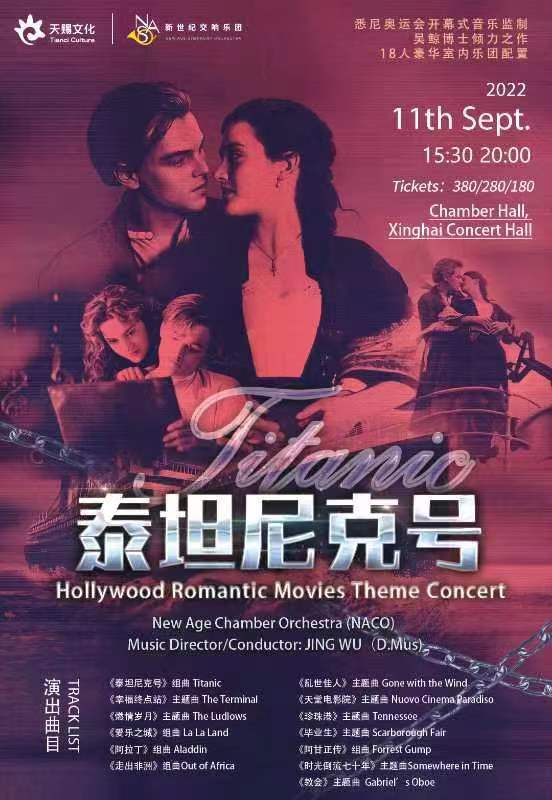 Repertoire
The Terminal Suite
Titanic Suite
Nuovo Cinema Paradiso Suite
LA LA Land Suite
Out of Africa Suite
Forrest Gump Suite
Somewhere in Time Main Theme
Dances with Wolves Suite
Legends of the Fall Main Theme
Pearl Harbor Main Theme
The Mission Main Theme
The Graduate Main Theme
Gone with the Wind Main Theme
Time:September 11, 2022 (Sunday) 8 p.m.
Venue: Chamber Hall, Xinghai Concert Hall (星海音乐厅 室内演奏厅)
Add.: No. 33, Qingbo Road, Ersha Island, Yuexiu District, Guangzhou (广州市越秀区二沙岛晴波路33号)
Ticket Giveaways
GDToday has prepared 4 tickets for 2 lucky fans. Each person can get two tickets. All you need to do is leave two comments below and tell us why you wan to go to this concert and your contact information (including name, phone number, and nationality). We will select two lucky fans and send out the tickets.
Author | Ariel
Editor | Wing, Olivia, Monica, Jerry