"The development of the Guangdong-Hong Kong-Macao Greater Bay (GBA) saw progress in 3 major aspects," said Guo Wanda, Executive Vice President of China Development Institute (CDI). In addition to the improvement in transportation network & institutional connectivity and the industrial clusters & innovation ability, Guo highlighted the various platforms built to boost Guangdong-Hong Kong-Macao cooperation.
"We established major cooperation platforms like Hengqin, Qianhai, Nansha and Hetao as well as special platforms in cities such as Foshan, Huizhou, Dongguan, Zhongshan, Jiangmen and Zhaoqing. These platforms have been particularly significant since the plans for Hengqin and Qianhai released last years and have the two regions to drive regional integration and development," said Guo.
The GBA is a focal point in the report of the 12th CPC Guangdong Provincial Committee through which the Party summarized the province's performance over the past 5 years while unveiling future development blueprint. Having read the report, Guo shed insight into the government's latest plans for the GBA, one of China's most economically active regions, in a recent interview with GDToday.
Hengqin, Qianhai cooperation platforms proven effective
The report sets it a major goal to further reform and opening up through the 'synergistic effect' generated by the development of GBA, Shenzhen as a pilot demonstration area of socialism with Chinese characteristics as well as Hengqin and Qianhai cooperation zones.
Guo elaborated the 'synergistic effect' means the effects on opening up to Hong Kong, Macao, to the world, and to global talents. "For example, the Hengqin and Qianhai cooperation zones have been piloting institutional reforms which allow Hong Kong and Macao professionals to provide services in the mainland much more easily. These platforms have proven effective as they facilitated regional integration and attract more foreign direct investment "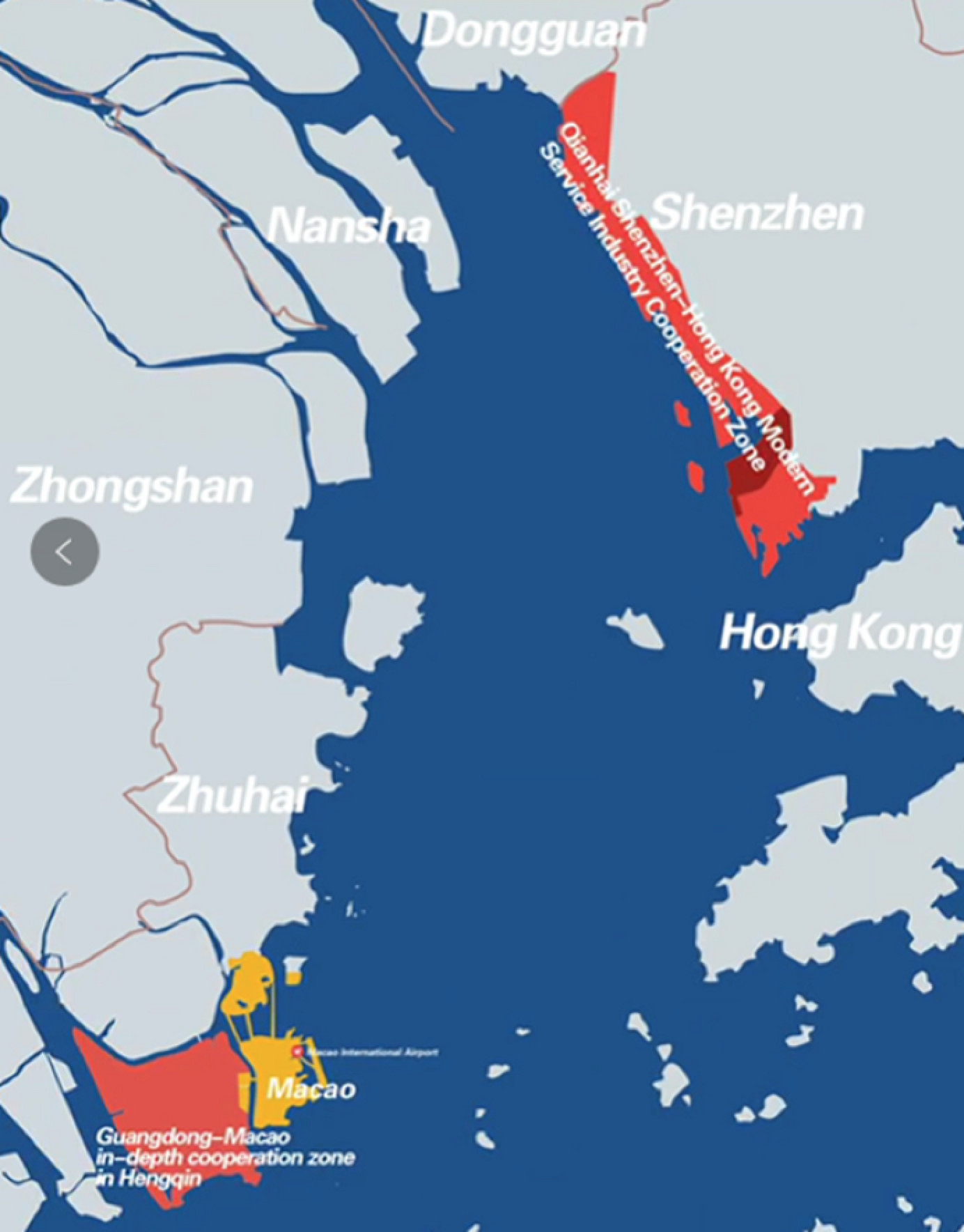 According to a press conference on April 19, Hengqin has seen more than 4.7 thousand Macao-invested companies which have tripled over the past 2 years while 2021 has seen a 156 percent year-on-year increase of Hong Kong-invested enterprises settling down in Qianhai. As for Shenzhen, its actual use of FDI hit 11 billion USD in 2021 with a 10.2 percent of average annual growth in 2019 to 2021.
Guo highlighted Hengqin, Qianhai platforms are not only leading the integration of GBA but overflowing their effect into surrounding areas.
"Shenzhen Development and Reform Commission launched a research on joint development between Qianhai as well as Cuiheng and Binhaiwan, two cooperation platforms respectively in neighboring Zhongshan and Dongguan. The research examines the possibility of integrated development of the east bank and west bank of the Pearl River, which shows the overflow effect of the Qianhai," said Guo.
High-tech industry, international cooperation highlighted in Nansha plan
Guo pays close attention to the overall plan for Nansha District in Guangdong's provincial capital Guangzhou to deepen comprehensive cooperation between Guangdong, Hong Kong and Macao, saying, "Nansha is positioned high as a'major strategic platform' for GBA integration and global cooperation."
The Plan released by China's State Council sets out 5 key directions for Nansha including high-level opening-up, rule-based connection mechanism, cooperation for sci-tech innovation, co-operation in youth innovation and entrepreneurship, and high-quality urban development. From 2022 to 2024, 10 billion RMB of new local government debt will be allocated to Nansha every year.
"The plan for Nansha might involve similar advantageous measures as the Plans for Hengqin and Qianhai, which makes sense considering the effective practice in the two cooperation zones. However, I would highlight Nansha has its unique industrial clusters that focus heavily on high technology," said Guo,
According to the Nansha government, 744 high-tech enterprises and more than 620 AI and bio-tech companies have settled in the district. The auto industry is the pillar industry to drive development with an annual output of more than 154.8 billion RMB in 2021. Nansha is also one of the two districts in Guangzhou that have given a green light to launch automatic driving on the pilot roads and areas.
"Nansha not only could be the manufacturing base for high-tech industries, but also provides an relatively open environment to apply these technologies such as unmanned vehicles, aircraft and underwater vehicles. It could facilitate the development of upstream industries such as new material and marine energy as well."
Moreover, Guo considers Nansha's development is highly related to the ability of technological innovation. The Hong Kong University of Science and Technology set up its Guangzhou campus in Nansha and will open in September this year while the Chinese Academy of Sciences (CAS) has landed a number of research institutes in the districts.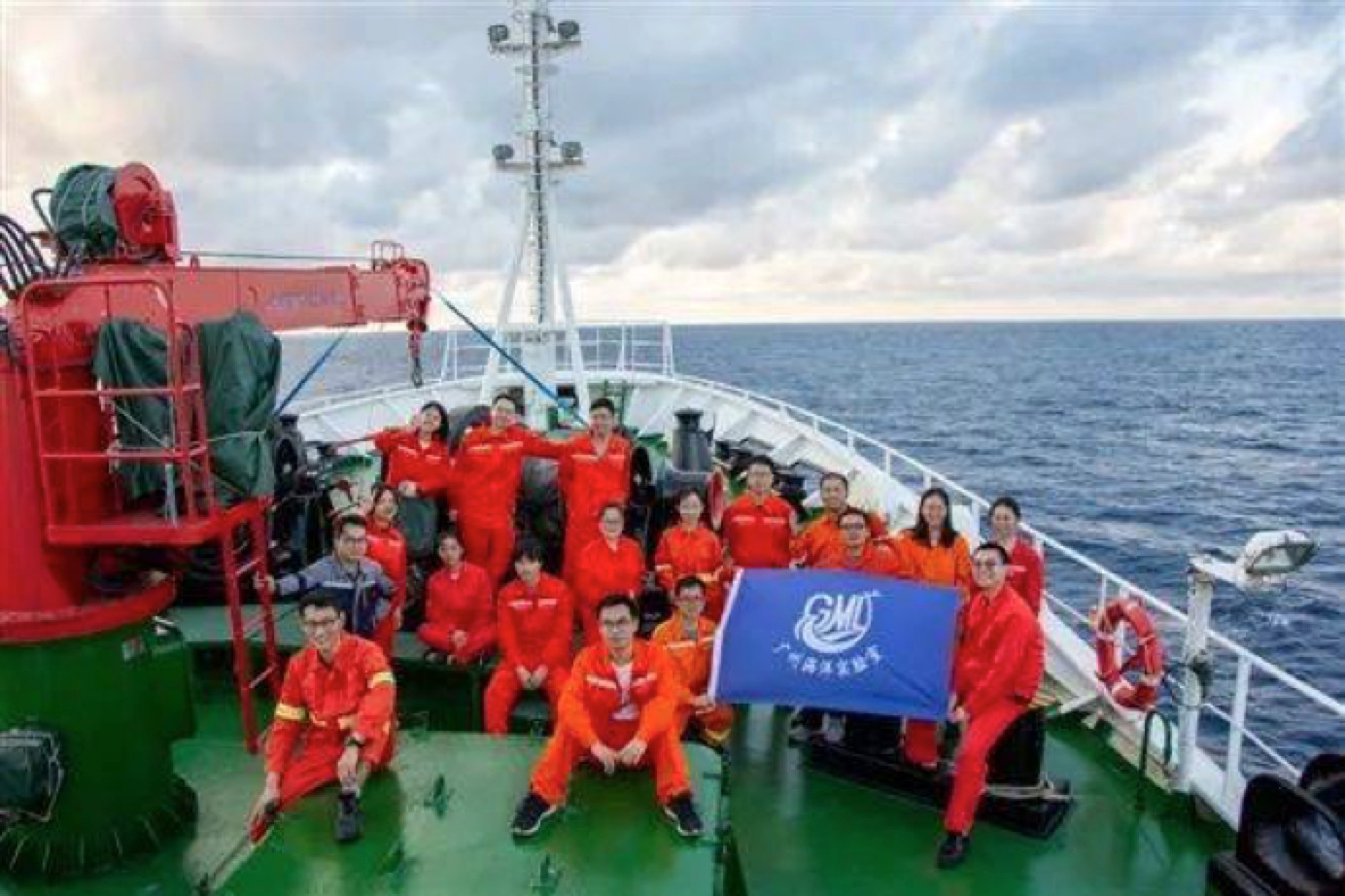 Scientists from research institutes in Guangzhou and Hong Kong conduct cold seep research. [Photo/ Nanfang Daily]
"When I visited Nansha, I was deeply impressed by the cold-seep seafloor ecosystem research device being built by the South China Sea Institute of Oceanology, CAS. Cold seeps are located at the sea floor where hydrocarbon-rich fluid seepage occurs. A deeper research into the cold seeps will reveal the secrets of the evolution of life on Earth, and contribute to research on energy and bio-technology," he said excitingly.
Now that the plan positions Nansha as a strategic platform for global cooperation, Guo was invited by Nansha to research on more detailed strategies to develop the district into an international platform.
In his opinion, regulations up to international standards are fundamental to attract global players. "For example, our medical system is different from other countries. We need to press international standards on medical institutes, drug and medical equipment manufacturers. Or if we plan to involve Hong Kong, Macao counterparts in urban development, more reform is required to recognize their different certificates and standards in the professional services sector."
Platforms in other GBA cities have their own strengths
The report of the 12th CPC Guangdong Provincial Committee emphasizes the development of cooperation platforms in other GBA cities including Foshan, Huizhou, Dongguan, Zhongshan, Jiangmen and Zhaoqing.
Guo summarizes 4 major characteristics of the cooperation platforms in these cities. On the one hand, they emphasize the development of advanced manufacturing industries and strategic emerging industries which require a certain amount of R&D ability. On the other, they stress ecological conservation, smart city development, and the cooperation with Hong Kong and Macao.
The Shenzhen-Zhongshan Link under construction [Photo/GDToday]
"The Sanlongwan and Binhaiwan are respectively located in Foshan and Dongguan, the two cities with GDP exceeding 1 trillion RMB. Foshan is known for its well-developed manufacturing base while Dongguan is also a manufacturing city with rapid development in AI, bio-technology and information technology. The Cuiheng platform in Zhongshan will face enormous opportunities as the Shenzhen-Zhongshan link is schedule to open in 2024. We saw several major projects in the fields of manufacturing and energy settled in the platform in recent years," said Guo.
He added the advantageous policies might slightly differ from platforms to platforms in terms of tax preference, rent, subsidies and accommodation support policies. He suggested that people could make the decision considering the different geographic locations, strengths, costs and cultures of these cities if looking to start their business or career in the GBA.
Author: Jasmine
Editor: Wing, Keane, Steven, Jerry