Editor's Note:
Guangdong's 2023 Two Sessions kicked off on January 10. According to the 2023 Government Work Report delivered at the sessions, Guangdong will optimize the foreign trade structure, encourage more foreign investment, improve outsourcing quality, develop close international economic relations, and attract more global talent. Many multinationals in Guangdong have seen great development opportunities. Now GDToday is launching a special series "Boss Talk on Guangdong". Please stay tuned.
Carlsberg China established its first brewery in Huizhou, a city in central-east Guangdong Province, 27 years ago. "Our investment in Guangdong is continuous and planned for the long term," Lee Chee Kong, president of Carlsberg China, told GDToday in a recent interview.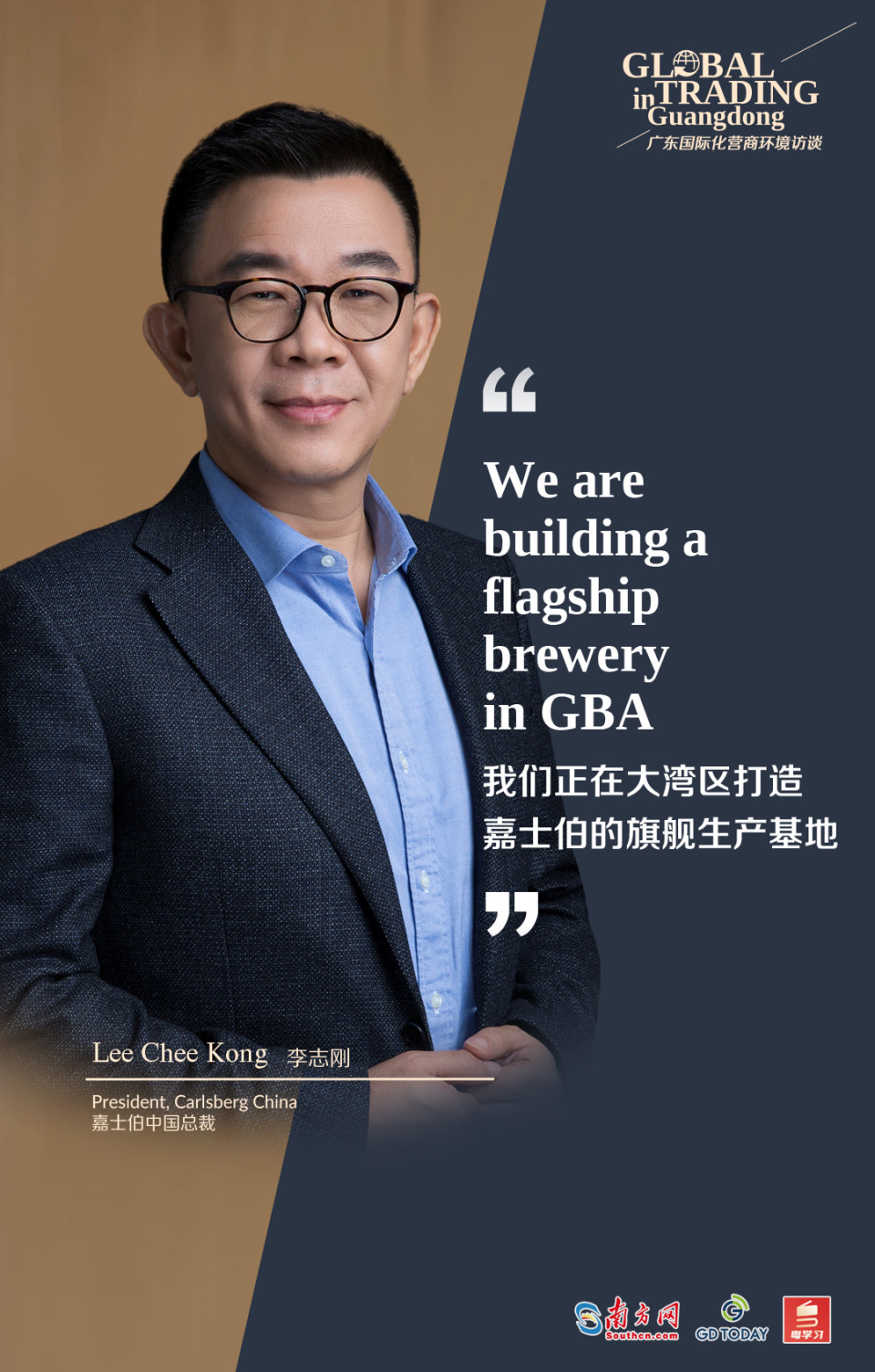 Carlsberg Group, headquartered in Copenhagen, the capital of Denmark, is the third-largest brewery company in the world. Its largest market is China, where it operates a production and supply network made up of 26 breweries. Besides its international brands, such as Carlsberg, Tuborg and Grimbergen, Carlsberg China owns its local beer brands including Wusu, Chongqing and Shancheng.
According to Lee, Carlsberg China is now building its 27th brewery in Foshan, a city located in central Guangdong and one of the 11 GBA cities. The brewery is scheduled to open in 2024 and will become one of Carlsberg China's largest production bases.
"In the first phase, we are investing about 3 billion RMB in total and foresee a production capacity of 500 thousand kiloliters. We are hoping to build a second phase if possible," Lee said.
The production base in Foshan will also be a flagship brewery of Carlsberg in terms of intelligent manufacturing and green production. Lee noted that Carlsberg China is carrying out an ESG programme named "Together Towards ZERO and Beyond", with the goal of meeting China's climate action goals by having a "zero carbon footprint," "zero water waste," "zero packaging waste," and other similar goals.
"The Guangdong government has always been supportive of our business developments in the province," Lee said. He feels his company has enjoyed a favourable business environment in Guangdong.
"We can see that one of the first actions taken by the Guangdong government following China's optimization of the COVID-19 response is the organization of various business activities and economic stimulation." Lee continued, "The consumer market here is also one of the biggest and most vibrant markets in China, with a large population of young consumers."
Lee told GDToday that Carlsberg's investment in Guangdong was never only meant for the short term. "In the future, we will take full advantage of the preferential policies the Guangdong government offers to transnationals and pursue high-quality development while meeting consumers' increasing needs for high-quality products," Lee said.
Reporter | Lydia Liu
Poster designer | Lulu
Editor | Wing, Olivia, Nan, James