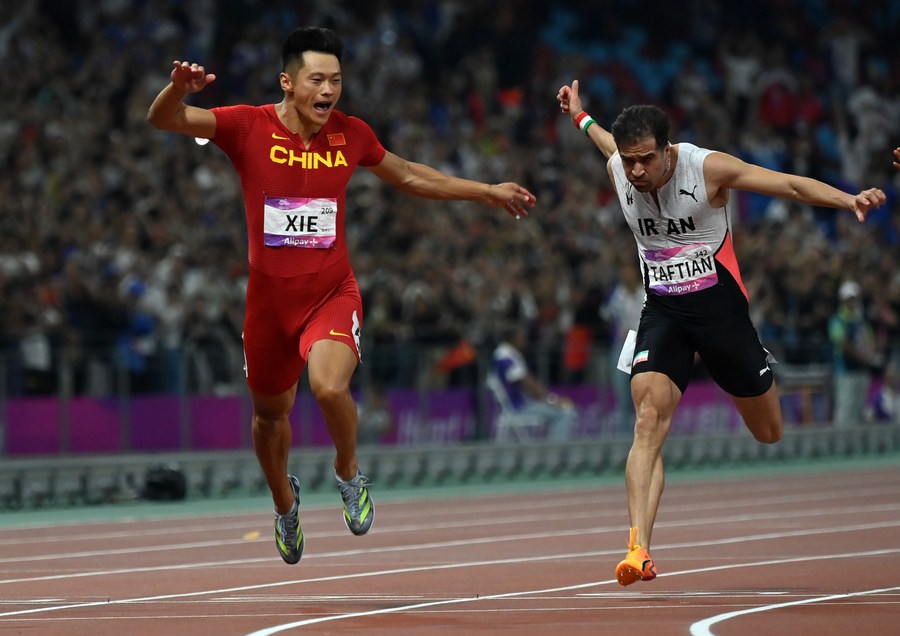 Xie Zhenye (L) of China sprints in the men's 100m final at the Hangzhou Asian Games on Sept. 30, 2023. (Xinhua/Jiang Han)
China's sprinters won double gold in the men's and women's 100m, while DPR Korean weightlifters flexed their muscles by breaking five world records.
Chinese sprinters Xie Zhenye and Ge Manqi claimed the highly-anticipated men's and women's 100m gold medals respectively, while DPR Korean weightlifters Ri Song Gum and Kang Hyong Yong combined to break five world records in the women's 49kg and 55kg divisions at the Hangzhou Asian Games on Saturday.
Xie, a Zhejiang native, tied his personal best of 9.97 seconds to win the blue-ribbon event. Boonson Puripol of Thailand took the silver in 10.02, while Muhammad Azeem Bin Mohd Fahmi of Malaysia rounded out the podium in 10.11.
In the women's race, Ge clocked a winning time of 11.23 seconds, 0.04 seconds ahead of Veronica Shanti Pereira of Singapore. Bahrain's Hajar Saad Saeed Saad Alkhaldi took the bronze in 11.35.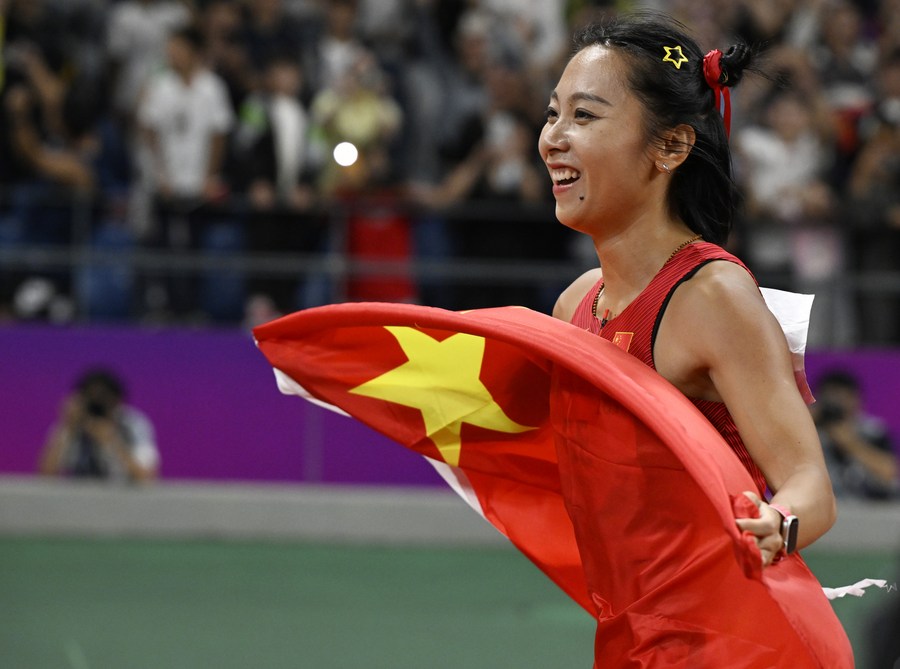 Ge Manqi of China celebrates after winning the women's 100m at the Hangzhou Asian Games on Sept. 30, 2023. (Xinhua/Song Yanhua)
Wang Qi added a gold for China in athletics, as he registered 72.97 meters in the men's hammer throw.
Ernest John Obiena delivered the Philippines' first gold medal at the Hangzhou Asiad in the men's pole vault with a Games record of 5.90 meters. His victory also represented his country's first gold in the Asiad athletics since 1986.
"The challenge is I feel a little bit like a villain today - it's not my medal. I feel like I'm taking it from someone else, because I felt so welcomed here. But I also have a responsibility to my country," Obiena commented.
On the first day of weightlifting competition, Ri lifted 92 kilograms in the snatch and a record-breaking 124kg in the clean and jerk, with her total of 216kg eclipsing the previous mark set by China's Jiang Huihua at the World Championships in Saudi Arabia earlier this month.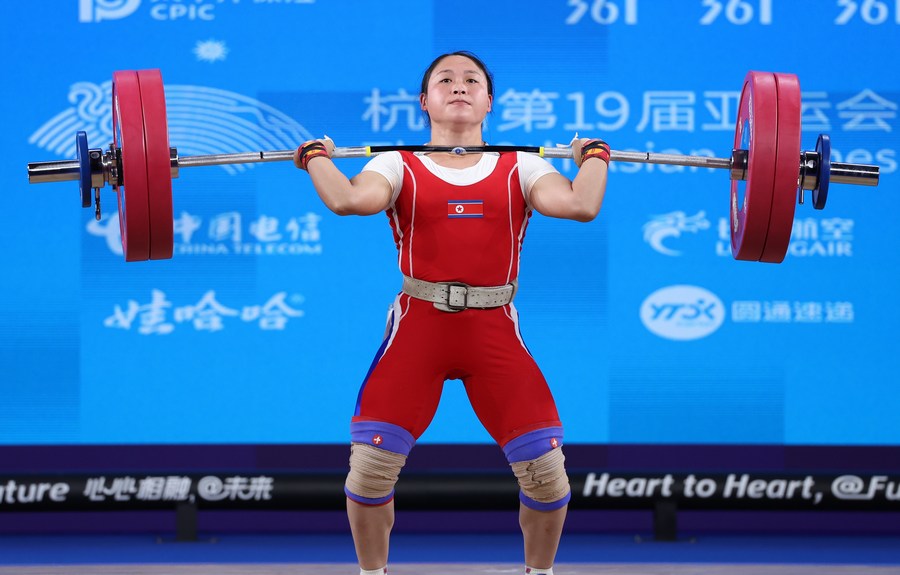 Ri Song Gum of the DPR Korea competes in the weightlifting women's 49kg Group A at the Hangzhou Asian Games on Sept. 30, 2023. (Xinhua/Yang Lei)
"I feel like my efforts in training were not in vain, and I would like to thank my coach and my people," said Ri about breaking two world records en route to her win.
Jiang bagged the silver with 213kg, while Thanyathon Sukcharoen of Thailand had the bronze with 199kg.
Kang lifted 103kg in the snatch, and 130kg in the clean and jerk to tally 233kg, breaking world records in all three categories.
Fellow DPR Korean lifter Ri Su Yon finished 11kg behind with a silver. China's Hou Zhihui took the bronze with 210kg.
In tennis, top seed Zhang Zhizhen of China secured his first Asiad title with a 6-4, 7-6 (7) victory over Japan's Yosuke Watanuki in the men's singles final, while Chinese Taipei for the first time grabbed both men's and women's doubles titles at the Asiad.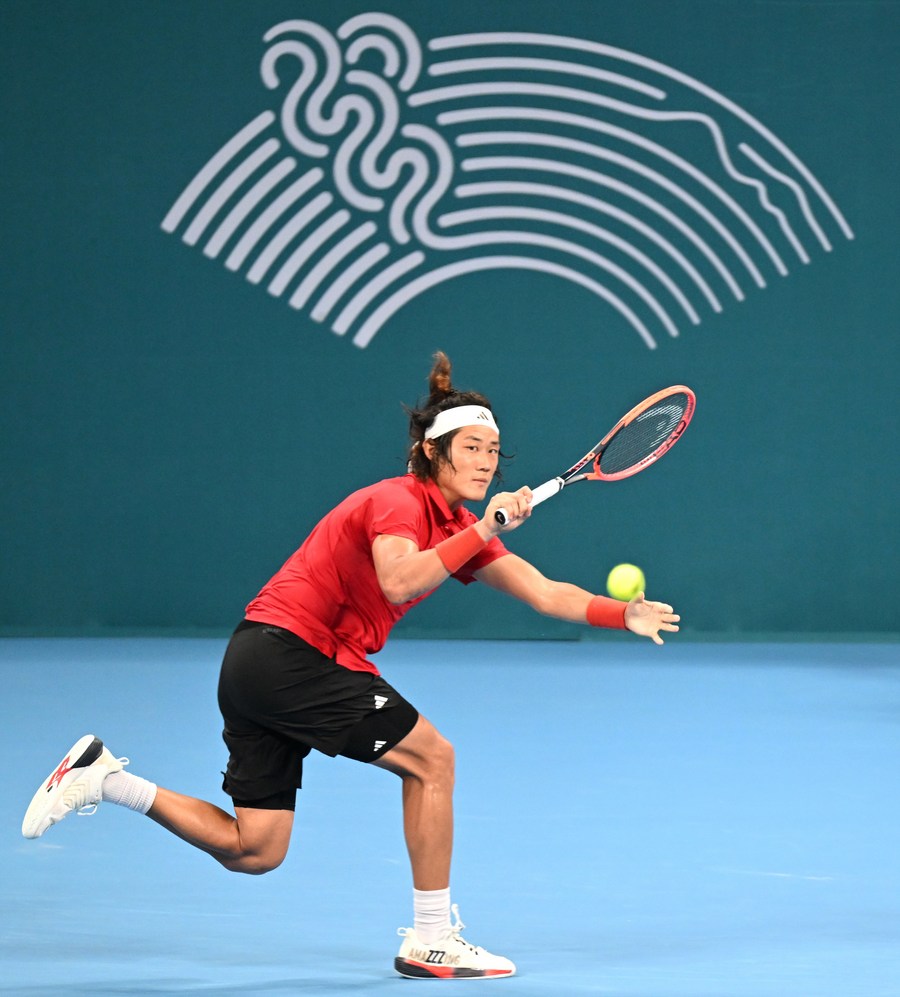 Zhang Zhizhen of China hits a return during the tennis men's singles final against Yosuke Watanuki of Japan at the Hangzhou Asian Games on Sept. 30, 2023. (Xinhua/Cheng Min)
Zhang's gold was also the first men's singles crown for China at the Asiad in nearly three decades, after Pan Bing won the event in the 1990 and 1994 Games.
Two pairs from Chinese Taipei met in the women's doubles final, where Chan Yung-jan and her younger sister Chan Hao-ching eased past Liang En-shuo and Lee Ya-hsuan 6-4, 6-3, adding to the men's doubles victory of Jason Jung and Hsu Yu-hsiou on Friday.
Liang also captured a silver in the mixed doubles together with Huang Tsung-hao as they lost the final to the second-seeded Indian pair Rutuja Sampatrao Bhosale and Rohan Machanda Bopanna 2-6, 6-3, 10-4.
Chinese divers kicked off their Asiad campaign with a bang. Quan Hongchan and Chen Yuxi triumphed in the women's 10m platform synchro, while the men's 3m springboard synchro gold went to veteran He Chao and his younger partner Yan Siyu.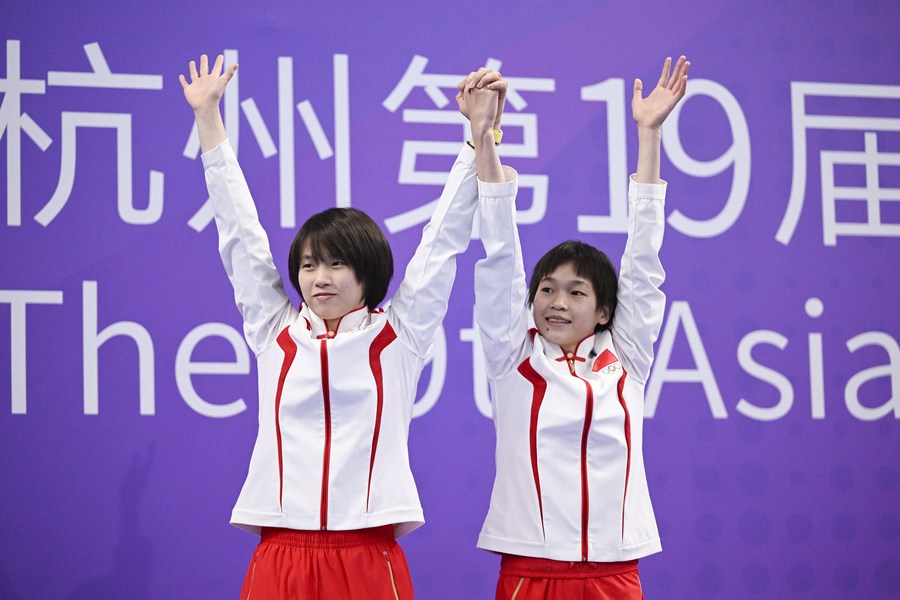 Gold medalists Quan Hongchan (R)/Chen Yuxi of China attend the award ceremony of the women's synchronised 10m platform at the Hangzhou Asian Games on Sept. 30, 2023. (Xinhua/Xue Yuge)
The teenage duo, who have won all major titles in the women's 10m platform event over the last three years, dominated from start to finish, scoring 375.30 points to clinch the gold medal.
Matsuri Arai and Minami Itahashi of Japan were 85.26 points behind and took silver. The bronze medal went to Malaysian duo Nur Dhabitah Sabri and Pandelela Rinong Pamg, who finished with 266.94.
He and Yan collected 422.55 points to win their title, while South Korea's Yi Jae-gyeong and Woo Ha-ram ranked second in 393.00. Malaysia's Muhammad Syafiq Bin Puteh and Liang Ooi Tze came third with 380.22.
In table tennis, China's Wang Chuqin and Sun Yingsha retained their mixed doubles title after coming out on top 4-1 against their compatriots Lin Gaoyuan and Wang Yidi.
But the traditional table tennis powerhouse were dealt a blow in the women's doubles, when their two pairs both crashed out of the quarterfinals.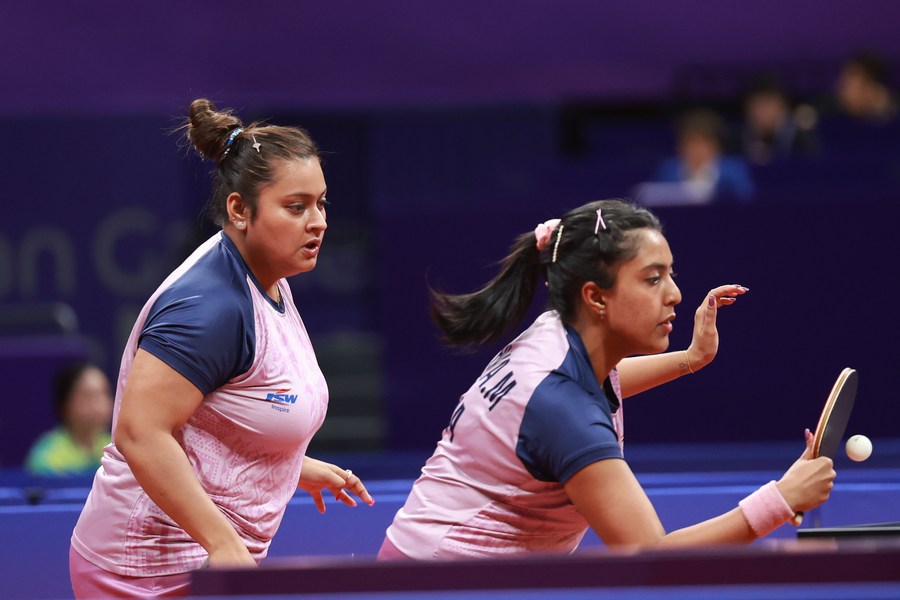 Sutirtha Mukherjee (L) and Ayhika Mukherjee of India in action during the women's doubles quarterfinal against China at the Hangzhou Asian Games on Sept. 30, 2023. (Xinhua/Liu Xu)
Reigning world champions Chen Meng and Wang Yidi lost to Indian pair Sutirtha Mukherjee and Ayhika Mukherjee 3-1, while Sun Yingsha and Wang Manyu were defeated by Miwa Harimoto and Miyuu Kihara of Japan in four sets.
"The match was really amazing (and) we were not scared at all," said Ayhika Mukherjee.
"They (the Chinese players) are amazing, the world's best, but we were at our best."
It marks the first time that Chinese paddlers have failed to medal in this event since China made their Asian Games debut in Tehran in 1974.
It was little surprise that Uzbekistan, where the ancient martial art of kurash originated at least 3,500 years ago, dominated on the opening day of that competition, sweeping three gold medals on offer.
As the 16-day Hangzhou Asiad schedule reached its halfway mark on Saturday, China firmly holds top position in the medal table with 114 gold, 68 silver and 34 bronze medals, followed by Japan with 28 golds and South Korea with 27.