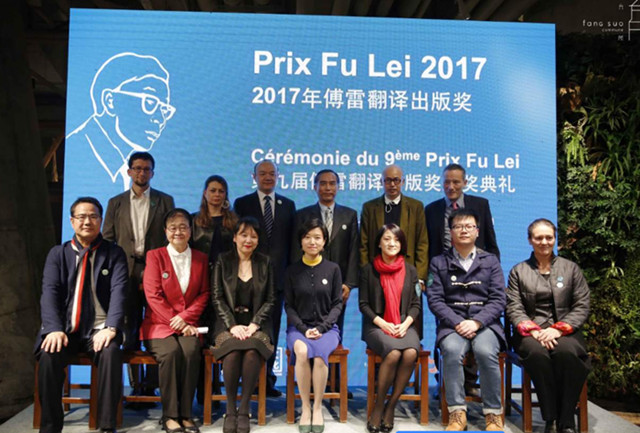 A group photo of the guests and winners at the award ceremony in Guangzhou on Nov. 25, 2017. [Photo provided to Newsgd.com]
The winners of the 9th Fu Lei Translation and Publishing Award (Prix Fu Lei), a prize honoring major achievements in French-to-Chinese translation, were announced at Fang Suo Commune in Guangzhou's Taikoo Hui on Nov. 25, 2017.
Three translated works were named as the winners of the prestigious award. They are "Retour à Killybegs" by Lin Yuan, "La misère du monde, Pierre Bourdieu" by Zhang Zujian, and "Tocqueville: Les Sources Aristocratiques De La Liberté" by Ma Jiening. The three winners share a total of 5500 euro in cash prizes.
This year's event unveiled 10 finalists, 5 under the category of social sciences and 5 under fiction. They were selected from 59 candidates who submitted applications before April 30 this year. The finalists were chosen based on criteria of both the importance of the books in French literature and the translators' language level.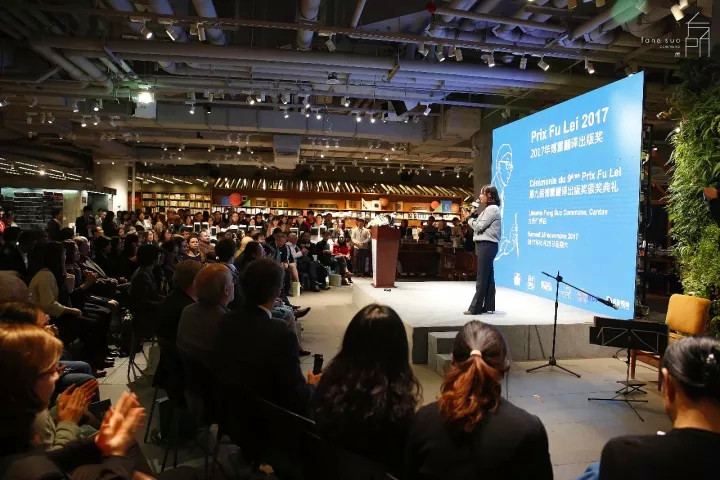 The award ceremony at Fang Suo on Nov. 25, 2017. [Photo provided to Newsgd.com]
It's worth mentioning that this is also the first time the award has been held in Guangzhou. Mr. Dong Qiang, Chairman of the Organizing Committee of the Fu Lei Translation and Publishing Award, said that Lingnan area, especially Guangzhou, traditionally enjoys an advantage in Chinese-French translation, and the famous Chinese-French translator Mr. Liang Zongdai worked as a teacher in Guangzhou for a long time as well.
The Fu Lei Translation and Publishing Award, founded by the French Embassy in China in 2009, is dedicated to honoring prominent Chinese translators who work hard to introduce French literature to Chinese readers. It is named after Fu Lei (1908-1966), one of the most renowned Chinese translators. Fu Lei is known for his translations of Honore de Balzac (1799-1850), Voltaire (1694-1778) and Romain Rolland (1866-1944).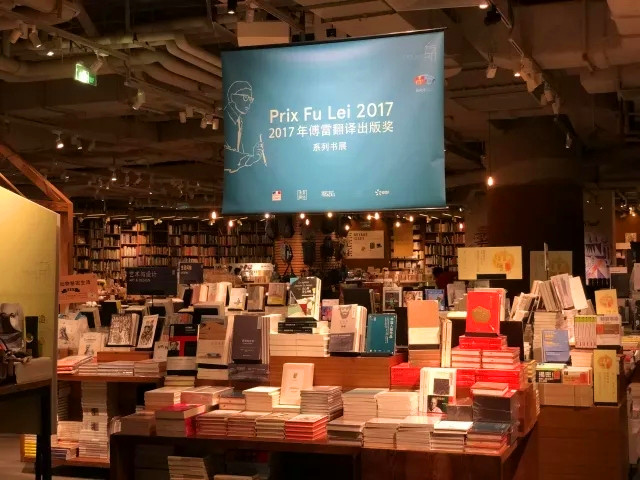 Shortlisted translations for the 9th Fu Lei Translation and Publishing Award being exhibited and sold at Fang Suo. [Photo provided to Newsgd.com]
(Author: Monica Liu; Editor: Simon Haywood)