"I focus on technological innovation and talent policy. I feel related to the 'whole-process' innovation ecology proposed in the report," Chen Xianshuai, Founder of CASANGELS, shared his thoughts with GDToday.
The report of the Communist Party of China (CPC) Guangdong Provincial Committee was delivered on May 22 during the ongoing 13th CPC Guangdong Provincial Congress.
"I focus on technological innovation and talent policy. I feel related to the 'whole-process' innovation ecology proposed in the report," Chen Xianshuai, Founder of CASANGELS, shared his thoughts with GDToday.
CPC members in enterprises like Chen Xianshuai are widely involved in the Congress. The members are from different business sectors and pay great attention to the report as it provides a whole picture of the province's economic and social development, sets the tone for upcoming years and showcases opportunities.
High-tech and talent development highlighted in Guangdong's blueprint
As a Congress delegate, Chen communicated with different companies especially tech companies for their opinions before the Congress. He considers the report outlines thorough plans covering technological innovation and enterprise development for the next 5 years.
The report indicates Guangdong will continue to support technological innovation. It also proposes to build the 'whole-process innovation ecology' that involves basic research, technological breakthrough, research outcome transformation, finance and talent pool development.
Chen was impressed because his personal development was exactly carried out with these 5 procedures.
"I did basic research for my PhD degree in Hong Kong and involved in R&D at the Chinese Academy of Sciences in Guangzhou after graduation. I then started my own company in Foshan and successfully transferred my research outcome," said Chen.
Specializing in prosthodontics and related medical equipment, Chen's company has grown into a unicorn company and was listed among the 50 Most Innovative Companies in China by FastCompany.
He attributed his success to the substantial support for tech companies in Guangdong. His company was granted more than 10-million-RMB start-up subsidies by Foshan and obtained 6 rounds of venture capital through provincial and municipal financial platforms.
According to the Guangdong Government Work Report, the government spent more than 380 billion RMB in supporting research and development in 2021, accounting for 3.14 percent of the GDP. More than 60 thousand high-tech companies settled in the province, which has topped in China for 6 years in a row.
In addition, Chen praised the plan to build a talent pool for the Guangdong-Hong Kong-Macao Greater Bay Area development.
"Hong Kong provides excellent science education but lacks manufacturing industry. Guangdong has a well-developed manufacturing supply-chain, which means Hong Kong and Macao graduates majoring in science or engineering have more chances to pursue their career in Guangdong while this well-educated workforce can boost the province's development," he said.
Statistics of Guangdong Resource and Social Security Department show more than 85.1 thousand Hong Kong and Macao residents made employment registration in the province as more convenient policies were released and the plan to promote employment in the Greater Bay Area was implemented in recent years.
Entrepreneurs' voices heard through Party congress
According to the Organization Department of the CPC Guangdong Provincial Committee, there are more than 5.6 million CPC members in Guangdong as of December 2021. To become delegates to CPC congresses, Party members must pass strict procedures which require a high level of morality and long-term commitment to the greater public good.
When the Covid-19 pandemic just broke out, Chen led a team of CPC member researchers and developed a microbial air cleaner based on ozone sterilization negative ion air purification. The air cleaners have been put into practice in Wuhan as well as hospitals and epidemic prevention centers in various cities.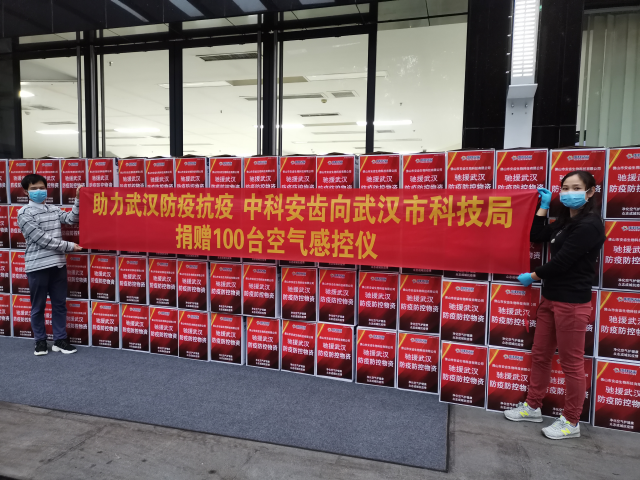 CASANGELS donates air cleaners to Wuhan. [Photo provided to Newsgd.com]
"It represents enterprises' social responsibility and our contribution as scientific researchers during the pandemic," said Chen.
Having been elected as a delegate, Chen hopes to closely communicate with the tech community and contribute more to the development of the GBA in addition to leading his team to accelerate technological breakthroughs.
Chen also initiated some suggestions and brought them to the Congress after the communication with other tech companies.
"Foshan is a famous manufacturing city and it's also one of the largest production bases and distribution centers of dental medical devices in China. I suggest if enterprises could take the lead and establish related alliances or other institutions to promote the development of dental medical devices," said Chen.
Furthermore, he proposed that there could be more opportunities for tech companies and start-ups to participate in the major R&D projects.
Reporter: Jasmine, Lydia
Video: Qin Shaolong, Axin, Nina, Zhang Ruilin
Graphic design: Mia
Editor: Wing, Steven, Monica, Jerry