Zhuhai has built the country's first intelligent marine breeding platform with a mixed floating body and truss structure, according to a report at the recent Guangdong Modern Marine Ranch Construction Promotion Conference in Guangzhou.
The platform consists of the "Dehai One" and another three large and far-reaching marine breeding pastures. It now has 190 gravity-type deep water cages, each with a circumference of 60 to 90 meters and can hold up to 262,000 cubic meters of water.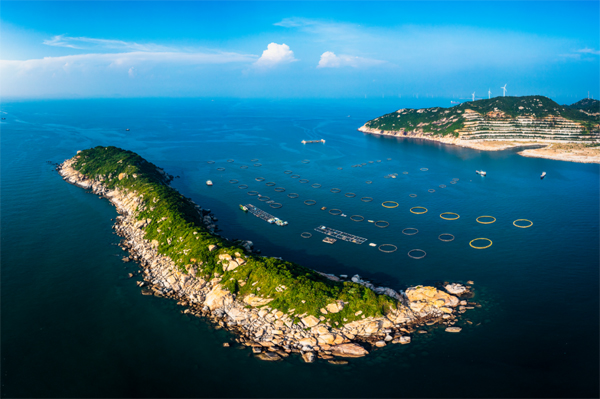 A marine ranch at the Hezhou Integrated Area [Photo provided by Zhuhai Agriculture & Rural Affairs Bureau]
Building modern marine ranches and accelerating the construction of a diversified food supply system are important measures to ensure food security, promote high-quality economic development, and advance the coordinated development of urban and rural areas.
In the next two years, Zhuhai will add another nine intelligent breeding platforms, as well as two large breeding vessels. It will also add 300 gravity-type polymer deep water cages with a circumference of 90 meters.
The city will use the Hongwan Central Fishing Port and its surrounding areas to build a fishing port economic zone that integrates the functions of a fishing port, seafood trading center, cold chain storage and processing base, and fishing port style street. The cold chain storage and processing base project will have a construction area of 85,000 square meters (21 acres) and is scheduled to be completed and put into operation by the end of this year.
In 2022, the gross value of Zhuhai's marine products reached 95.73 billion yuan ($13.95 billion), of which the fishery's output value was 8.01 billion yuan ($1.17 billion), a year-on-year increase of 9.4 percent.
Source: cityofzhuhai.com