Guangzhou recently has strengthened its COVID-19 prevention and control measures due to a new round of outbreak. However, the supply of residents' food and daily necessities is still proceeding in an orderly manner. In an online interview with GDToday on November 11, James Chane, an American expat who has been living in China for over 17 years, shared his recent experience in Guangzhou.
Some areas in Guangzhou have been sealed off to cut virus transmission outside quarantined areas across the city. On November 8, James Chane was, for the first time, quarantined in his apartment in Guangzhou's Huadu District.
"The first thing that came to my mind was food. I had no food or fresh water stored in my apartment. But luckily the problem has been resolved now. Community workers has brought me food and groceries."
James said he is a day-to-day shopper and always either eat out or buy something fresh from the market to cook. "I don't even use a refrigerator to store food."
Anxiously, James tried to use a translation app to communicate with medical staff, expressing his concerns about the food shortage. Soon a woman told him not to worry, and they would find someone to buy groceries for him.
"I sent photos of the items I needed through WeChat. About an hour later the food and items were delivered. I was relieved that the food problem was solved."
Community workers also sent James a list of phone numbers for nearby restaurants and stores. A Chinese friend of Chane even ordered him some food through Meituan, a food delivery app. Chane was surprised at how fast the delivery was. He said that food and groceries are being delivered to him and he doesn't have to go out. "It's a new experience!"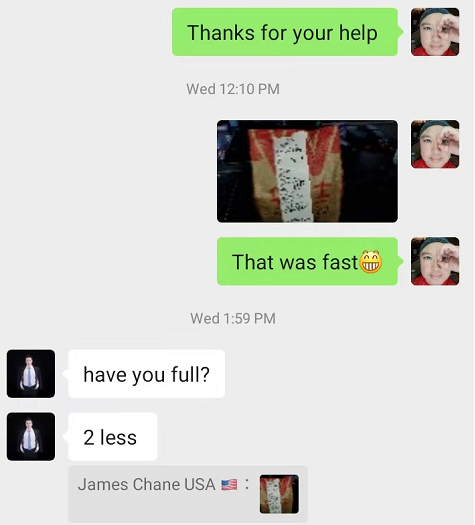 James Chane told GDToday that he has been recording his daily nucleic acid tests and posted them on his personal social media account. He said he has been trying his best to support the epidemic prevention and control work,"we need to do our best to help end this battle over COVID-19."
"This is our new normal. We need to adjust our lives and get used to it. The more we all can cooperate with epidemic prevention and control, the sooner we will win," James said.
Author: Ariel
Video editor: GuoGuo
Editor: Zhao Yang, Wing, Olivia, Monica, Jerry
Video and pictures are provided by James Chane