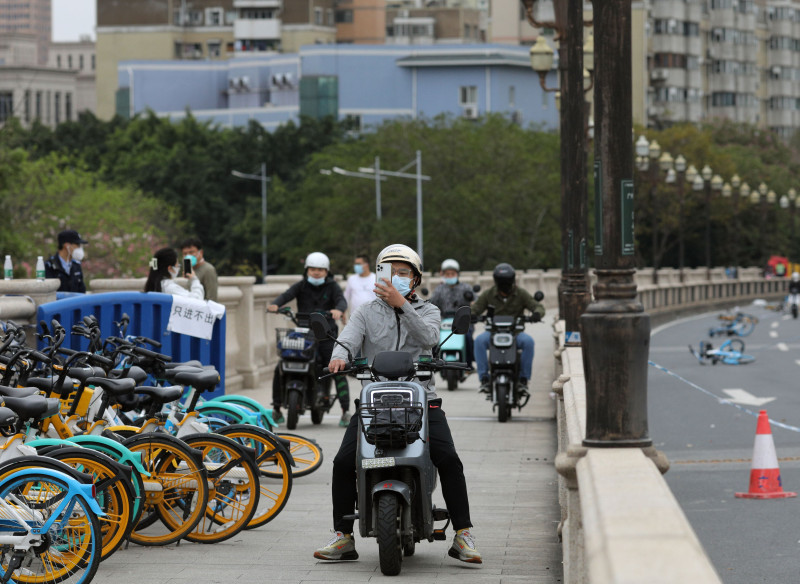 Closed-off management measures temporarily implemented across districts of Guangzhou, Guangdong province, were lifted on Wednesday afternoon as part of more scientific and precise COVID-19 interventions.
Zhang Yi, deputy director and spokeswoman of Guangzhou Health Commission, told a Wednesday news conference that the city would perform more scientific and precise identification of high-risk areas, which will generally be residential compounds or building units.
In principle, living places, working areas with frequent activities of people infected with the novel coronavirus, as well as places with high risk of epidemic transmission are designated as high-risk areas, she said.
"Closed-off management for the sake of epidemic control should be imposed and lifted as quickly as possible to reduce inconvenience for the people," she said.
According to Zhang, the city's improvement of prevention and control measures was based on the ninth edition of the country's COVID-19 control protocols and the 20 optimized response measures recently announced.
In the hardest-hit Haizhu district, closed-off management measures had been implemented in most parts of the district for more than half a month.
According to notices issued by local district governments on Wednesday afternoon, such temporary closed-off management measures were lifted, with all districts, except high-risk areas, being managed as low-risk areas.
Prevention and control measures against COVID-19, including self-protection on the part of the individual and avoiding gatherings, will mainly be implemented across districts of the city, said the notices.
In terms of quarantine for close contacts of the infected, self-isolation at home is allowed if home quarantine conditions permit.
Furthermore, the screening of close contacts should not be expanded at will, and being somewhere at the same time should not be applied as the standard for identifying close contacts, according to Zhang.
"Considering the current epidemic situation and the fast viral spread, we should carry out interventions earlier, in a more timely and accurate manner," said Zhang Zhoubin, Party secretary of the Guangzhou Center for Disease Control and Prevention.
Following the lifting of closed-off management measures, in-person classes for primary and secondary students in Conghua district will resume on Thursday, according to a notice issued by the local epidemic prevention and control headquarters on Wednesday afternoon.
Operation of off-campus training and nursery institutions would also be resumed in an orderly manner, the notice said.
Resumption of classes in other districts and catering services across other districts of the city have yet to be announced.
In a notice issued by Guangzhou Metro Group, normal operation of metro and tram services across the city resumed on Wednesday afternoon.
Guangzhou reported 6,995 new infections on Tuesday, of which 68 were found at the community level, without reports of severe or critical conditions, according to the local health authority.
As of Tuesday, 41,405 people with infections have been discharged from hospitals and fangcang, or makeshift hospitals, in the latest outbreak, according to the authority.