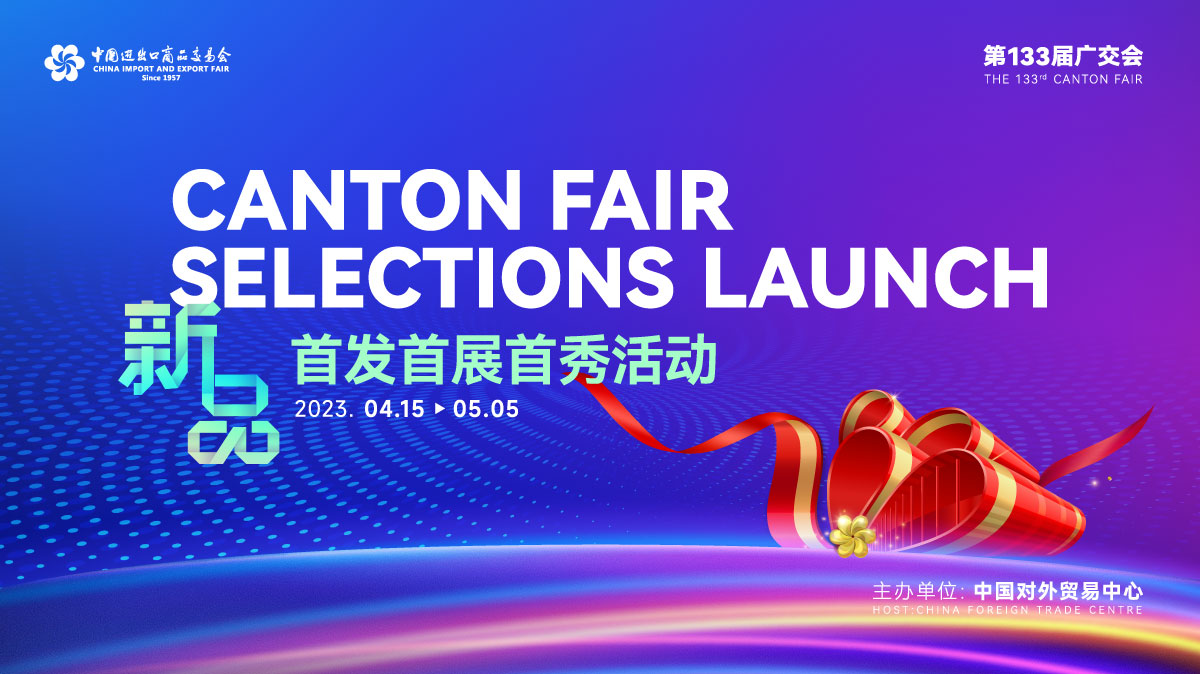 On May 5, the 133rd Canton Fair concluded with great success. This session of the Canton Fair was the largest in its history. The Canton Fair Selections Launch attracted significant attention, as "Outstanding Chinese Products" competed side by side on a shared stage. The event vividly displayed the innovative prowess of Chinese manufacturing, Chinese creativity, Chinese brands, and Chinese technology to a global audience of buyers.
Empowering exhibitors to showcase their "new selections"
This Canton Fair Selections Launch revolved around seven major themes: electronic home appliances, building materials and home decoration, industrial manufacturing, hardware tools, home goods consumption, fashion and lifestyle, as well as health and leisure. With a focus on the latest trends in international trade and consumer demands, the event presented a wealth of innovative ideas. A total of 272 online and offline events were held during the fair, showcasing 317 new selections. As of May 4, the online and offline events across all platforms and channels had received nearly 10 million views/exposures.
The Canton Fair Selections Launch held both online and offline events concurrently with the Canton Fair, enabling companies to exhibit their new selections and showcase their strengths to a wider audience.
For the online events, selected companies' new selections videos were released on the Canton Fair's official website under a New Selections Launch section, categorized by theme and time period, allowing global buyers to quickly browse the allure of the new selections online. At this year's Canton Fair Selections Launch, an H5 version of the new selections electronic catalog was introduced, featuring seven main theme areas as well as a card-style new selections area, and using a carousel-style operation. Users can swipe left or right and click on the New Selection cards to see specific introductions of the desired products and companies. This new display format offers an innovative and user-friendly presentation, a better reading experience, and a faster dissemination method, allowing buyers to intuitively browse new selections from the event. Furthermore, the unique features and highlights of the new selections were widely promoted through the media advantages of the Canton Fair's platform, conducting new media marketing and promotion activities. Promotion articles and short promotional videos were disseminated on the Canton Fair's official website, Canton Fair's WeChat News public account as well as video account, Douyin account, and overseas social media networks such as Facebook and TikTok. Additionally, promotional articles was also published on 70 well-known media outlets, comprehensive portal websites, and industry-specific websites such as People's Daily Online, Xinhua Net, Newsgd.com, Sina.com, Cheaa.com, CNELC, COSMOPOLITAN, and so forth. Promotion and referral were further carried out on WeChat Moments, PR Newswire, and other channels, constructing a comprehensive and three-dimensional promotional matrix, with nearly ten million views/exposures across all channels.
For the offline events, more than 40 selected companies participated in the Canton Fair Selections Launch held at the exhibition hall platform. Additionally, over 20 actively applied VIP companies showcased their new selections at their exhibition booths. The event provided filming and video editing services for their promotional materials, which were then showcased in the "Live Release" part of the New Selections Launch section on the Canton Fair's official website.
The Selections Launch significantly intensified marketing efforts for high-quality brands by introducing the "Strong Enterprise New Selections Promotion Initiative". This initiative offered a range of exclusive services to four categories of industry-leading enterprises: National-level Manufacturing Single-item Champion, National-level Specialized and Innovative "Little Giant", National-level Industrial Design Center, and National-level Enterprise Technology Center. These services included priority scheduling for event sessions, individual traffic redirection on Douyin and TikTok, and a complimentary virtual exhibition booth.
Achieving shared global business opportunities
The selected companies have expressed that the Canton Fair Selections Launch is not only a highlight of the Canton Fair, but also an opportunity to attract new followers and strengthen existing ones. They have unanimously praised and given thumbs up to the event, which has become an important channel for enterprise brand promotion and order placement, showcasing the new charm and style of 'Made in China' on the Canton Fair platform.
World's top ten TV brands TCL and SKYWORTH RGB Electronics have given positive feedback on the Canton Fair Selections Launch. The TCL booth representative expressed their anticipation of deepening exchanges with global partners through the online and offline channels of the Canton Fair Selections Launch, exploring cutting-edge innovative technologies with industry partners, and further enhancing their influence in various regional markets worldwide to gain more consumer recognition. Liu Dangdang, Vice President of the Overseas Marketing Headquarters of SKYWORTH RGB Electronics, said that participating in the Canton Fair Selections Launch provided SKYWORTH RGB Electronics with more opportunities to establish connections with global customers, deepen understanding, and achieve cooperation. It also strengthened the confidence of many high-quality customers to carry out long-term partnerships.
The Guangzhou Textile Import & Export Group, a long-standing participant in the Canton Fair, has given high praise to the Canton Fair Selections Launch for its seamless integration of online and offline events. Liang Suyun, Head of the Group's Operation Department, explained that some visiting buyers have learned about the features of the new environmentally-friendly and antibacterial clothing series through the New Selections Launch section on the Canton Fair's official website. Liang also emphasized that the New Selections Launch section not only effectively attracts new customers, but also provides an easy way for buyers to browse the company's new selections release pages and access the company's store to learn about its other products.
KELITONG ELECTRONIC(KLT) has recognized the Canton Fair Selections Launch for bringing more exposure to the company through its New Selections Launch section. Wu Changming, the Sales Director, expressed his gratitude, saying, "We appreciate the Canton Fair Selections Launch for featuring our new selections on various new media channels, such as the Canton Fair Douyin account and Toutiao account. This has brought more traffic and exposure to our company and products, allowing more buyers to become aware of our brand."
Stimulating new momentum for high-quality development of foreign trade
The Canton Fair Selections Launch will continue to select new products, cutting-edge technologies, emerging brands, and innovative services, setting industry benchmarks, and helping more companies pursue innovative development paths to cultivate new competitive advantages. The pre-registration for the 134th Canton Fair Selections Launch in the autumn of 2023 will be launched soon. High-quality companies from all industries are welcome to follow the Canton Fair's WeChat News public account during the event to capitalize on this opportunity and unlock a wealth of business possibilities.
(This article is provided by Canton Fair)