Brazilian and Portuguese representatives from over 20 sci-tech enterprises and five incubators visited Zhuhai city on May 15, to get a close look at its sci-tech innovation environment and the preferential policies of the Guangdong-Macao In-Depth Cooperation Zone in Hengqin.
Li Ziwei, head of the Cooperation Zone's Economic Development Bureau, said entrepreneurs were welcome to invest there and it would offer them the best business environment and services.
Zhuhai Science and Technology Innovation Bureau officials gave a briefing on Zhuhai's overall sci-tech environment, major industries, and one-stop services for overseas investors wanting to undertake innovation and entrepreneurship there.
The aim was to assist Brazilian and Portuguese high-quality innovation and entrepreneurship projects to develop in Zhuhai.
The Center for Science and Technology Exchange and Cooperation between China and Portuguese-speaking Countries (CSTCP) in Hengqin - to be jointly built by Macao, Zhuhai, and Hengqin - is expected to start operating this year.
It will help boost commerce and cooperation between the Chinese mainland and Portuguese-speaking countries in areas of sci-tech outcomes transfers and transformation, innovation and entrepreneurship, and technology.
It is also expected to help attract more sci-tech projects from Portuguese-speaking countries to settle in Zhuhai.
The third Hengqin International Scientific and Technological Innovation and Entrepreneurship Competition, which is about to take place in Hengqin, will establish a new award. It's hoped the New Green Lotus Award will attract entries from Macao and Portuguese-speaking countries.
Members of the delegation said the visit had enabled them to learn more about the Guangdong-Hong Kong-Macao Greater Bay Area and filled them with confidence about further exploring the Chinese market.
Fabrica de Startup is an incubation institute in Portugal that has been going for 11 years, with businesses in America, Africa, and Asia.
Chief Marketing Officer Egon Barbosa said the institute had recently signed a commercial agreement with Parafuturo De Macau and was looking forward to developing emerging industries through cooperation with Macao and the Chinese mainland.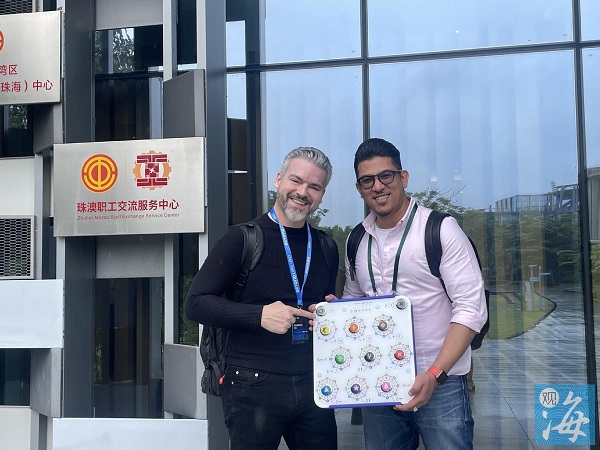 Indranil Neil Chatterjee (R), the chief strategy officer of Key2enable, displays the enterprise's special keyboard for disabled children. [Photo by Yu Yingwei / Guanhai App]
Indranil Neil Chatterjee, the chief strategy officer of Key2enable, displayed a keyboard specially designed for disabled children, which is the company's core product.
The keyboard has now been applied in 180 rehabilitation centers and 700 schools around the world and the enterprise has set up a subsidiary in Macao, with more expected to be set up in Beijing or Zhuhai to help disabled children in China.
Wang Lei, director of the Zhuhai Science and Technology Innovation Bureau, noted that the city would take an active part in the construction of the CSTCP and promote the high-quality development of Macao-Zhuhai sci-tech innovation.