Guangdong should play a leading role in the new journey to realize socialist modernization, said Hu Chunhua, Party Chief of Guangdong Province.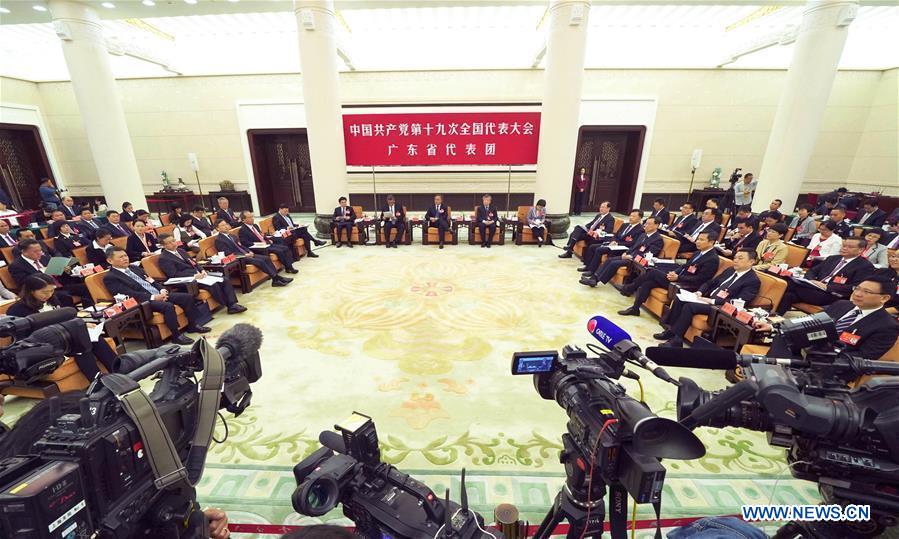 The Guangdong Province delegation to the 19th National Congress of the Communist Party of China (CPC) holds a discussion in Beijing, capital of China, Oct. 19, 2017. (Xinhua/Chen Jianli)
Guangdong should play a leading role in the new journey to realize socialist modernization, said Hu Chunhua, Party Chief of Guangdong Province.
Last year, Guangdong's GDP per capita averaged $11,000 while that of the Pearl River Delta reached $17,200. Guangdong has already developed a high level of market-oriented and internationalized economy and its innovation-driven economy is in the making. All these combined has set a firm foundation for the realization of socialist modernization.
Guangdong's task is to strengthen its weak links and build a moderately prosperous society of high quality.
To achieve that goal, first, Guangdong will push forward rural construction. Guangdong has started a 10-year plan to build over 2,200 villages into new countrysides.
Second, Guangdong will improve primary health care services. Work was begun to construct 45 new county-level people's hospitals as well as to reconstruct and upgrade county-level Chinese medicine hospitals, maternity and child health care hospitals and health care stations in towns and villages.
Third, Guangdong will strengthen ecological development. Taken as a whole, Guangdong's ecological quality is in good condition. With a large population of 110 million people, the province's land area is about 180,000 square kilometers. In order to strengthen ecological development, on the one hand, Guangdong will work to address environmental problems, especially the air pollution and water pollution in small rivers. On the other hand, Guangdong will establish a special nature reservation in north Guangdong and strive to build it into a national park.
Another main task for Guangdong is to make major contribution to support the country's supply-side structural reform, Guangdong Governor Ma Xingrui told reporters.
The provincial government has launched a total of 10 measures to reduce the costs of manufacturing enterprises and support the development of real economy. Ma said that move is expected to save enterprises' costs exceeded 60 billion RMB annually.
To speed up the manufacturing transformation and upgrading, the province has devoted to cultivating emerging industries such as 5G, industrial internet, 4K television, equipment manufacturing, robots and new energy vehicles. The output of 4K television is estimated to achieve 600 billion to 1 trillion RMB in 2020.
Ma also told reporters that the province plans to invest about 5 trillion RMB to support major infrastructure projects, and to establish fund with a scale of 400 billion to 500 billion RMB in infrastructure investment.
Reporters then were told by Ren Xufeng, Party Secretary of Guangzhou, that Guangdong will actively participate and push forward the construction of Guangdong-Hong Kong-Macao Greater Bay Area. The province will build Nansha into a free trade port and a demonstration zone of in-depth cooperation within the Bay Area.
Ren said, Guangzhou is focusing on developing Information Technology/Information Communication Technology, Artificial Intelligence and Bio-pharmaceuticals (IAB), and will embrace enterprises which are willing to have in-depth cooperation.
In the meantime, Guangzhou will strengthen its function as strategic hubs in international shipping, aviation and technology innovation, forging itself a hub type network city, added Ren.
In the introduction of Guangzhou-Shenzhen Science & Technology Innovation Corridor, Wang Weizhong, Party Secretary of Shenzhen, said that the corridor aims at playing an important role in the innovation and development of China. The corridor will become an international scientific and technological innovation hub, as well as an advanced manufacturing base and innovation pioneer with great influence in the world.
The corridor, consisting of Guangzhou, Shenzhen and Dongguan as well as boasting the best innovation resources accumulated during the past 40 years of China's reform and opening up, will get a boost to grow into China's Silicon Valley and be the nation's major innovation engine and gateway for the province to connect global innovation trends.
According to a related planning revealed by provincial authorities on Sept. 22, the corridor, set for completion by 2030, will become core of the Pearl River Delta National Independent Innovation Demonstration Zone and a globally influential innovation enterprise cluster in the Guangdong-Hong Kong-Macao Greater Bay Area and even in China.
Wang added that Shenzhen strives for increasing the research and development investment to share 4.25% of the GDP, and breaking through a number of revolutionary technology in key areas.