"Macao could join hands with Guangdong and work out a package of tourist routes, allowing overseas tourists to visit Macao and places of interest in Guangdong one time."
Ieong Tou Hong, a member of the Executive Council of Government of the Macao SAR (Photo provided to Newsgd.com)
"Macao could join hands with Guangdong and work out a package of tourist routes, allowing overseas tourists to visit Macao and places of interest in Guangdong one time." Ieong Tou Hong, a member of the Executive Council of Government of the Macao SAR, shares his views on building Guangdong-Macao in-depth cooperation zone in Hengqin.
China's central authorities issued a general plan for building a Guangdong-Macao in-depth cooperation zone in Hengqin on September 5. Ieong Tou Hong holds a positive attitude towards future collaboration between the two places and believes the mutual cooperation in industrial sectors such as tourism and education can be further strengthened.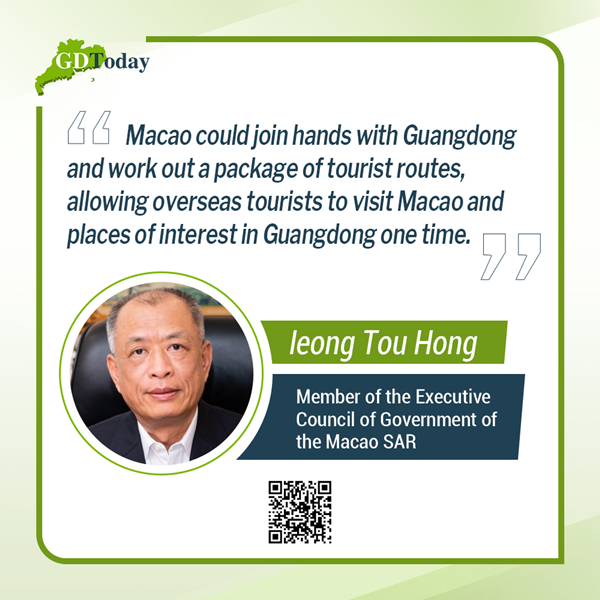 GDToday: What opportunities will the Hengqin Plan bring to Macao?
Ieong: Macao pillar industry is comprehensive tourism, whose experiences over the international financial crisis and the recent outbreak of COVID-19 have gloomily exposed the risk of single industrial structure to the local economy.
The lack of land and space has limited Macao's possibility of diversified growth. Hengqin cooperation zone provides a new space for the moderate and diversified development of Macao's economy, which is the most precious opportunity granted. The area of this zone covers about 106 square kilometers, more than three times the size of the entire scope of Macao.
GDToday: How will Hengqin plan push forward the cooperation between Guangdong and Macao?
Ieong: I think tourism is the preferred industry to promote in the Guangdong-Macao in-depth cooperation zone in Hengqin. For overseas tourists, Macao can join hands with Guangdong and work out a package of tourist routes of the two places, with Hengqin as a key stop.
In addition, the two places can cooperate on tourism education. Macao can build a large-scale tourism college in Hengqin in cooperation with Guangdong, which can train talent for the tourist industry and provide students with high-quality internships as Macao has many star hotels and large resorts. Moreover, Macao is a platform for commercial trade and service among China and Portuguese-speaking countries, such as Portugal and Timor-Leste, where considerable tourism resources and management experiences can be shared.
I have also noticed that Guangdong and Macao can jointly hold international expo or World Greater Bay Area forum to promote high-quality consumer goods, which is a good idea.
The Canton Fair has been so successful and productive over the years with more than 10,000 enterprises participated in it, which has set up an industrial chain. In the future, I think Macao and Hengqin can follow this example to build an industrial chain with upstream and downstream companies at home and abroad, especially in the Portuguese-speaking countries.
Reporter:Chen Xiao, Holly, Li Geli (intern)
Poster: Mia
English Editor: Wing, Nan, Jerry