The first AERO Asia was recently approved by the Ministry of Commerce to take place at Jinwan's Zhuhai International Airshow Center from Nov 23 to 26, becoming the only professional exhibition on general aviation in China to be organized in collaboration with a Germany-based enterprise.
The AERO Asia event will be presented biennially in odd-numbered years by both Zhuhai Airshow China and Germany-based AERO Fridrichshafen. It will supplement the China International Aviation & Aerospace Exhibition, which is held biennially in even-numbered years. This will continuously inject vitality into the global aerospace industry while also accelerating its development.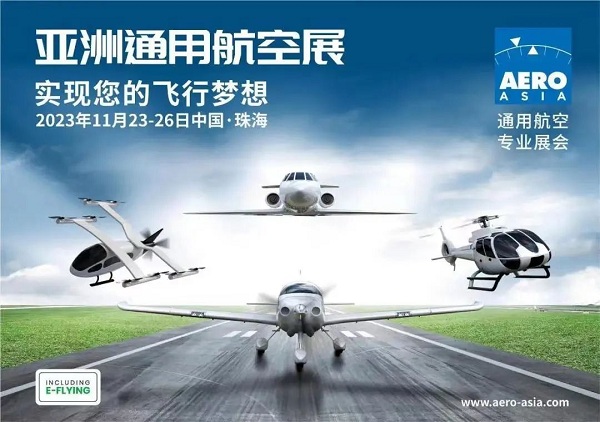 A poster of the first AERO Asia [Photo courtesy Zhuhai Daily]
The event is expected to feature dynamic and static exhibitions that will be held both indoors and outdoors, along with several conferences. This year's AERO Asia will focus on areas of aviation emergency rescue, emerging aviation consumption, general aviation transportation, and UAV industrial operations.
Global leading enterprises in the general aviation and UAV industries will gather at the event to present their latest technologies, products, application, and services. This will create a leading platform in Asia for general aviation business trade and sci-tech exchanges.
Exhibitors from countries and regions, such as the United States, Germany, South Africa, Hong Kong, and Macao, have signed up for the event. More than 20,000 visitors from the fields of general aviation, public security, emergency rescue, agriculture, forestry, and logistics have been invited. Additionally, representatives from financial institutes, enterprises, and universities are also set to attend the event. The online registration system for general visitors will open in August.
In addition, experts and scholars will be invited to participate in meetings and forums on industrial development trends and pressing issues to boost growth within the aviation industry. A series of activities, such as industrial matchmaking fairs, will be arranged to help the enterprises expand their market reach.
Source: cityofzhuhai.com