<P>North section of Donggun Metro Line 1 is set to connect with Guangzhou Metro Line 5, while the south will connect with Shenzhen Metro Line 6.</P>
How do you go to Dongguan?
By coach, steamship or intercity railway?
there will be a new option for you in 2023-metro.
According to Thirteenth Five Year Plan of Dongguan's Transportation Development released by Dongguan Municipal Government in recent days, north section of Donggun Metro Line 1 is set to connect with Guangzhou Metro Line 5, while the south will connect with Shenzhen Metro Line 6.
In addition, Dongguan Metro Line 1, south section of Dongguan Metro Line 2 and Line 3 are planning to link Shenzhen Metro Line 22, 20 and 11.
According to the planning, 21 stations would be set along Dongguan Metro Line 1, going across 10 towns of the city, including Hongmei, Wangniudun, Daojiao, Wanjiang, Nancheng, Dongcheng, Dalingshan, Songshan Lake, Dalang and Huangjiang.
Currently, Dongguan Metro Line 2, the only metro in Dongguan, is running from Humen Railyway Station to Dongguan Railyway Station everyday from 6:30 to 22:30.
15 minutes from Guangzhou to Dongguan in 2019
According to the planning, a new intercity railway will also be built between Guangzhou South Railway Station and Dongguan West Railway Station. This railway is scheduled to operate in 2019.
This new intercity railway will have 7 stations, including Guangzhou South Railway Station, Chimelong, Panyu Avenue North, Guanqiao, Lianhua, Mayong and Dongguan West Railway Station.
At present there is an intercity train running from Guangzhou East Railway Station to Dongguan Railway Station in about 30 minutes, it is estimated that the new railway will cut the time to 15 minutes.
---
What you can enjoy in Dongguan?
1. Keyuan Garden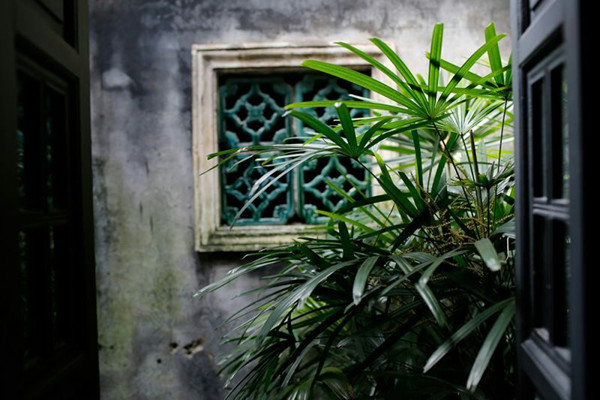 Location: No.32, Keyuan Rd, Guancheng District, Dongguan city
Opening Hours: 09:00 - 17:30 Close on Monday
As one of the four famous historic gardens in the Qing Dynasty in Guangdong, Keyuan Garden was built by Zhang Jingxiu, a native of Guancheng. Spread around the the garden's 2,200 sq mts are several Chinese pavilions of exquisite design. All the buildings were built using smoked bricks, which gives them a distinctive and classcial look. They are illustractive of the style of the landscape gardens of the Lingnan area. As a national heritage preserved unit, Keyuan Garden holds an important place in the modern history of Guangdong arts. With the recent construction of Keyuan Traditional Culture Park, the historic garden has renewed its vitality thus regaining its position as the leading arts and cultural attraction in Dongguan.
2. Huayang Lake Wetland Park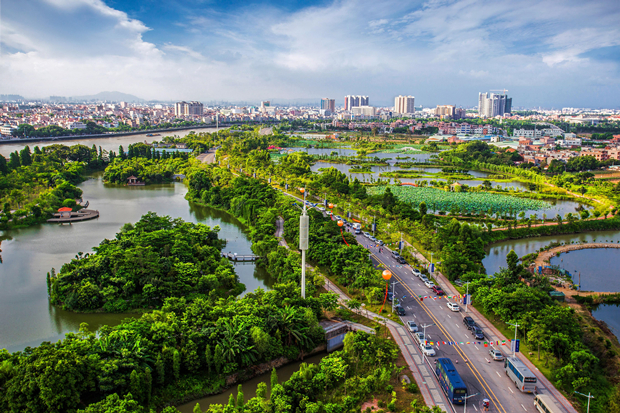 Location: Xihuan Road, Machong, Dongguan
Opening Hours: All day
Huayang Lake Wetland Tourism Area occupies the land of 20 square kilometers. The area of Huayang Lake is about 680mu. The Area is designed with the idea of "swimming dragon and flying cloud". According to such design idea, a 22km-long water greenway featured with "green grass, peach trees and willow planted along the bank" and a round and 10km-long riding path with are constructed. The Area is planted with Sakura, peach, water plants, willows, baldcypress and other plants. Some of Machong Eight Scenes, such as West Garden Night Market, Beiya Banana Rain, Egret Shade, have been rebuilt. The new scenic spots, such as Water Tow Flower Field, Banana Villas, Lake-Side Tower Shadow and Peach Blossom Castle, are added. A great number of aquatic animals and plants are cultured, including the fish and shrimp, which attract the birds to inhabit, such as egret. The theme bar street, countryside leisure water bank, green banana forest, which are characteristic of Guangdong customs and folks, have become the important parts of Guangdong water town ecological and wetland tourism area integrating the functions of leisure tourism, farming experience, science popularization and city ecology preservation.
3. Yuehui Garden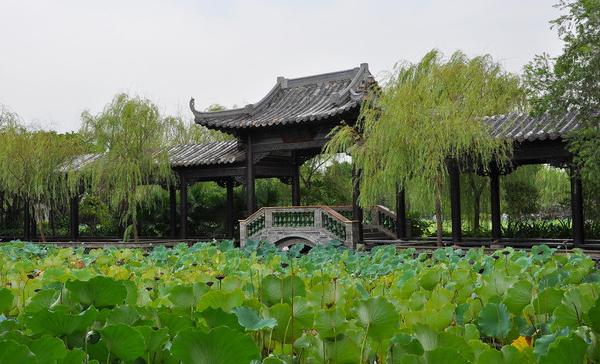 Location: No. 1 Yuehui Lu (Rd.), Daojiao Town, Dongguan City, Guangdong Province
Opening Hours: 8:30 – 17:30 (winter); 8:30 – 18:00 (summer)
Admission: RMB 60 per ticket
About: Covering an area of 0.5 square kilometers, Yuehui Garden is China's largest classic private garden. Visitors can come here for a dose of culture and a taste of history as the garden inherits the beauty of ancient culture and displays the charm of ancient Lingnan buildings. This place is an ideal summer resort for sightseeing, relaxation, entertainment, art appreciation, outward bound, and large-scale conference. Yuehui Garden Scenery Spot is home to the biggest brick carving work in China – "Bai Fu Hui Chun (A Hundred Bats Celebrating Spring)", a screen wall with fine carving, and the longest corridor in China – Raocui Corridor, which is over 3200 meters long. The long winding track of the corridor will lead you to unexpected nice places. The layout of the whole garden is quite exquisite with one hundred and eight scenic spots including halls, pavilions, waterside pavilions, corridors, stone bridges, artificial hills. Water from the Dongjiang River is introduced into rivers, lakes, creeks inside the park. Water also flows through the 2000-year-old waterway in Banyan shade, alongside exotic flora and fauna. Wandering inside the deep courtyards, walking along the willows, and breathing in the fragrance of lotus, you will definitely have an unforgettable experience of the delicate ancient heritage.
By Steven