The Guangdong government held a grand conference on high-quality development on January 28, the first working day after the Chinese New Year holiday.
It invited major government officials and business leaders to share their plans for 2023 and highlight opportunities in Guangdong, the province with the largest GDP in China for 34 consecutive years.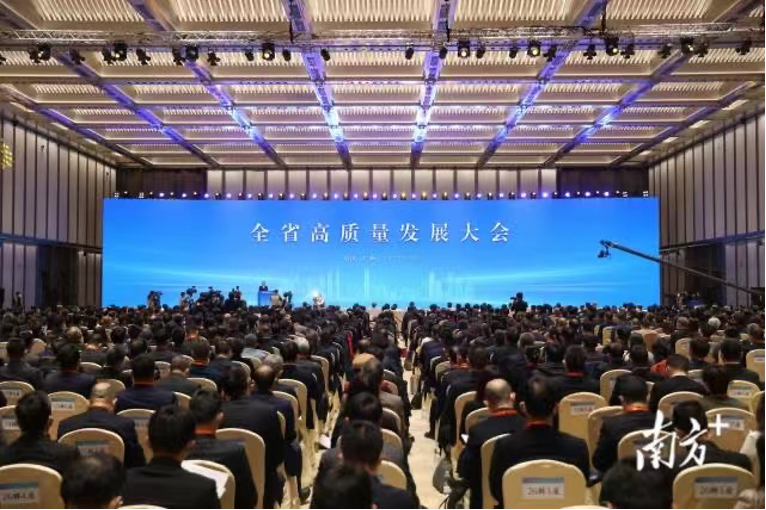 [Photo\Nanfang Daily]
"High-quality development is an inevitable path for Guangdong to achieve modernization. The province has a large population and limited resources, which means it's unwise to compete with its global counterparts on cheap land supply, product price and labor cost," Huang Kunming, Party Chief of Guangdong, addressed at the conference.
Huang said high-quality development is key for the province to cope with existing global challenges, direct technological development and optimize economic structure.
To pursue high-quality development, Wang Weizhong, Governor of Guangdong, highlighted the development of Guangdong-Hong Kong-Macao Greater Bay Area (GBA), pilot reforms in Shenzhen and major platforms including Hengqin, Qianhai and Nansha.
"Guangdong will ensure the fundamental role of the manufacturing industry, rural area revitalization, green development, the ecology of technological innovation, coordinate development between urban and rural areas. It will also develop a market-oriented and law-based international business environment which is equal to both domestic and foreign investors," said Wang.
Guangdong will facilitate the less developed eastern, western and northern parts of Guangdong with the industrial strengths of the Pearl River Delta while completing the construction of major infrastructure projects such as Guangzhou-Shanwei-Shantou High-speed Railway in 2023, according to Ai Xuefeng, Director General of Guangdong's Development and Reform Commission.
"We will also develop the GBA into an international scientific, technological and innovation center. The department will strive to ensure a more-than-5-percent increase of Guangdong GDP and an 8 percent increase of the fixed-assets investment," said Ai.
Guangdong has been known for its manufacturing industry worldwide with the industrial output exceeding 16 trillion RMB. More than 700 thousand manufacturers have settled in the province.
Tu Gaokun, Director General of Guangdong's Industry and Information Technology Department, said the department will foster modern industries, promote industrial investment and construct industrial platforms to further high-quality development. It will boost the growth of industrial investment to above 10 percent and help 9000 industrial enterprises to upgrade technologies in 2023.
"Guangdong will focus on the 20 strategic industries and enhance the 8 industrial clusters with 1 trillion RMB output, that is, electronic information, green petrochemicals, smart home appliances, advanced materials, modern light industry and textiles, software and information services, modern agriculture and food, automobiles. It will also foster 3 more industrial clusters with 1 trillion RMB output and more than 4 with 500 billion RMB output," said Tu.
Representatives of both domestic and foreign-funded enterprises in such fields as electronics, petrochemical and energy gave presentations at the conference and elaborated their plans to further investment and development in Guangdong this year.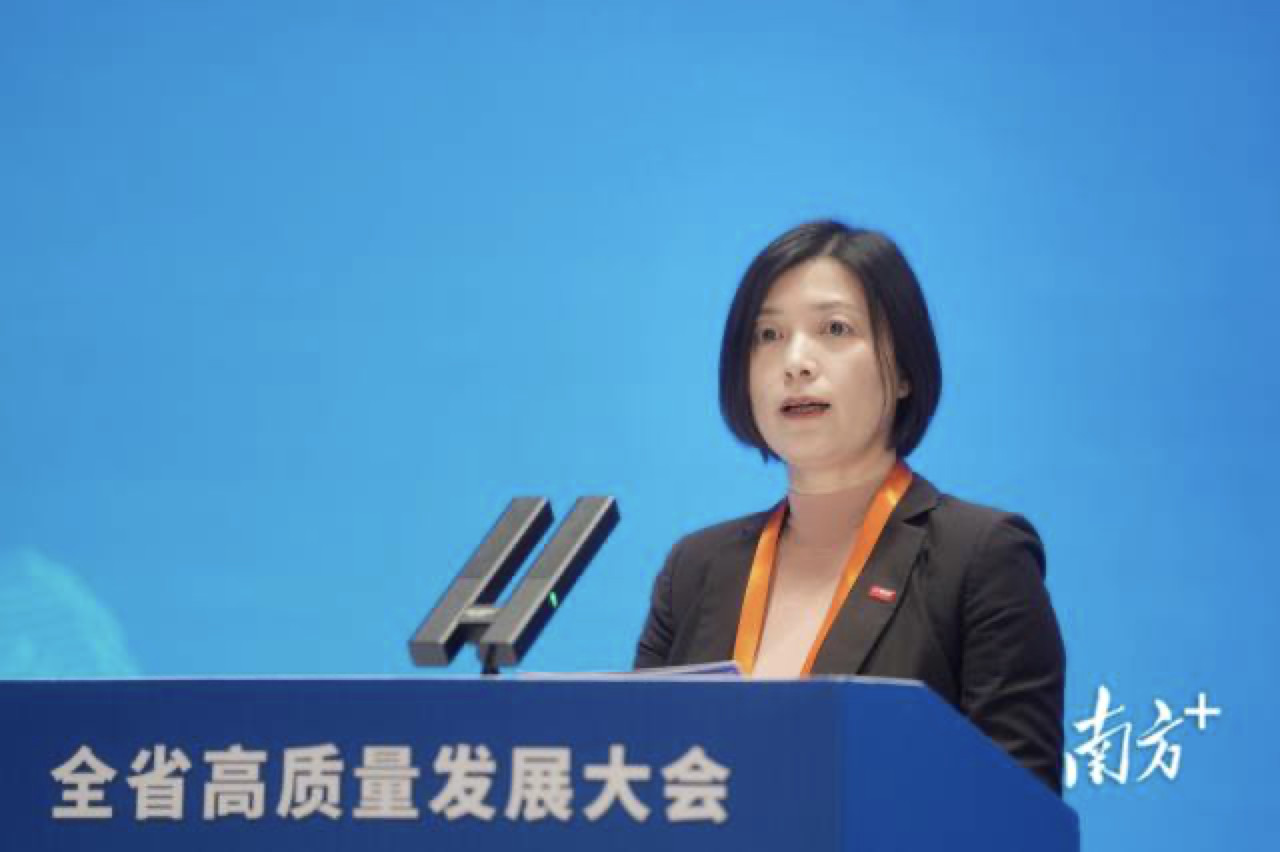 Liu Min, Vice President of Supplier & Reporting Service, New Verbund Site China, BASF & Vice General Manager of BASF Integrated Site (Guangdong) Co. Ltd.[Photo\Nanfang Daily]
Liu Min, Vice President of Supplier & Reporting Service, New Verbund Site China, BASF & Vice General Manager of BASF Integrated Site (Guangdong) Co. Ltd., said the German chemical giant, BASF, settled its Verbund Site with an investment of 10 billion EUR in the port city of Zhanjiang, which is one of the major foreign-funded projects of Guangdong. The company has been pushing forward the development of the site and inaugurated the first plant in September 6, 2022.
"In 2023, BASF will further the investment and construction of the site and keep up with a series of measures to boost high-quality development of manufacturing industry and facilitate foreign investment in Guangdong. We have great confidence that we can attract more upstream and downstream enterprises as well as related professionals from home and abroad because of the rapid industrial development and advantageous policies," said Liu.
Xu Min, CEO of P&G Greater China, said the American multinational consumer goods corporation will move its product supply chain center from Europe to Guangdong,which will cover the import and export businesses in the RCEP and Belt and Road markets. P&G entered China in 1988 and is headquartered in Guangdong. Thus far, China has become the second largest regional market of P&G while Guangdong has the company's largest production base.
Fang Hongbo, Chairman of China's Midea[Photo\Nanfang Daily]
Fang Hongbo, Chairman of China's Midea, indicated that the leading Foshan-based manufacturer will further its investment in future, technologies and talents. The new investment made by the company has reached 25 billion RMB over the past 3 years.
"While maintaining its strengths in home appliances, Midea will expand its business to robotics automation, building technology, EV parts and advanced energy storage. We will actively expand our businesses to markets overseas as well in the future," said Fang.
More than 1000 representatives including heads of provincial and municipal government departments, domestic and foreign-funded enterprises as well as foreign Chambers of Commerce in Guangdong attended the conference in Guangzhou. Over 25 thousand representatives of government departments and enterprises of the 21 cities of the province attended online.
Reported by Jasmine
Edited by Wing, Jerry