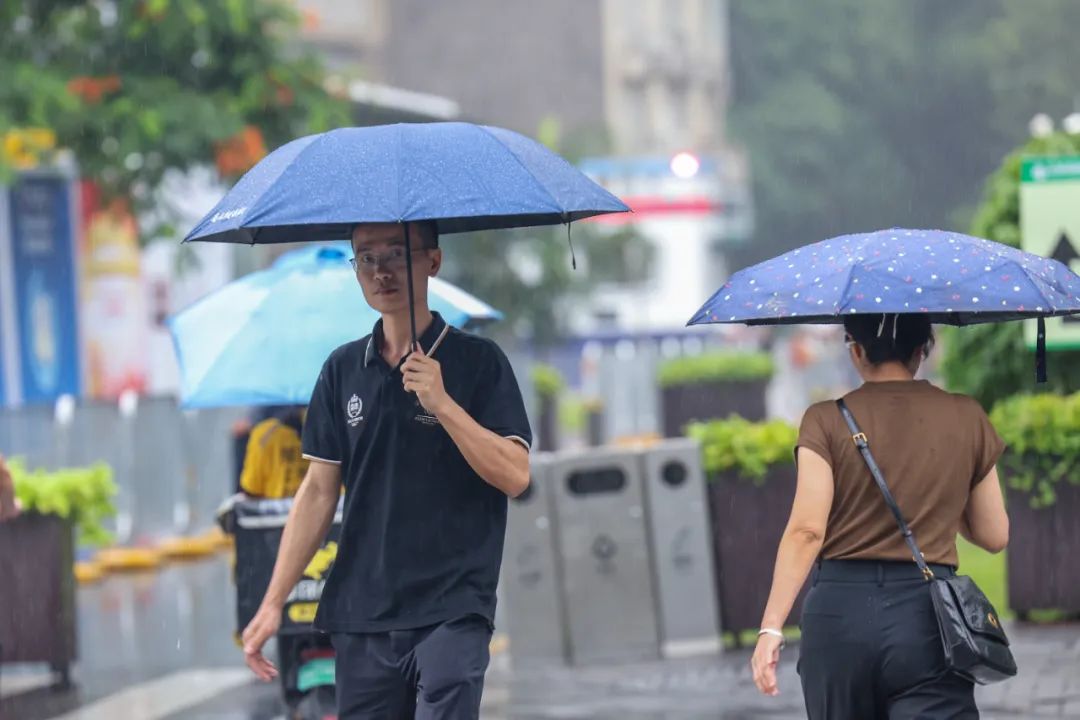 (Photo: Nanfang Daily)
China's national observatory on Tuesday morning issued a yellow alert for Typhoon Koinu, the third most severe warning in its four-tier typhoon warning system, as the 14th typhoon of this year is expected to bring gales to southern and eastern parts of the country.
Before 18:00 on October 4, all coastal tourist attractions east of Shenzhen are required to be closed, according to the Office of Guangdong Provincial Headquarters for Flood, Drought and Typhoon Control. In addition, all fishing boats operating in the waters east of Shenzhen should return to the harbor to take shelter, and all workers for floating raft aquaculture, offshore wind power construction, and marine ranching should go ashore.
On October 5, the coastal cities in eastern Guangdong will be cloudy with sunny spells, with scattered thunderstorms and partly heavy rain or rainstorms. Other cities in Guangdong will be sunny with cloudy periods and partly thunderstorms or rain. The highest temperature will be 32 ℃ to 34 ℃ in most cities, and about 35 ℃ in some cities.
On October 6, the cities in eastern Guangdong and southern Pearl River Delta will have moderate thunderstorms and partly rainstorms, while other cities will be cloudy with sunny spells and scattered thunderstorms. The highest temperature will be 31 ℃ to 34 ℃ in most cities, and about 35 ℃ in some cities.
Updates on Typhoon Koinu
In a forecast early Wednesday, the National Meteorological Center said that Typhoon Koinu had weakened in intensity from a super typhoon to a severe typhoon as of Tuesday night, while adding that gales and rainstorms are expected to hit the country's southeastern regions.
The typhoon, observed at 22.0 degrees north latitude and 124.0 degrees east longitude at 5 a.m. on Wednesday, is expected to travel northwestward at a speed of 10 to 15 km per hour and gradually move closer to the southern coastal areas of China's Taiwan Island, the center said.
Due to the typhoon's impact, the central and eastern parts of Taiwan are expected to see heavy rainstorms from Wednesday morning until Thursday morning, it said.
Meanwhile, gales are forecast to sweep parts of the East China Sea and South China Sea, as well as the coastal areas of Zhejiang and Fujian provinces in east China from Wednesday morning until Thursday morning, it said.
The center urged local authorities to prepare typhoon emergency response measures and remain on high alert for possible floods and geological disasters.
China gears up for Typhoon Koinu
China's flood control authorities on Tuesday activated a level-4 emergency response against Typhoon Koinu so as to better cope with the gales and downpours that would hit southern and eastern parts of the country.
The response was activated by the State Flood Control and Drought Relief Headquarters at 5 p.m., while working groups were sent to Guangdong and other places to help enhance preparedness, according to sources with the Ministry of Emergency Management.
Meteorological reports showed that Koinu had strengthened into a super typhoon. Affected by it, in the next five days, there will be strong windsand heavy rain in the northern waters of the South China Sea and the coastal areas of southern China, while eastern and southern Fujian and eastern Guangdong will embrace torrential rain.
In combating against the 14th typhoon of the year, the headquarters emphasized the need to strengthen forecasts and make early warnings so that offshore vessels and fishing personnel and those on offshore operation platforms could take shelter timely and stay safe.
Based on the Tuesday meeting on the country's flood situations, the headquarters decided to maintain level-4 responses in dealing with the flood control work in Hubei, Shaanxi, Chongqing and Sichuan. Starting from Tuesday night, a new round of rainfall will hit these areas, with some parts to be hit by heavy rain.
Source丨Xinhua & GDToday