On September 19, 35 villagers from Pishan County, Hotan Prefecture, Xinjiang Uygur Autonomous Region, were invited by the China Southern Group to have a four-day tour in Guangzhou to learn about the development and changes of Guangzhou.
They visited Guangzhou's landmark Canton Tower and enjoyed the Pearl River night cruise on their first day in Guangzhou to take a look at the whole picture of the city.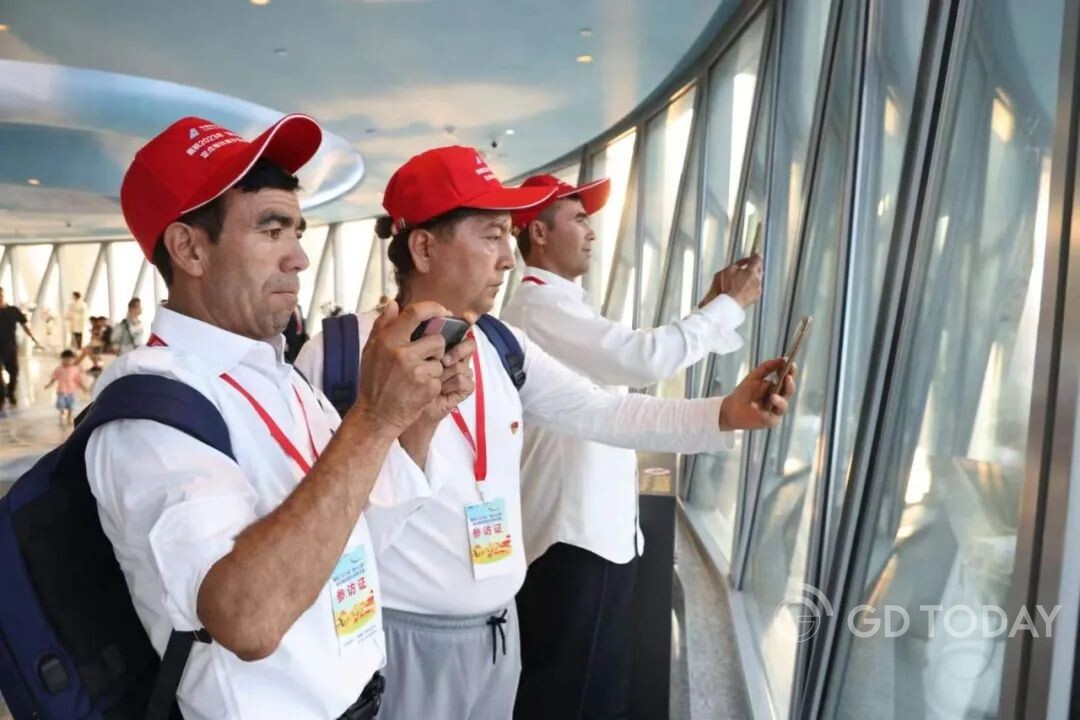 "It's my first trip to Guangzhou and I am very happy to be here," Yusupujiang Aihemaiti, a representative of the villagers, told GDToday at the Canton Tower. He noted that he visited Guangzhou to learn more about the city's development experiences and then share it with his fellow villagers in his hometown of Pishan County. "I also hope to promote our specialties to Guangzhou and other cities to earn more money and then take my fellows in my hometown to visit Guangzhou," he added.
"I want to find a job here and settle down," said Reziwanguli A'pulimiti, a 24-year-old girl who graduated last year. She also recommended an array of local delicacies of her hometown, such as grilled mutton, Xinjiang hand pilaf and grilled baozi, as well as some local natural landscapes.
The group also went to such sites as Tianhe Smart Agricultural Park, Ancient Huangpu Port and China Southern Development History Gallery to have a closer glimpse into Guangzhou's history and the city's agricultural development.
Patiguli Maimaiti said that the locals in Pishan County are living a better life now with higher incomes. "The roads in our Pishan County used to be rugged, and now we have very good highways," she explained. "In the past, the villagers only had carriages, and now they can afford private cars or electric motorbikes, basically."
According to China Southern Group, this year marks the 20th anniversary of its pairing assistance for Hotan Prefecture, and the 10th anniversary of sending teams to Pishan and Moyu counties in Hotan Prefecture, to help poverty alleviation. Since 2017, the Group has invested a total of 175 million RMB in Hotan Prefecture for poverty alleviation. Up to now, it has launched six airlines connecting Hotan to other cities nationwide.
Reporter | Nancy Ye
Video | Wingheng
Editors | Wing, Olivia, Nan, Abby, Will, Fanny, Jerry, James
Photos and videos provided to GDToday