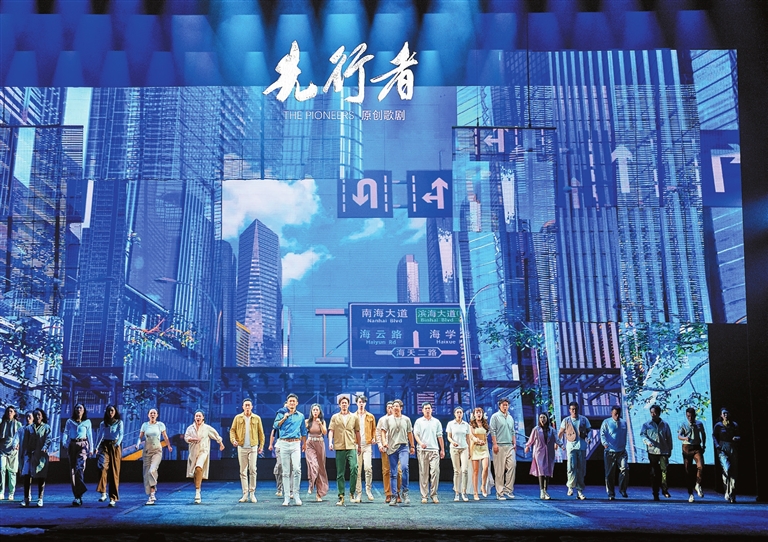 A star-studded lineup graces the stage in "The Pioneers," Shenzhen's first original opera. Courtesy of Shenzhen Grand Theater
"The Pioneers," Shenzhen's first original opera, will be staged at the Linping Grand Theater in Hangzhou today as a new opera at the Fifth China Opera Festival, which is hosted by the Ministry of Culture and Tourism and the Zhejiang Provincial Government.
The opera will be jointly presented by the Shenzhen Opera & Dance Theater and the Hangzhou Philharmonic Orchestra at the festival, Shenzhen Economic Daily reported.
As Shenzhen's first original opera reflecting contemporary themes, "The Pioneers" focuses on the city building a pilot demonstration area of socialism with Chinese characteristics, as well as the international consensus of "the 21st century is the century of the ocean."
The opera revolves around innovation and youth, depicting a new generation of pioneers with distinct characteristics in Shenzhen and the Guangdong-Hong Kong-Macao Greater Bay Area in the globalization and internet era.
It is reported that the opera's main creative team has visited dozens of innovative and entrepreneurial institutions in Shenzhen, looking for vivid stories and touching details from entrepreneurs who are working in the city.
"The Pioneers" brings together top domestic creators and leading teams, from the chief director, screenwriter, composer, conductor, lead actor to the other participating team members, all of whom are national-level accomplished artists.
The opera was written by the famous planner, lyricist and poet Zhu Hai, composed by the well-known composer and music producer Lao Zai, and directed by the renowned director and drama educator Huang Dingshan.
Liu Xinyu, a celebrated conductor, served as the conductor for the performance at the China Opera Festival. Artists including stage designer Lin Sen, lighting designer Hu Yaohui, fashion designer and stylist Li Ruiding, sound designer Song Duoduo, deputy director Shi Ji and assistant screenwriter Ying Xiao have also joined in creating the opera.
The opera features a star-studded lineup. It has gathered many superb singers from the Shenzhen Opera & Dance Theater: tenors Ma Teng and Cai Jiyu, baritones Yuan Shuai and Ji Pengyu, sopranos Tian Siying and Peng Yi, mezzo-soprano Li Ying and excellent musical actor Wang Zhe.