On July 19, Guangdong held a conference to promote the development of the rule of law in foreign-related matters. The conference highlighted building an international brand of legal services in the Guangdong-Hong Kong-Macao Greater Bay Area and creating a bay area with high-quality legal services.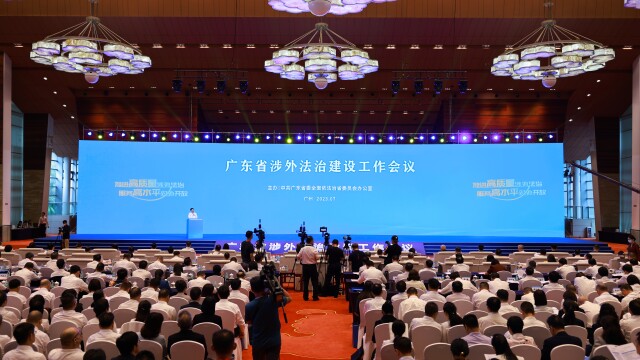 (Photo provided to GDToday)
Also, the rule of law is necessary when dealing with transnational disputes and legal issues. According to the conference, enterprises and citizens are encouraged to use laws and rules to protect their legitimate rights and interests.
"Guangdong will build world-class arbitration institutions, to provide a Chinese platform for the fair and efficient settlement of international trade disputes, and strives to become the first choice or important destination for arbitration to resolve the above disputes," said a main official of the Office of the Commission for Overall Law-Based Governance of the CPC Guangdong Provincial Committee.
In detail, the Guangzhou Arbitration Commission and the Shenzhen Court of International Arbitration will develop into first-class arbitration institutions in the world, in order to establish an international commercial law and dispute resolution service center.
A number of foreign-related rule-of-law cooperation projects were signed during the conference. For instance, the Guangzhou Arbitration Commission signed an arbitration cooperation agreement with the Hong Kong Institute of Arbitrators, the Macau Arbitration Association, the Geneva International Dispute Institute, and the Brazilian Arbitration and Mediation Center.
The conference also released achievements in the internationalization of Guangdong's arbitration, the "Yuelv Project", for training foreign-related lawyers in Guangdong.
At the conference, the Department of Justice of Guangdong and the Department of Education of Guangdong signed a cooperation agreement on constructing the education and training base for foreign-related legal talent in Guangdong with Sun Yat-sen University and Guangdong University of Foreign Studies. Also, the Guangdong High People's Court signed a cooperation agreement on the construction of collaborative training and innovation base of foreign-related legal talents with Sun Yat-sen University and Guangdong University of Foreign Studies.
Reporter: Will
Editor: Olivia, Nan, James