Colorful lanterns lighted up Guangzhou's night sky in the Lantern Festival celebrated on last Saturday (Feb. 11). It might sound like every lantern festival in the past, but Guangzhou did something di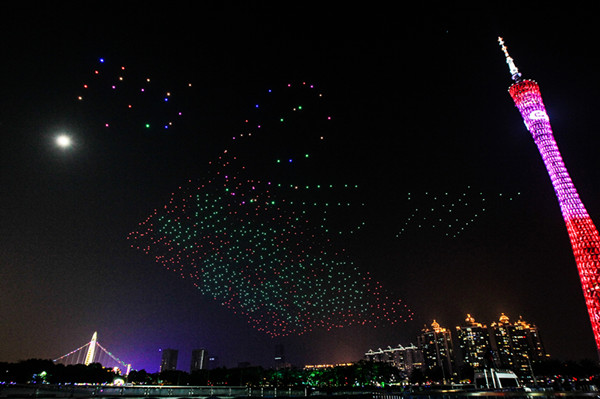 Drones lined up as Chinese characters"福"(happiness) and "元宵"(lantern festival ) in sky near Canton tower. [Photo by Wu Hongwei, southcn.com]
Colorful lanterns lighted up Guangzhou's night sky in the Lantern Festival celebrated on last Saturday (Feb. 11). It might sound like every lantern festival in the past, but Guangzhou did something different this year.
The flying lanterns were in fact one thousand drones carring lights under their main bodies. The drones were the GHOSTDRONE 2.0 model created by a local brand, EHANG, and all of them are controled by only one engineer with a computer.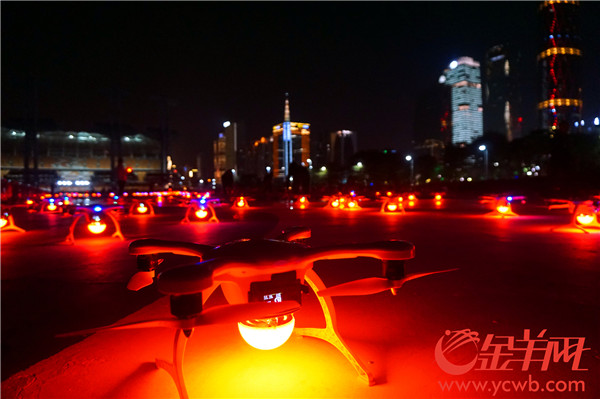 Drones carring lights under their main bodies [Photo by ycwb.com]
"To give people the vivid visual experience, the drones displayed 6 different patterns in the 15-minute lantern show," said Li Zhiyuan, EHANG's VP of technology and the lantern show's executive director,"we designed a remote control system that could simultaneously control all the one thousand drones, setting up routes, making up patterns and changing the colors of their lights."
"The positioning system were also upgraded to increase the positional accuracy," said Li, "and the drones were scripted to be more intellegent as well. If any errors popped up, the drone wound automatically stop and land."
Although the lantern show just took about 15 minutes, the technical team of about 30 engineers have conducted experiments for thousands of hours before hand.
The organizing company, EHANG, is now the world's leading tech company of intelligent aerial vehicles. Based in Guangzhou, it has branches in California, Düsseldorf, Beijing and Shanghai.
The GHOSTDRONE 2.0 model is claimed to be the easiest-to-use intelligent drone as it could be controlled by an app intalled in the smartphones.
(by Jasmine)
---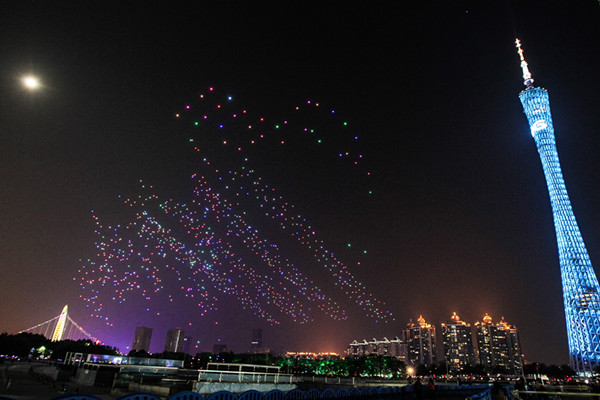 [Photo by Wu Hongwei, southcn.com]
---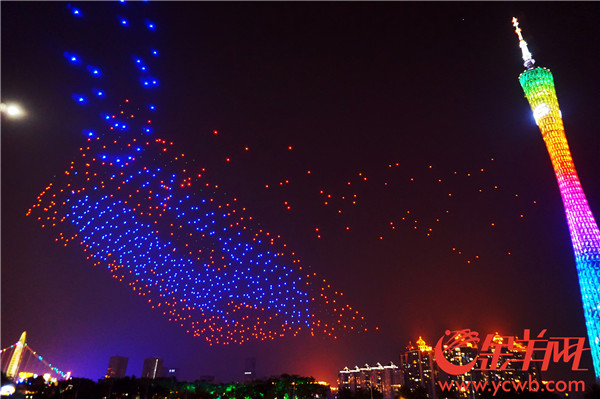 Drones lined up as rooster [Photo by ycwb.com]
---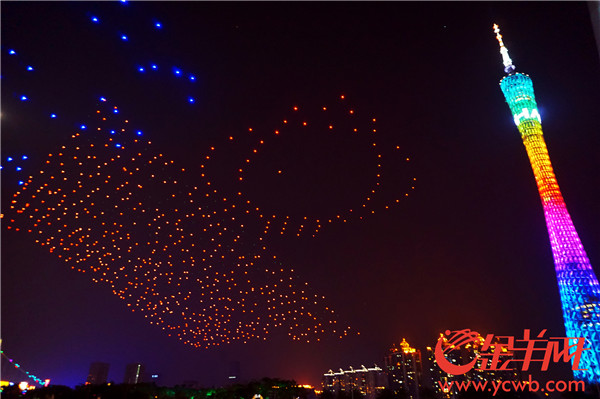 [Photo by ycwb.com]
---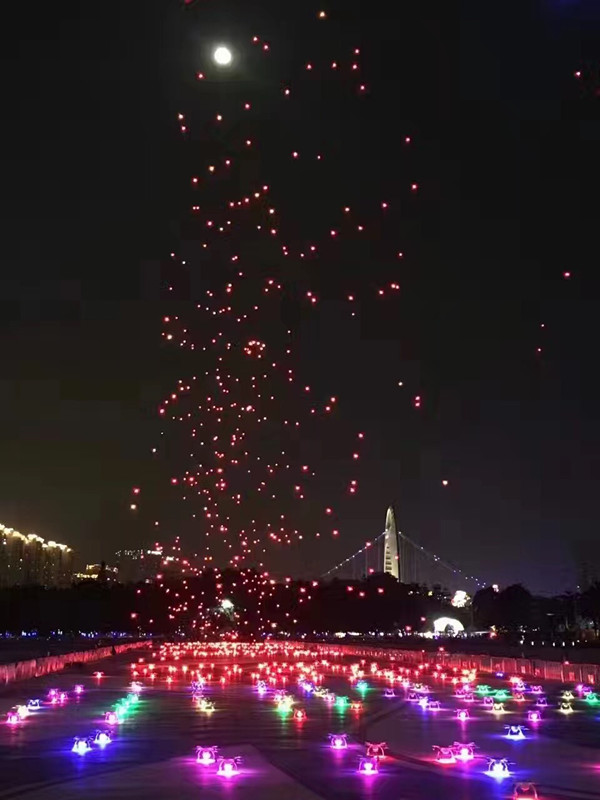 [photo by Xia Shiyan,xkb.com.cn]
---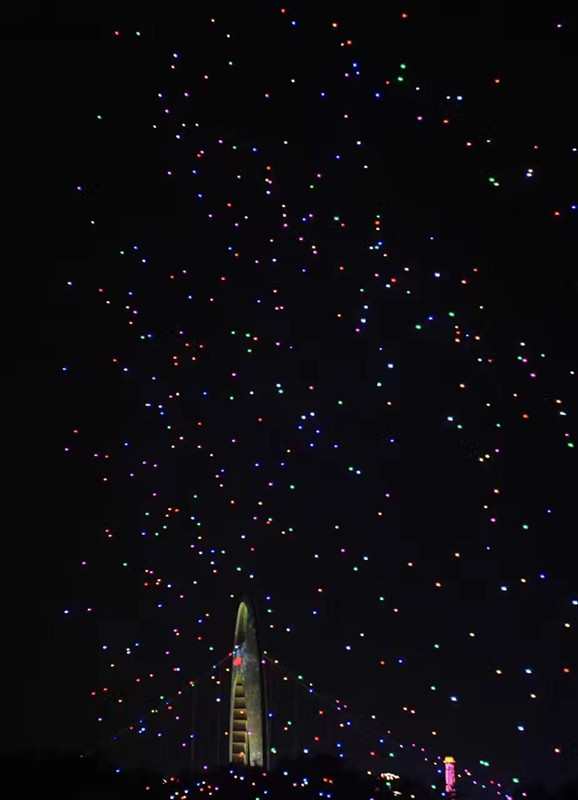 [photo by Xia Shiyan,xkb.com.cn]
---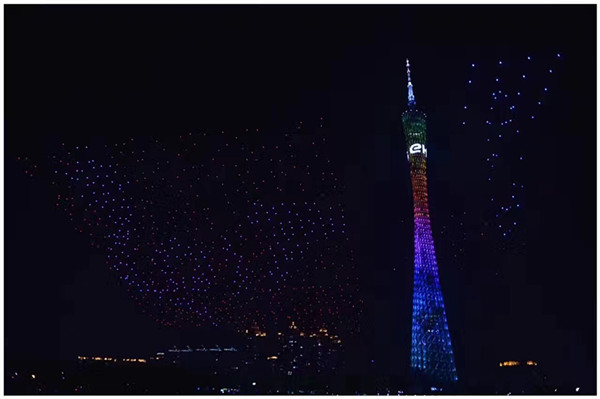 [photo by Xia Shiyan,xkb.com.cn]
---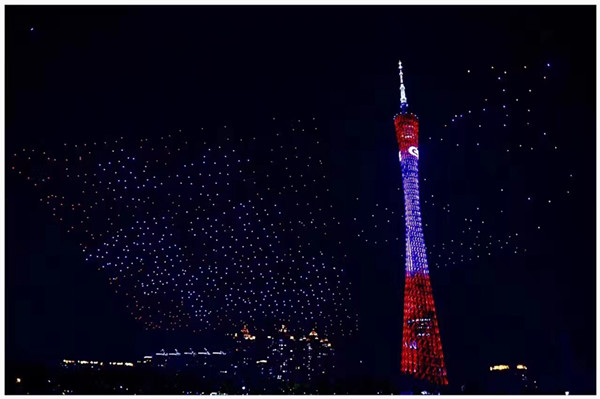 [photo by Xia Shiyan,xkb.com.cn]
---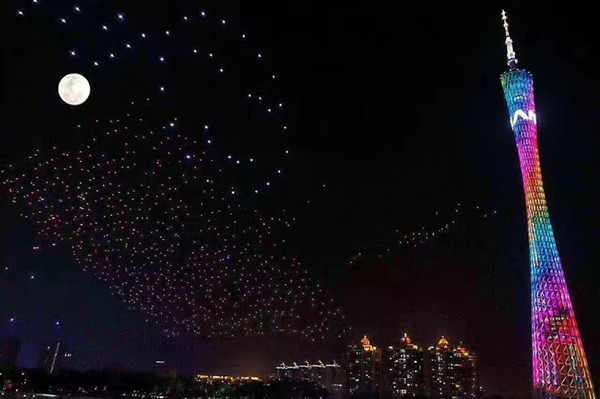 [photo by Xia Shiyan,xkb.com.cn]
---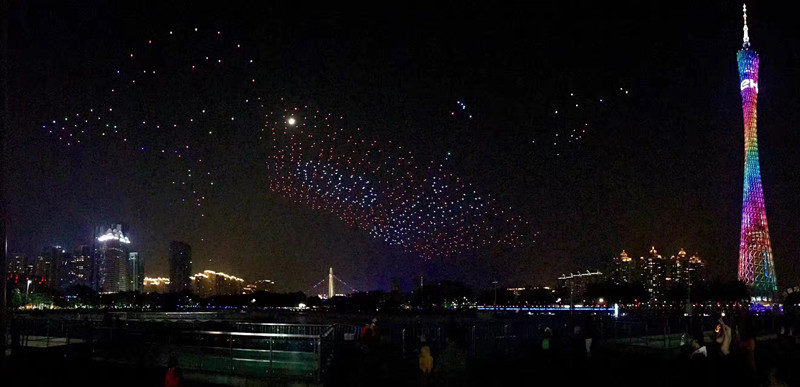 [photo by Xia Shiyan,xkb.com.cn]