The regulations for promoting the development of the Guangdong-Macao In-Depth Cooperation Zone in Hengqin is released today (February 8).
Many Hengqin and Macao residents expressed their expectations on the implementation of the regulations.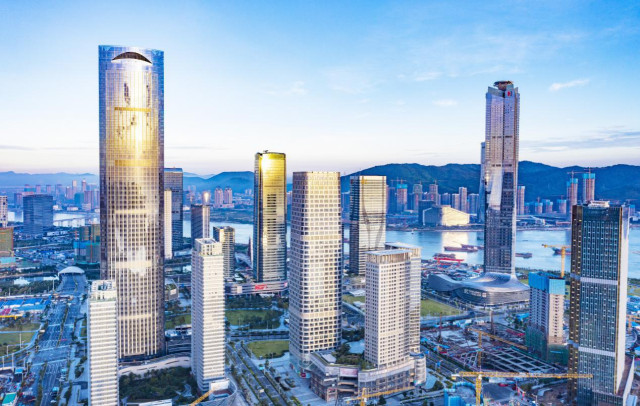 [Photo: Nanfang Daily]
The new regulations focus on facilitating Macao residents' livelihoods, promoting the integrated development of Hengqin and Macao, ensuring corresponding legal protections. It promotes long-term prosperity and stability in Macao and better integrates Macao into the overall development of the country.
Big step forward for key industries in Hengqin
To promote industrial development, the regulations stipulate that the Cooperation Zone will develop sci-tech R&D and high-end manufacturing, Traditional Chinese Medicine (TCM), cultural and tourism industries, conventions and exhibitions, and commercial and trade industries as well as a modern financing industry.
"The promulgation of the new regulations is very good news for the Cooperation Zone, which means it has taken another step forward in its development. As a new material company, what we are doing is very in line with the supporting policies," said Lei Zhen, CEO of Zhuhai Nanometals Technology.
In terms of the TCM, regulations allow the usage of labels "production supervised by Macao", "produced by Macao" or "designed by Macao" on TCM, food and health products approved and registered in Macao and produced in the Zone.
"I think this policy will improve the TCM brand awareness and expand more space for developing TCM trade," said Hazel Huang, a Macao entrepreneur. Focusing on promoting TCM and Internet medical care, Huang established her first company in Macao in 2018 and set up a branch in Hengqin in the following year, Bay Valley Technology Research (Ltd.).
Macao young people passionate about entrepreneurship in Hengqin
According to the regulations, Macao youths who start up a business or work in the Zone can enjoy policy support both in Guangdong and Macao.
This support will encourage more Macao youth to Hengqin. The start-up incubation companies and professional social workers said the regulations will help them conduct their work.
"Global entrepreneurs, especially young people from Macao, will enjoy a first-class legal and business environment that integrates with Macao in the Cooperation Zone. To be able to gain support both in Guangdong and Macao will make Macao youth more passionate about starting their own companies and open a new chapter for innovation and entrepreneurship in the Zone," said Liang Ying, general manager of Zhuhai Da Heng Qin Incubator Management Co., Ltd.
Frankie Chan, assistant director of Hengqin Comprehensive Service Center of Guangdong Branch of General Union of Neighbourhood Associations of Macau (GUAMM), echoed with Liang.
He believed that as the threshold is greatly lowered for Macao job-seekers, more professional and part-time talent will be attracted to the Cooperation Zone.
Boost confidence in Hengqin's future development
Macao residents in Hengqin think the regulations will make it easier for them to live, work and study in the Cooperation Zone and they hold great expectations for future life.
In the newly-released regulations, ensuring legal protections is highlighted in a separate chapter. For Vong Keng Hei, a Macao lawyer and president of the Macao Legal Exchange and Advancement Association, this is very exciting news. He said that the ten articles in Chapter 7 cover a wide range of topics and meet the actual needs of residents and businesses in both Hengqin and Macao.
"Hengqin has a great geographical location. Its development will bring more business opportunities and accelerate the internationalization of the two neighbors," said Venessa Lyu, associate professor in the School of Business of Macau University of Science and Technology (M.U.S.T.).
As a parent of cross-boundary students, she also stressed that customs clearances would be more convenient. "While docking with Macao in education services, we will have more schooling options," she said.
Author | Fanny, Li Xindi
Editor | Wing, Olivia, Nan, Jerry