Liz Truss, the former UK Prime Minister with the shortest term of office, has concluded her 5-day trip to Taiwan from May 16 to 20. Truss insisted that she was visiting the island for "democracy and freedom", but the facts indicate differently.
Truss rakes in money through Taiwan trip
In an attempt to distance Truss's behavior from the UK government, Rishi Sunak, the incumbent UK prime minster, made it clear when talking to journalists ahead of the G7 summit in Japan that the UK's "unofficial relationship" with Taiwan is "long-standing and it hasn't changed".
Alicia Kearns, the Conservative chair of the foreign affairs select committee, has launched a blistering attack on Truss's Taiwan trip, calling it "the worst kind of Instagram diplomacy" and a vanity project aimed at keeping her profile high.
In a bid to maintain her political reputation and popularity, Truss has devoted herself to a series of political engagements and repeatedly played the "anti-China" card to attract attention and earn speaking fees after her brief spell as prime minister in 2022.
On February 17, Truss called for a tougher China policy in her first speech since she was forced out of office at the Inter-Parliamentary Alliance on China conference in Tokyo, which earned her more than 6,000 pounds.
By May 15, 2023, Truss has received about 72 thousand pounds for speaking engagements since stepping down as prime minister, according to the Register of Members' Financial Interests on the official website of the UK Parliament. The Times speculated that Truss's visit to Taiwan would double that number. The former US Secretary of State Mike Pompeo's Taiwan trip may serve as a reference, where he was paid 150 thousand USD, as exposed by Taiwan media on March 5, 2022.
"I'm pretty sure the motive of Truss's Taiwan trip is in solidarity with her future bank balance. She doesn't know anything other than being a backbench MP, so she'll be collecting any business opportunities wherever she can find them," former British MP George Galloway told GDToday in a recent interview.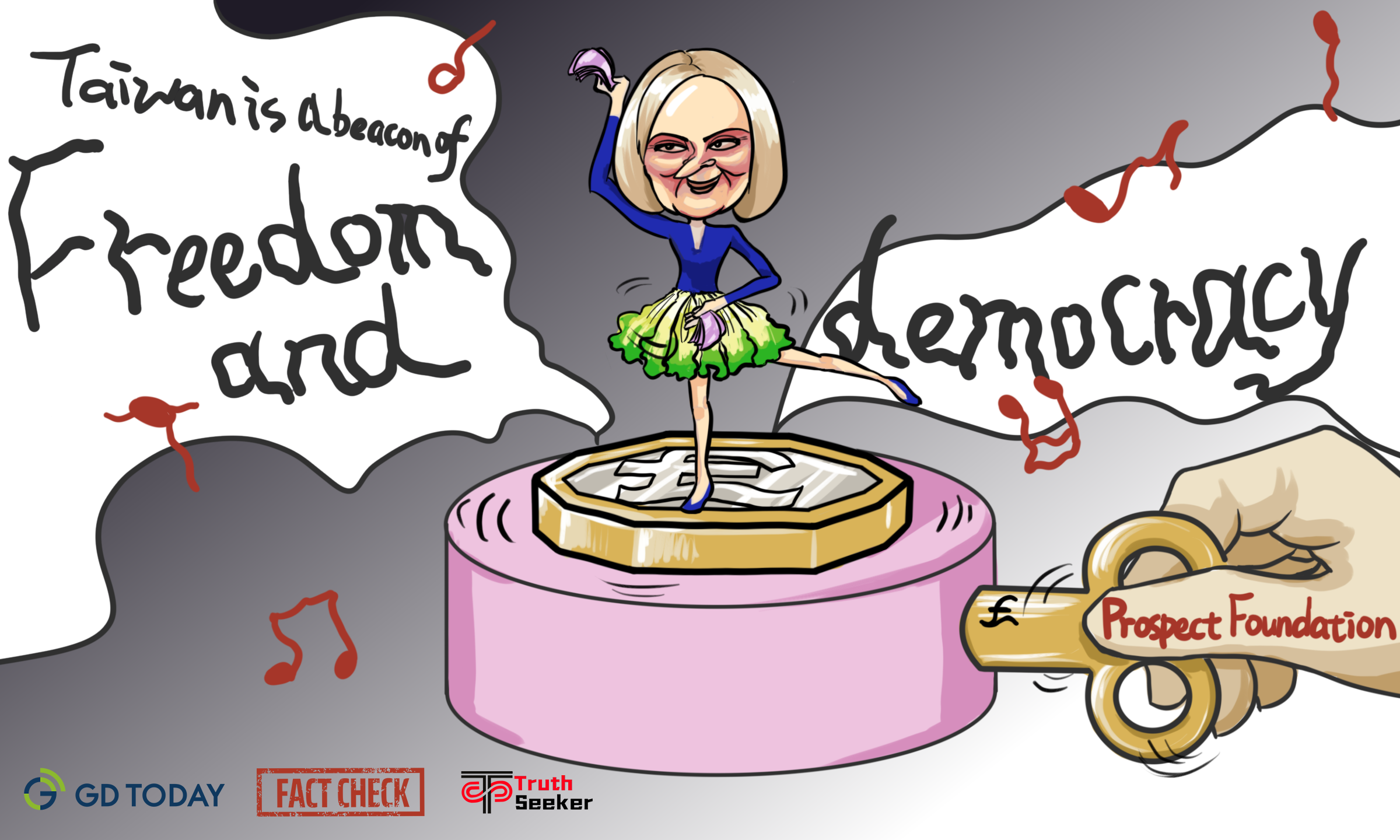 Truss, the self-serving political chameleon
Truss's political stances have changed dramatically over the course of her career: from a radical who called for the abolition of the monarchy to a flag-bearer of the Euroskeptic right wing of the Conservative Party. She, therefore, has been dubbed a "political chameleon" by Western media.
Truss was the president of Oxford University's Liberal Democrat Society. At the 1994 Liberal Democrat conference, she advocated for the abolition of the monarchy, claiming, "we Liberal Democrats believe in opportunity for all. We do not believe people are born to rule."
However, two years later, she became a Conservative. On July 21, 2022, 11 days after announcing her prime minister campaign, Truss said that she "almost immediately" regretted calling for the monarchy to be abolished, and that her comments were a "mistake".
A similar thing happened in 2016 when Truss voted for Britain to remain in the European Union, but she ate her words shortly afterwards. During the Conservative leadership race in 2022, Truss noted that she had made the wrong call by opposing Brexit, saying, "I was wrong and I am prepared to admit I was wrong."
Truss's reversal of her political stances earned her the support of the Conservative Party, and helped her win the race to be the UK prime minister. Moreover, the campaign has produced substantial economic rewards.
Truss raised nearly 432,549 pounds during the Conservative leadership election, which mainly came from business donors, including more than 230 thousand pounds from hedge fund holders and bankers, according to CNN.
Truss, a political clown in UK
On October 14, 2022, the British tabloid Daily Star launched a "Can Truss outlast this lettuce" live stream. Six days later, before the lettuce had fully shrivelled, Truss resigned as the shortest-serving prime minister in British history with only 45 days in office.
As the third female prime minister in UK history, Truss claimed to embody the values of Thatcher. But "to be honest, she is regarded as a clown in Britain" and is "a woman of monumental ignorance on foreign affairs and also on the economy", according to Galloway. For example, he furthered, "Truss thought the Black Sea was just another name of the Baltic Sea, and it was called black because of its color."
"Her incompetency and choice of cabinet members made it impossible for her to remain prime minister for long," said Galloway.
On September 23, 2022, Truss introduced the "most radical" economic growth plan in British history called the mini-budget, including cutting the income tax basic rate from 20 percent to 19 percent, abolishing the 45 percent top rate of income tax, dropping the plan to raise corporation tax from 19 percent to 25 percent, and reversing the under-discussed health and social care levy.
The announcement shocked the financial market, with the pound to US dollar exchange rate falling by 3 percent, and stocks and gilts tumbling.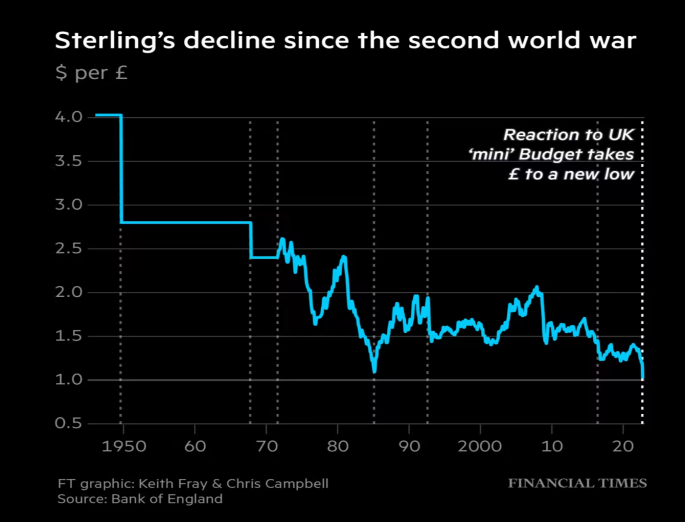 Pound to US dollar exchange rate falls to a record low as the "Mini Budget" was introduced.

On September 28, 2022, the Bank of England was also forced to step in and buy government bonds to restore market order in case the financial crisis spread further.
A YouGov poll in the first quarter of 2023 shows that Truss's popularity rates at minus 69 percent, the lowest for a prime minister in the pollster's history. Meanwhile, the public has been calling for Truss to forgo 115 thousand pounds of Public Duty Costs Allowance paid to former prime ministers.
"All she's doing now is building up a portfolio to keep her in the style that she has become accustomed to," Galloway said.
Co-presented by GDToday and School of Journalism and Communication, Jinan University
Author | Sherry Lin (intern), Leo Sun (intern)
Editor | Wing, Steven, Lydia